President wants Ren Hou to be bridge
BILATERAL RELATIONS The president met with the Japanese councilor yesterday and said that she could could help to strengthen the ties between the two countries
President Chen Shui-bian (陳水扁) yesterday received a member of Japan's Diet who has Taiwanese roots, saying she could serve as "a bridge" between Taiwan and Japan and help advance the two countries' relations. \nRen Hou (蓮舫), elected last month to the upper house of Japan's Diet representing a constituency in Tokyo, was the first Japanese legislative member with ethnic Taiwanese roots. \n"I hope that Ren Hou, the `Daughter of Taiwan,' can continue to support and care for Taiwan and work to promote relations and exchanges between the two countries," Chen said, referring to the title given to the 36-year-old by Taiwan's media. \nChen told Ren Hou that he was impressed by her recent remarks regarding Taiwan. When mobbed by reporters while attending the Democratic Pacific Assembly on Sunday, Ren Hou, whose father is Taiwanese and mother is Japanese, said: "Taiwan is my father's country. Why isn't Taiwan a country?" \n"[The remark] shows not only that she hasn't forgotten her roots, but also manifests her firm support for Taiwan," Chen said when he met with Ren Hou at the Presidential Office yesterday. \nSaying that Ren Hou's father was a native of Tainan County, where the president is also from, Chen said that he was proud to see a person with shared roots make an unusually brilliant achievement in Japan. \nMinister of Foreign Affairs Mark Chen (陳唐山), who is also a native of Tainan County, said yesterday that he and Ren Hou are distant relatives. \nOn a more serious note, the president, noting the amount of tourist travel between Taiwan and Japan, expressed hope that Ren Hou would work to relax the Japanese government's landing visa restrictions on Taiwanese tourists. \nThe Japanese government exercises visa exemptions for Chinese tourists, but grants only a three-day landing visa for Taiwanese tourists. The Taiwanese government, however, allows Japanese tourists to stay for two weeks on a landing visa when they come to Taiwan. \nCiting statistics that last year more than 730,000 Taiwanese tourists visited Japan and more than 650,000 Japanese visitors to Taiwan, Chen, who expects the number to go up this year, said "it is important to make visas convenient for Taiwanese people, given the high number of Taiwanese visitors to Japan." \n"On other important issues, such as promoting the signing of a free-trade agreement between Taiwan and Japan, establishing a mechanism for Taiwan-Japan dialogue pertaining to security issues and endorsing Taiwan's bid to become a member of the World Health Assembly [WHA], we hope for Ren Hou to also provide assistance in these regards," Chen added. \nFor Ren Hou's part, she said that she "personally finds it quite bizarre that Taiwan is excluded from joining the WHA." \nRen Hou said that although her party is not the ruling party in Japan, it nonetheless supports Taiwan's status in the international community. \nRen Hou is a member of Japan's primary opposition party, the Democratic Party of Japan. \nPrior to visiting Taiwan, she said that she admired Chen very much, and claimed that although her father had died 10 years ago, Taiwan will always remain a special place for her. \nRen Hou is slated to travel to southern Taiwan during the remainder of her visit before flying back to Japan on Thursday.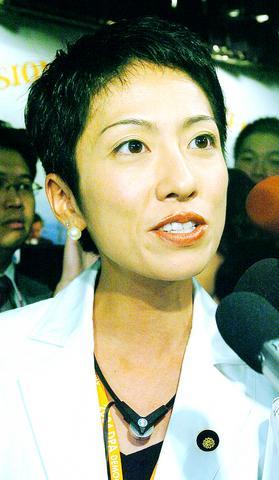 PHOTO: WANG MIN-WEI, TAIPEI TIMES
Comments will be moderated. Keep comments relevant to the article. Remarks containing abusive and obscene language, personal attacks of any kind or promotion will be removed and the user banned. Final decision will be at the discretion of the Taipei Times.