A-mei just can't please anybody
Pop music diva Chang Hui-mei (張惠妹), also known as A-mei, returned home early yesterday after performing in a controversial concert in Beijing on Saturday night. The singer was following through on her earlier vow to hold the Beijing concert despite threats of disruption by Chinese ultra-nationalists.
Throngs of protesters heckled the Puyuma Aboriginal singer, holding red banners protesting "pro-independence Taiwanese businesspeople." Her Chinese fans rushed to her defense, however, leading to scuffles between the two groups, which were quickly broken up by Chinese police.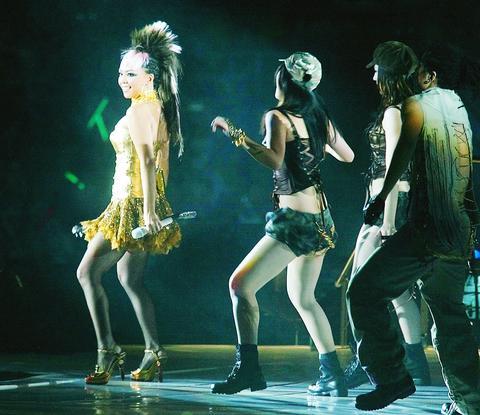 Chang Hui-mei, left, also known as A-mei, performs on stage in Beijing on Saturday. The concert was her first in China since she was forced to cancel a concert in Hangzhou after demonstrators gathered outside the venue to protest her political views.
PHOTO: AP
According to media reports, A-mei's fans begged her not to be disturbed by the raucous protesters, who were also demanding that A-mei sing March of the Volunteers, the Chinese national anthem.
The singer reportedly broke down and wept onstage, even as her Chinese supporters cheered her on and called out to her not to cry. A-mei told the estimated 10,000-strong audience that she had never felt such great pressure at a concert before.
Still, the 31-year-old singer from Taitung County carried on and finished her set.
A-mei became the focus of international controversy on June 12 when she was forced to cancel a concert in Hangzhou after students from Zhejiang University branded her a "supporter of Taiwanese independence." Several hundred students invaded a press conference at which the pop star had been scheduled to appear, chanting slogans and holding banners decrying the "green performer." Fearing for A-mei's safety, the organizers canceled her appearance.
However, the Mainland Affairs Council later described the students as "Beijing's dupes," who were probably acting with official encouragement.
The lambasting of Taiwanese performers for their supposed political preferences is a common occurrence in China. Internet discussion boards and forums often carry virulently aggressive messages attacking Taiwanese "splittists," China's propaganda term of choice for pro-independence or anti-unification figures.
After the re-election of President Chen Shui-bian (陳水扁) in March, several prominent supporters of the Democratic Progressive Party were singled out in editorials in state-run Chinese publications and online in Internet chatrooms.
A-mei initially gained the attention of Chinese authorities after singing the national anthem at Chen's inauguration in 2000.
At that time, the singer was blacklisted, lost a sponsorship deal with the Coca-Cola company and was subjected to a media blackout in China.
Yesterday, in a bizarre turn of events, some pro-independence groups called for a boycott of A-mei in response to comments she made upon her return, which were apparently meant to mollify her Chinese critics.
"I'm a Chinese person, and I sing Chinese people's songs," the singer told reporters at CKS International Airport.
"Shame on you A-mei. You are an embarassment to Aborigines and all Taiwanese people," one contributor wrote on a forum discussing A-mei at www.southnews.com.tw.
Comments will be moderated. Keep comments relevant to the article. Remarks containing abusive and obscene language, personal attacks of any kind or promotion will be removed and the user banned. Final decision will be at the discretion of the Taipei Times.