Chthonic put spin on Taiwan's past
The controversial Taiwanese band Chthonic have been criticized for mixing politics and music, and have even been prevented from performing in China after being labelled as `pro-independence musicians.' `Taipei Times' reporter Fiona Lu tried to find out what makes them tick after a performance at a pro-Taiwan rally
They extolled the virtues of Na Tao Ji (林投姊), a tragic heroine of Taiwanese folklore, by singing her story in front of the Presidential Office on Sept. 6 when 150,000 people gathered at a rally to promote changing the country's name from the Republic of China to Taiwan.
After being chosen as the best band at the 14th Golden Melody Award, the Mandarin-speaking world's biggest music award, on Aug. 8, they pronounced: "Thank you, my mother country, Taiwan."
They are Chthonic (閃靈), a rock n' roll band categorized as black metal, consisting of five local young people, Freddy Lin, Doris Yeh, Jesse Liu, A-jay Tsai and Luis Wei.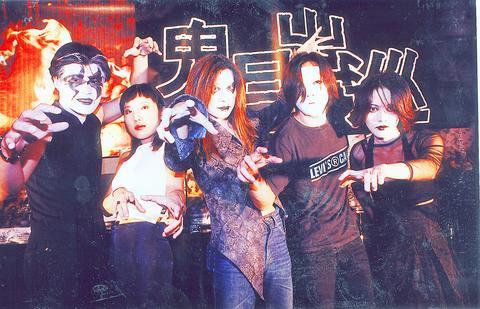 The five young people forming Chthonic's line-up are Freddy Lin, Doris Yeh, Jesse Liu, A-jay Tsai and Luis Wei.
TAIPEI TIMES FILE PHOTO
"I emphasized that Taiwan is my mother country, not a homeland, at the Golden Melody ceremony to illustrate my conviction that Taiwan has developed its own history and cultural values that are no longer the same as those developed in China.
"Taiwan is a nation that people have established from their distinctive characters and customs, and that makes this place different to any other society in the world," said Freddy, the lead singer and soul of Chthonic.
Freddy added that sticking to this viewpoint is extremely important when some people, who prefer an ultimate unification with China, always describe Taiwan as a homeland, not a nation.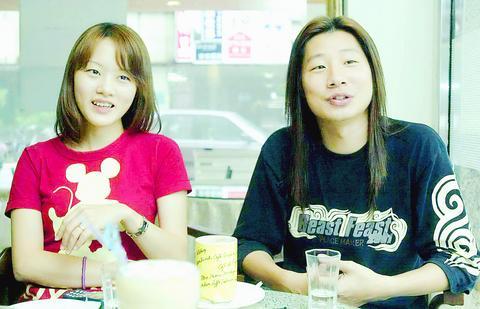 Doris and Freddy chat without their make-up.
PHOTO: CHIANG YING-YING, TAIPEI TIMES
"To these pro-unification countrymen, Taiwan is only a geographical term identifying its place on the global map, but Taiwan is a nation to me, with an independent people, culture and history," Freddy said.
As the first Taiwanese black metal band, Chthonic has successfully made the leap onto the world stage by performing at international rock festivals in Japan, the US and other Asian countries.
Besides Freddy's relentless vocals, deep drum and bass sounds, electric guitars and keyboards, the addition of the Chinese Er-hu (a Taiwanese violin), have made Chthonic uniquely Taiwanese.
Taipei Times: What inspired you to form Chthonic, performing in the black and death metal genre, which was unfamiliar to most Taiwanese people until now, as early as 1995?
Chthonic: We decided to form Chthonic when the number of listeners and bands of black metal was burgeoning in Europe, the US, Japan and even Singapore, Thailand and Malaysia in the first half of the 1990s.
Black metal, a category of rock n' roll that originated in North European countries like Norway, was characterized by a revival of performers' awareness of their native culture after the region's pagan religions had been forcibly replaced by Christianity for many eras.
The black metal movement harbored resentment towards Jesus Christ and some insist on the existence of Satan as a form of rebellion.
That gave us the idea to form Chthonic, a black metal band to examine values imposed on Taiwanese society by the mainstream Chinese authorities, and to fight against them when they are wrong or oppressing the existence of Taiwanese nature.
The nature of rock n' roll allows its performers to easily say what they want to say in front of an audience. We have an appreciation for the mythology, legends and historical stories in Taiwanese culture, and that fed into the creation of Chthonic.
Our first album, Where Ancestors' Souls Gathered, drew inspiration from the stories of the Han ancestors dreaming about a brighter future in Taiwan, the promised land.
When we did the second album, 9th Empyrean, we told a story of struggle and conflict between the Han and the Aborigines in ancient years. The story is composed of eight mythologies about war and confrontation between the gods of the Han and the Aborigines.
We centered on a horror story out of Taiwanese folklore, the legend of Na Tao Ji (林投姊), on the third album, Relentless Recurrence to form a poetic but melancholic creation. The album was written in Taiwanese and recorded in Denmark.
The story of Na Tao Ji reflects a miserable era when Taiwanese women could do nothing if they were betrayed by Chinese lovers who came to Taiwan as stowaways, but went back to China after cheating them of their money and virginity. The women like Na Tao Ji would have no means of finding these Chinese liars because of a ban on sailing across the Taiwan Strait imposed by Chin emperors. Instead they chose self-annihilation and vowed to take revenge by being a ghost that stayed in the human world.
Na Tao Ji's story represents a part of Taiwanese history, although the name could be a fabrication of a widely told folk tale.
TT: Your performance at the pro-independence rally has seemingly brought up some ideological criticism against Chthonic. What's your take on this?
Chthonic: We formed Chthonic when we were ready to accept and respond to disagreement from other people in music circles against our work. But it is inappropriate to label Chthonic as pro-independence, since we were only telling our audience stories of ancient Taiwanese culture and customs. We were already being criticized in the first year after Chthonic's formation.
The earlier critics denounced our music as nothing but dreary cries and screams. Some others detested Chthonic and asked why we could sing softly and gently, but about such wretched subjects and with such desperation.
The objections later became political when we made it clear that we are safeguarding our mother culture and the history of Taiwan, and that we believe it is unique from China.
The reproaches reached a climax when we held the Say No to China's Annexation concert in 2000.
I have to say that when these critics say things like like "Keep politics out of music", they are being immature. Those critics who are performers themselves could protest against Chthonic by hosting a concert on the theme of "Say No to the Objection of China's Annexation."
As for the non-musicians, they blurred the meaning of separating politics from music when they criticized Chthonic in this way.
The best way to remove political influence from the creation of music is to prevent politicians from manipulating the music industry, not prohibiting musicians singing about ideological issues.
We learned that the former ruling KMT [Chinese Nationalist Party] shifted its focus on business investment from industries like banking to entertainment productions. This raised fears of political manipulation in the KMT-owned media.
Chthonic also experienced a typical political intervention during an engagement with the Ministry of Culture of the Chinese government.
A huge number of Chthonic fans in China had tried several times to invite us there for a concert. The request was eventually turned down by the Chinese culture ministry, who called us "pro-independence musicians."
The Chinese culture ministry proclaimed that Chthonic was guilty of a pro-independence stance not by listening to our music, but based on our performing at pro-independence gala.
But it is interesting to find that, because of this dispute, different perceptions arose among rock n' roll fans in different parts of China. We learned that fans in Beijing shut down any online discussion relating to Chthonic since we are "renegades."
TT: You are practising alternative diplomacy by sharing and exchanging views of music with counterparts in the US, Asia and Europe. What's Chthonic's plan for the next few years to gain more international recognition?
Chthonic: If we can afford it, we hope to move to the US for several months to learn from the American way of producing black metal.
Besides continuing our contact with Hong Kong, Singapore and Malaysia, where we have a lot of fans, Chthonic will try its best to increase performances in America and Europe.
In fact, we don't want to be internationalized. We have always worked on refining our work expounding our mother culture and history by emulating bands in other areas of the world, and that's why we want to visit the US to get a feel for their way of making black metal.
Comments will be moderated. Keep comments relevant to the article. Remarks containing abusive and obscene language, personal attacks of any kind or promotion will be removed and the user banned. Final decision will be at the discretion of the Taipei Times.