President asks Ma to cooperate
FRESH START? Chen Shui-bian said now that the polls have closed, it is time to move beyond confrontation and to forge a more positive relationship with the local leader
President Chen Shui-bian (陳水扁) yesterday stressed the significance of forging a cooperative relationship between the central and local governments, saying he hopes Taipei City will set an example for this kind of partnership. \nIn a meeting with Taipei Mayor Ma Ying-jeou (馬英九), the president called for an end to the hostility that characterized the recent election campaign, saying collaboration can begin now that the race is over. \n"The relationship between the central and local governments should not be based on antagonism, but on partnership. Attacks and misunderstandings in the past should come to a halt with an aim to welcome a new beginning," Chen said in his meeting with Ma. \nThe president held separate meetings with Ma and Kaohsiung Mayor Frank Hsieh (謝長廷) to congratulate the two for their successful bids for re-election. \nThe DPP was soundly defeated in last Saturday's election in Taipei, but held on to Kaohsiung. \nPolitical observers were keeping a close eye on the Chen-Ma meeting given that Ma, who won a landslide 64 percent of the votes in the mayoral race, is said to be the most likely candidate to compete against Chen in the 2004 presidential contest. \nThe meeting was their second encounter since Chen took office in May 2000. \nTheir first meeting took place on May 24, 2000, four days after Chen was inaugurated. \nContacts between the two leaders were interrupted, how-ever, due to frayed relations between the central and Taipei City governments. \nChen said he was honored to serve as a mayor of Taipei and was pleased to hand on his mission to Ma. \nTo turn Taipei into an internationally competitive metropolis, the president urged Ma to cooperate with the central government and to work with leaders of neighboring regions. \nThe president suggested that Ma turn around the city's deteriorating public order and find out whether the city was trying to generate money by issuing traffic tickets. \nChen said public security would be put at risk if the city's Sungshan Airport was used for direct cross-strait flights. \nThe DPP and KMT were at odds during the campaign concerning the future of the airport. \nWhereas DPP candidate Lee Ying-yuan (李應元) wanted to relocate the airport and turn the old site into a park, Ma said it should become a base for cross-strait flights. \nMa told the president that he welcomes any discussions on the city airport and agrees that national security should be taken into account. \nMa said that he did not mean for the Sungshan Airport to become the first airport to be used for such flights, but simply hoped that it would not be ignored once cross-strait routes are allowed. \nThe Taipei mayor said that he would considering adopting some of the DPP's campaign promises because "campaign activities are temporary, whereas administration is the only thing that lasts." \nIn his meeting with Hsieh, Chen restated the government's resolve to place an equal emphasis on the north and the south, but added that central Taiwan is also important. \nThe distribution of resources has been at the center of debate. DPP Taipei County Commissioner Su Tseng-chang (蘇貞昌) is enraged that the Cabinet is considering turning Taichung County and Taichung City into a special municipality in an effort to balance the nation's development. \nOn Thursday, Su vowed to resign unless Taipei County is also given special status. \nThe president said any decision should be made based on public input because a unilateral policy imposed by the government would only generate resentment.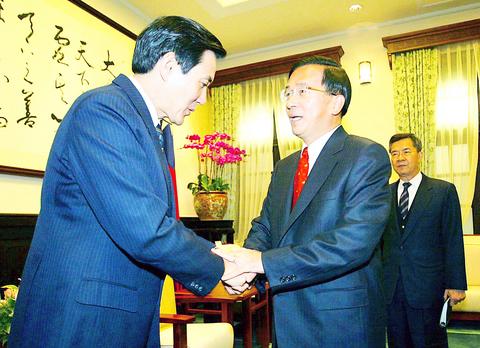 Taipei Mayor Ma Ying-jeou, left, shakes hands with President Chen Shui-bian in Taipei yesterday. Ma won a sweeping re-election victory last week and is considered a leading candidate to oppose Chen in the 2004 presidential elections, though he says he has no plans to do so.
PHOTO: REUTERS
Comments will be moderated. Keep comments relevant to the article. Remarks containing abusive and obscene language, personal attacks of any kind or promotion will be removed and the user banned. Final decision will be at the discretion of the Taipei Times.