One man's struggle for a nation's freedom
Lei Chen was someone who believed in establishing a `Free China' on Taiwan, but his dream had to be delayed, as the KMT worked its will on an oppressed nation
A full 42 years after Lei Chen (雷震) was arrested and thrown in jail, the Academia Historica yesterday published three volumes of formerly classified documents regarding the handling of Lei and others who were charged with involvement in rebellion, together with copies of part of Lei's memoirs, written in jail and previously rumored to have been burned.
The arrest and trial of Lei in 1960 is one of the many emotionally-charged tales considered elemental to Taiwan's democracy movement. Lei's case is important because it allows for a better understanding of the KMT's tight control over what people said and thought, as well as the worries and expectations of liberals who pondered Taiwan's future.
The documents verify that Chiang Kai-shek played a key role in Lei's case, on several occasions calling meetings with high party, government and army bureaucrats, instructing them that the handling of Lei's case was as serious as waging war. On the day of the verdict, Oct. 8, 1960, Chiang gave clear instructions that Lei's sentence must not be less than 10 years, and that the appeal verdict must not alter the original trial verdict.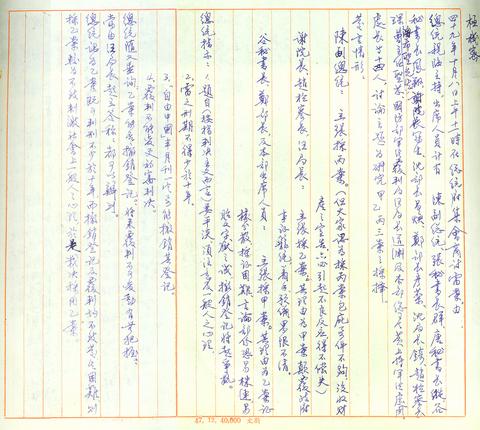 An official document marked "highly confidential," reports a meeting convened by Chiang Kai-shek in 1960 on Lei Chen's case. The document states that Chiang wants judicial authorities to sentence Lei to a jail term of at least ten years, and that the high court must not change decision if Lei appealed.
Beginnings
Lei Chen was born in China's Zhejiang Province in 1897. He studied in Japan, graduated from Kyoto Imperial University, and went on to postgraduate school there to do research on constitutional studies.
Lei's relationship with the KMT ran deep. He held many important party and government positions, including secretary-general of the Political Consultation Conference, deputy and secretary-general of the National Assembly that created the ROC Constitution, minister without portfolio and national policy advisor to the president. He also participated in the KMT's Taiwan reform programs and was an ardent supporter of Chiang Kai-shek's (蔣介石) anti-communism.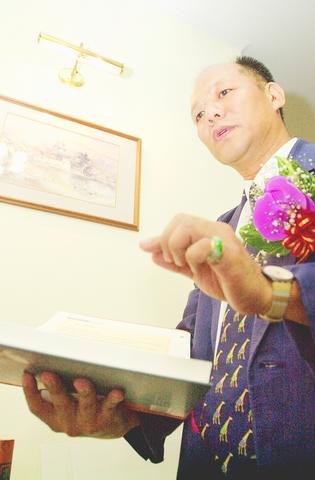 Lei Tien-hung yesterday at a book-launching ceremony dedicated to his father, Lei Chen.
PHOTO: GEORGE TSORG, TAIPEI TIMES
After the KMT lost the mainland to the Communists, he launched the Free China (自由中國) biweekly journal in Taipei around the end of 1949, hoping that Taiwan would become a stronghold for freedom and democracy and accomplish the mission of toppling the communist Chinese.
Unfortunately, the KMT exercised one-party authoritarianism after consolidating its rule on Taiwan, severely suppressing press and political freedom. Lei then turned from pro-Chiang and anti-communist to opposing both Chiang and the communists. It wasn't long before he was expelled from the KMT as both he and his Free China journal began actively criticizing Chiang's authoritarian rule and demanding reform.
While criticism from intellectuals like Lei stirred debate, it failed to shake KMT rule. To try and overcome the difficulty, Lei gradually allied himself with local Taiwanese political figures. During elections he sponsored campaign rallies and after elections he held seminars on local autonomy.
Lei Chen at an 'illegal meeting' with unidentified woman in photo taken in 1960 by the Taiwan Garrison Command at the Ching-hua Book Store.
PHOTO: TAIPEI TIMES FILE PHOTO
Working with a number of friends, Lei planned to establish the "China Democratic Party," but the KMT, which was extremely sensitive to gatherings of dissidents or any hint of political opposition, arrested Lei on charges of spying for the communists. His arrest silenced his colleagues, who dispersed and fled in all directions. The China Democratic Party died before it was born.
The KMT's suppression of [other] political parties destroyed any chance for mainland-born democrats to unite with local Taiwanese politicians. If the China Democratic Party had been successfully established, it may have reduced the alienation felt between mainlanders and local Taiwanese. It would have promoted reconciliation between ethnic groups and mitigated the later radicalization of the independence-unification debate, thereby hastening the arrival of democratic politics.
After emerging from 10 years in prison, Lei watched the ROC government withdraw from the United Nations. He also saw that the KMT had not yet begun to properly identify with Taiwan, despite dramatic international changes and the unlikelihood of a retaking the mainland by force of arms.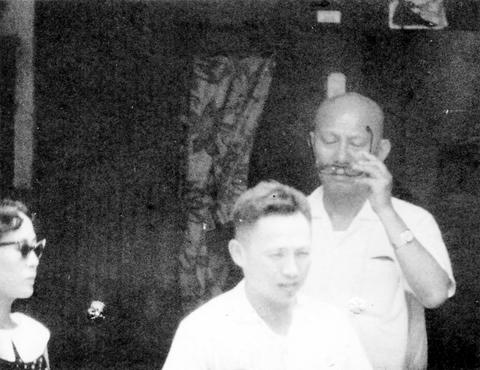 Lei and associate Fu Cheng.
PHOTO: TAIPEI TIMES FILE PHOTO
Once again, Lei wrote a petition to Chiang calling for the establishment of a "Democratic State of China-Taiwan," using the word "China" in the country's name to signify a Chinese cultural identity and the addition of "Taiwan" to signify integration with the island and an acceptance of political reality. Chiang of course rejected Lei's advice out of hand.
To be truly legitimate, political movements need to be firmly grounded in their native land. In this regard, Lei was a pioneer. He didn't arbitrarily insist on "one China." He identified with Taiwan and accepted the fact that the Republic of China co-existed with the People's Republic of China. He wanted to change the status quo so that the KMT might survive, but the people in power did not have his foresight. As a result, Taiwan's democratization was delayed for 30 years and the nation's people have to pay a higher price for survival and development in the face of China's threats.
When in the opposition movement, President Chen Shui-bian (陳水扁) paid special attention to Lei's case and related historical developments. After winning the presidential election in 2000, Chen ordered the Academia Historica to speed up the compilation of documents on post-War opposition movements in Taiwan. Chen personally visited the Academia Historica six months after assuming office and once again asked the academy to quickly collect, compile and release historical documents about Taiwan. On Feb. 26 of last year, during a meeting with Lei's family and former colleagues, Chen agreed to help in the search for Lei's prison diaries and other documents. He also ordered the Ministry of National Defense to set up a special task force to handle the matter.
Many documents in the three volume set show that intelligence agencies had organized two projects, code-named "Tien-yu" (田雨) and "Chih-liu" (支流), beginning in 1958. The purpose of these projects was to investigate each and every article published in Free China in an attempt to decide which laws may have been violated.
The most common violations cited were of the "Statutes for the Punishment of Rebellion" (懲治叛亂條例). But these methods of suppression were apparently not enough.
Huang Chieh (黃杰), then head of the Taiwan Garrison Command, suggested that "suitable measures other than legal sanctions be found."
Huang drafted two plans to ensnare Lei, both of which cited violations of the Statutes for the Punishment of Rebellion for disseminating "propaganda benefiting rebels."
The first plan was aimed at accusing Yin Hai-kuang (殷海光) and Lei, while the second plan was expanded to include Hsia Tao-ping (夏道平) and Chang Yi-hung (張益弘). The paperwork for one of the plans pointed out, "Tien-yu [code-name for Lei] is the main target of this plan. He must not be allowed to evade responsibility ... prevent them from colluding, resorting to sophistry and using loopholes to help Tien-yu avoid shouldering criminal liability."
To successfully fix a crime on Lei, Huang laid down "Guidelines for Handling the Lei Chen Case" on June 7, 1960. These guidelines outlined various methods to be used to cut Lei's government contacts and isolate him.
Planning skullduggery
The instructions on how to handle his arrest were extensive and detailed. First, they point out that the operation must be expedient, that the trial announcement or other statements must dispel public suspicion, that unofficial explanations should be given individually to friendly parties both at home and abroad to emphasize that it was a judicial, not a political incident.
Anticipating a public backlash over his arrest, the instructions called for strict measures to prevent anti-KMT and anti-government academics from stirring up trouble and called for the party and government to unequivocally state that the case had been handled in accordance with the law while avoiding being questioned in public.
Finally, instructions were given to the effect that undercover actions be taken to have smaller KMT-controlled political parties and well-known independents support the KMT-party line if there were trouble or if international misunderstandings resulted.
On July 2, the National Security Bureau convened a joint meeting where it was decided that the Military Law Office of the Taiwan Garrison Command would be in charge of all "legal research" in Lei's case.
On July 7, the Military Law Office settled on a schedule of "three months, from July 1960 to the end of September," for Lei's arrest, and requested that the Security Office make arrangements and collect evidence from personnel in the magazine's offices to expose possible criminal behavior.
On Sept. 4, Lei, Ma Chih-su (馬之驌), Fu Cheng (傅正) and Liu Tzu-ying (劉子英) were arrested on "suspicion of involvement in rebellion."
On Sept. 5, Huang issued a statement saying that after a long period of persuasion and sincere discussion, Liu admitted to being sent as a spy to Taiwan by communist bandits.
Following this, Lei was charged with one more crime, "harboring rebels." A month later, the military court sentenced Lei to ten years in prison and deprived him of his civil rights for seven years for the crime of "not informing on a known communist bandit and continuously issuing propaganda beneficial to rebels."
The documents show that Chiang played a key role in the handling of Lei's case. He convened several meetings of his top aides in charge of party, government and military affairs, and ordered them to come up with additional backup plans, as if he were fighting a war. On Oct. 8, the day of verdict, Chiang clearly ordered that "the sentence shall not be less than 10 years." Chiang also decreed that the appeal ruling must not alter the trial ruling. The verdicts completely matched his instructions.
A Chiang Ching-kuo connection?
Lei also suspected that Chiang's son, Chiang Ching-kuo (蔣經國), was involved in his trial. In a letter to a friend, Lei pointed out that "to solve the case through political means, I'm afraid you need to talk to Ching-kuo in addition to the president himself. Please note this point!"
From this, one can see the importance that Lei attached to the junior Chiang. He was just a minister without portfolio at the time, but served concurrently as deputy secretary-general of the "National Defense Committee" and controlled the intelligence agencies.
However, the minutes of several meetings convened by the senior Chiang do not list his son as an attendee and none of the documents show any evidence of his involvement in the trial.
Under Chen's instruction, the Ministry of National Defense made an all-out effort to collect and compile Lei's prison manuscripts -- which were previously reported to have been burned -- as well as documents from intelligence agencies regarding Lei's arrest. Some of the documents have been found, declassified in accordance with the National Archives Law (國家檔案法) and compiled and published by the Academia Historica.
Lei was in prison for a decade, during which he wrote manuscripts containing more than four million Chinese characters. But the manuscripts were confiscated by the military prison in Hsintien, Taipei County, the night before his release. The whereabouts of those manuscripts remains a mystery.
On April 14, 1998, Sung Ying (宋英) -- Lei's wife who was a Control Yuan member at the time -- demanded a re-investigation of Lei's case. She also demanded that the original investigation report and related documents be made public. Surprisingly, rumors came out on April 30 that Lei's manuscripts, except for his diaries, had been burned.
On Feb. 26 of last year, Lei's children -- Lei Te-ning (雷德寧) and Lei Te-chuang (雷德全) -- visited President Chen, who immediately responded to their request by demanding that the MND and related government agencies establish a special task force to handle the issue. The next day, Chen personally inspected the Academia Historica and publicly selected and read two documents regarding Lei's case. This was the first time official documents regarding Lei's case were made public.
Meanwhile, the MND immediately formed a task force to investigate existing materials on Lei. The task force interviewed 49 military officers involved in Lei's case and checked more than 188,000 files of documents. The task force collected photocopies of a portion of Lei's diaries and memoirs and official documents from Lei's case. The MND completed the investigation on May 18, three months later. A total of 14 files of documents -- with over 1,500 pages of information -- were transferred to the Academia Historica on June 8.
The Academia Historica then established an editing team and compiled the three volumes released yesterday. The first volume is a selection of the MND's documents, the second contains Lei's prison manuscripts and the third is a mix of other important official documents, such as the Control Yuan's investigation reports, Lei's prison visit reports and inmate conduct records.
According to Academia Historica staff members, what is so valuable about the documents is that most of the previously published materials were either Lei's private documents or those related to the Free China journal, and therefore revealed little about the government's attitude and standpoint in handling his case.
Due to the inadequacy of official records, studies done in the past showed that conjecture often far outweighed historical study. By examining the invaluable resources at the MND, one can concretely observe how the state machine used formalistic procedures to persecute an individual under martial law.
Lei's papers include diaries, memoirs, and letters of correspondence. None of them were original copies and most were fragmentary pieces, as they were reviewed by prison staff and photographed if they contained any comments considered inappropriate. The confiscated documents even contain side-notes in red ink.
It was precisely due to confiscation that these fragmentary documents were not destroyed with the original manuscripts. Although one can see Lei's case from beginning to end in these documents -- as well as how the authorities incriminated him -- the reason for Lei's imprisonment remains unclear.
Outsiders speculate that the formation of the China Democratic Party was the main cause, but no concrete evidence in the documents supports this view. Although Chiang Kai-shek played an aggressive role in Lei's trial after his arrest, documents at present are still insufficient in explaining the motive prior to the arrest.
Previously released historical documents fail to record any explicit criticism from Lei against Chiang Kai-shek and his son Chiang Ching-kuo. But the manuscripts collected by the Academia Historica show Lei's strong dissatisfaction with the two. The historian Chen I-shen (陳儀深) confirmed that this portion of the documents is indeed different from previous impressions of Lei.
Letters to a dictator
When in prison, Lei sent many letters to the senior Chiang, suggesting that he discard the meaningless and puerile acts of building a personality cult. He said his imprisonment was a result of the KMT's interference in the judiciary. He also pointed out that the KMT government built many systems designed for some particular people, but no permanent institutions for founding a nation.
Lei also harshly criticized the junior Chiang. He pointed out to Chiang Kai-shek that it was unreasonable not to allow the premier, who took political responsibility for government decisions, to inspect the work of the intelligence agencies. Chiang set up a National Defense Committee under the Presidential Office without approval from the Legislative Yuan, and put secret service agencies under the committee, which was headed by the junior Chiang.
He also criticized the China Youth Corps, which had the senior Chiang as its commander, the junior Chiang as its director and the senior Chiang's birthday as its date of establishment. Lei called it a deviation from the style of modern countries.
In his memoirs, Lei said it truly puzzled him to see both the Nanking government and the KMT itself disintegrate. As for the question of who should take political responsibility for this, "I think Chiang Kai-shek is the chief culprit," Lei said in his memoirs.
Lei also quoted Mao Zedong's (毛澤東) words in his memoirs, "We can collaborate with people who oppose the KMT's authoritarian rule and Chiang Kai-shek's dictatorship, even if they have different political opinions and oppose communism." Lei said anti-communist activists should also be similarly broad-minded.
Lei had strong objections to the senior Chiang's undermining the government system to hang on to the presidency. He wrote that the senior Chiang's extended presidency had incurred a heavy price and resulted in terrible consequences. Lei believed the senior Chiang was guilty of "undermining the Constitution," in addition to increasing the people's tax burden with extravagant paychecks for National Assembly deputies.
This article was first published in the Liberty Times. Translated by Francis Huang, Perry Svensson, Eddy Chang, Jackie Lin and Grace Shaw.
Comments will be moderated. Keep comments relevant to the article. Remarks containing abusive and obscene language, personal attacks of any kind or promotion will be removed and the user banned. Final decision will be at the discretion of the Taipei Times.