Koo Yen Pi-hsia, the Luku Incident and White Terror
The mother of Taiwan magnate Jeffrey Koo, Koo Yen Pi-hsia, called Angel Grandma by those that adored her, was up to her neck in danger in the 1940s and 1950s thanks to the White Terror and a small loan she made to a young man in trouble named Lu Ho-juo
In the fall of 2000, one day before the first anniversary of the Sept. 21, 1999 earthquake, more than 20 elderly ladies climbed a mountain to more than 2,000m above sea level to visit the Jen-ai Junior High School (仁愛國中) in Nantou County, which had been seriously damaged by the quake and by typhoons. The 11-hour trip was fraught with danger and there were worries about rockfalls. The old ladies told the students: "You must maintain hope for the future no matter what." \nThey were all alumnae from the Taipei Third Girls' Senior High School during the Japanese era. The school is known today as the Taipei Municipal Chung Shan Girls' Senior High School. Eighty-seven-year-old Koo Yen Pi-hsia (辜顏碧霞), who had just been discharged from the hospital and whose legs were still swollen, insisted on going up the mountain to see the children. She made the return journey, however, in a wheelchair. After returning to Taipei, she passed away peacefully early on Dec. 3, holding the hands of her son Jeffrey Koo (辜濂松) and eldest grandson Koo Chung-liang (辜仲諒). \nWhen asked about his mother, whom everyone respectfully called "Angel Grandma," the eyes of Jeffrey Koo, chairman of Chinatrust Commercial Bank (中國信託商業銀行), turn red. \n"One day people from the State Secrets Protection Bureau suddenly came and took my mother away," he said. "We were driven out of our house. I was only holding an alarm clock and my sister Li-ching (麗卿) did not bring anything except the clothes she was wearing." \nThat happened in 1950, when Koo Yen Pi-hsia was 37 and Jeffrey Koo was only a 17-year-old student at the Chien Kuo Senior High School (建國中學). \nWidowed at 23 \nKoo Yen Pi-hsia was from Sanhsia (三峽) in Taipei. Her father, Yen Chao-pin (顏朝斌), was once a teacher and also served as the leader of the Chengfu (成福) district in Sanhsia. She was born in 1914 and married into the prominent Koo family of Lukang in 1932. Her husband was Koo Yueh-fu (辜岳甫), a son born to the first wife of Koo Hsien-jung (辜顯榮). Over the next three years, she gave birth to eldest son Jeffrey and two daughters, Koo Li-ching and Koo Li-fen (辜麗芬). In 1936, Koo Yueh-fu died. His wife was only 23 at the time. \nIn 1937 Koo Hsien-jung also died and the Koo family split its family property. Though Koo Yen Pi-hsia was a widow of the Koo family, the extended family let her decide whether to remarry. In fact, they even thought a young beautiful woman like her should remarry and, at a family meeting, decided to have some members of the family adopt her son and two daughters. But she did not want this. \nJeffrey Koo said, "At that time, she knelt down before my father's altar and promised never to remarry, so she won back the right to take care of her children." \nAfter moving to a new place, Koo Yen Pi-hsia became the first female president of the Kaosha Iron Foundry Company (台北高砂鐵工廠株式會社) in Taipei. She then settled in Taipei with her children. \nThe "Literary Salon" \nBecause Koo Yueh-fu was frequently in touch with arts and cultural circles before his death, Koo Yen Pi-hsia also devoted herself to the arts and promoted a "Literary Salon." Lu Ho-juo (呂赫若), who returned from Japan in 1942, was a frequent attendee at the salon, and later became her daughter Koo Li-ching's piano teacher. \nLu was known as a talented person. Apart from being a reporter and magazine editor, he wrote literary works that were famous in Japan. He also wrote theater scripts and participated in performances, and was Taipei's top tenor singer. Later generations remember his spectacular concert at the Chung Shan Hall, where women screamed for him throughout the show. \nA superwoman in the business world, Koo Yen Pi-hsia was also a good writer. But she was stern in demeanor and normally carried a serious face. Jeffrey Koo said, "My mother normally looked quite fierce. It was because she understood her position as a young widow, so she paid special attention to what she said and did. She would not even meet with a man alone. She didn't want to give others any opportunity for gossip." \nA disastrous loan \nBut the destinies of Koo Yen Pi-hsia and Lu Ho-juo were entangled in one incident that made them lead players in a tragedy of the times. \nIn August 1949, the Kuangming News (光明報) was accused of being an underground publication of the Chinese Communist Party. Lu, the publication's editor, was blacklisted and forced to become a fugitive. He asked for a 2,000 yuan loan from Koo Yen Pi-hsia, saying it was for a trip to Japan. Using a land deed and the Ta-an printing press as collateral, he signed a loan contract, which implicated Koo in his case. She was arrested in 1950. Her property, including the iron foundry, the Tung-shih Sugar Factory (東勢糖廠), her house and her land, was confiscated. She spent five years in prison. \nLin Chih-chieh (林至潔), who in 1996 met with the then 83-year-old Koo Yen Pi-hsia, asked her about the case. She said, "Lu came to my house. He said he was traveling to Japan and asked me for a loan. I was not without money and he was my daughter's home tutor. How could I not lend him the money?" \nAnother occurrence during the White Terror era was the Great Socialist Youth Alliance incident (社會主義青年大同盟事件), in which Li Tzu-sung (黎子松), a teacher from Hsinchu Senior High School, and some of his students -- including female students Fu Ju-chih (傅如芝), Huang Chu-ying (黃竹櫻) and Tseng Mei-jung (曾美容) -- were arrested. They were at one point held in the same cell as Koo. In 2000, before becoming president of Academia Historica, Chang Yen-hsien (張炎憲) interviewed Tseng about the experience. She said, "Koo Yen Pi-hsia was the most pitiful. She was put in the same cell with me. No one dared adopt her children for fear of being implicated. Later her parents adopted them. I was born in the same year as her son. Every night she went to sleep holding me in her arms. I cried until my clothes were wet. So were hers." \nCentipede meals \nLin Chih-chieh, who was also at one point held in the same cell as Koo and Huang Chu-ying, said prison life was hard. At every meal they ate cucumbers, pumpkins and celery. Sometimes there would be a centipede in the food. To relieve the pain of such a life, they turned to literature and music. They had no books, however, so they discussed whatever they could remember about one famous literary work each week. \nLin said the first book they discussed was La Dame aux Camelias, which was suggested by her. The second book was Les Miserables, which was suggested by Koo because she sympathized with the girl who sold matches in the story -- one could see that she was very compassionate and kind to other people. Though married into a prominent family, she still cared very much about disadvantaged groups. \nIn those five years, Jeffrey Koo and his sister Koo Li-ching had to depend on each other. Every Wednesday afternoon -- the time for prison visits -- they would go to the prison on time come rain or shine, and wait to see their mother. \nDiaries burnt \nAfter her release from prison in 1955, Koo Yen Pi-hsia started writing a diary about the memories of those tragic days. Because she did not want these tragedies to affect her children, she later burned them. \nShe seldom mentioned her prison days. When she did, she would only say, "At that time, Jeffrey was only a little more than 10 years old. He had some hard times." In her later years, she was enthusiastic about charity work and devoted herself to Buddhism. She was not only the "Angel Grandma" of the Koo family, but was also an "Angel of Silver Bells" who brought warmth and smiles to everyone around her. \nNot until 1999, a year before her death, did she file an application for compensation in accordance with the Regulations Governing Compensation for Improper Trial Cases of Sedition and Spies during the Martial Law Period (戒嚴時期當判亂暨匪諜審判案件補償條例), in the hope that she would have her name cleared. \nKoo Yen Pi-hsia's literary achievements have also won considerable praise. In 1942, she wrote the novella Flow (流) in Japanese. In the book, Koo, the wife of an eldest son in a big family and a widow who single-handedly brought up her children, transforms into the heroine Mei-feng (美鳳). The novella, which describes how a widowed mother survives in a prominent family, sent shock waves through her family when it was published. \nThe literary value of that novella was once again recognized by the re-publication of the Chinese version in 1999. For her, the novella's reappearance after being shelved for more than 50 years was in fact a farewell to her days in this prominent family, as well as a farewell to the vicissitudes of life. \nThe Kaosha iron factory, which was registered under her name, also had a role in Lu Ho-juo's legendary life. \nThe print shop \nIn May 1949, Lu Ho-juo began selling his family assets and set up the Ta-an Print Shop (大安印刷所) in Taipei. The first book he printed was a music text book for primary schools edited by the musician Chang Tsai-hsiang (張彩湘). Chang was later also jailed for his associations with Lu. \nIn the eyes of the KMT government, the Ta-an Print Shop was part of the communist organization in Taiwan. In the "Case Against the Rebellion by the Communist Bandits' Taiwan Provincial Work Committee" (匪台灣省工作委員會叛亂案) in the Security Bureau's (安全局) "Compilation of Past Handling of Communist Bandit Activities" (歷年辦理匪案彙編), it is said that "communist bandits" had set up the Ta-an Print Shop in Taipei, and that they printed reactionary documents. \nA few years ago, Fang A-yun (方阿運), who was arrested for working in the print shop, showed the judge's verdict in his case to the author Lan Po-chou (藍博洲). This official document also states that the Ta-an Print Shop printed "rebel documents for the Zhu-Mao (Zhu De, 朱德 and Mao Zedong, 毛澤東) gang of communist bandits," including "documents regarding the founding of the People's Republic of China" and "the national anthem of the People's Republic of China." \nAccording to Fang, the first day he went to the print shop, "a Master Chen from the Kaosha Iron Foundry was busy installing the machinery." \nIt is a strange coincidence that when the Luku (鹿窟) incident took place in late 1952, and the villagers were arrested and sent to Taipei City for questioning, the temporary locations where they were kept in custody included the already confiscated Kaosha Iron Foundry, which was registered in the name of Koo-Yen Pi-hsia. \nThe Ta-an Print Shop is the key to the later, unknown whereabouts of Lu and the mystery surrounding his death. \nKeelung High School Incident \nThe Kuangming News (光明報), where Lu was editor-in-chief, was first published in January 1949 by the headmaster of the Keelung High School, Chung Hao-tung (鐘浩東). It was accused by the KMT government of disseminating "propaganda for the communist bandits" and was closed in August of the same year. Chung, his wife, Chiang Pi-yu (蔣璧玉), and some teachers in Keelung Junior High School and many students from Taiwan University and Cheng Kung Senior High School were arrested. This became known as the "Keelung High School Incident" in the White Terror archives. \nChung, the oldest brother of the famous author Chung Li-ho (鐘理和), who wrote the book The farm on Li Mountain (笠山農場), was a hot-blooded young man who had studied medicine in Japan. The family name of Chiang Pi-yu's biological father was Tai (戴), but she was adopted by her uncle Chiang Wei-shui (蔣渭水). Her younger brother was the movie producer Tai Chuan-li (戴傳李). Chiang Pi-yu was released in early 1950, but Chung was executed in October. \nIn May 1949, Lu set up the Ta-an Print Shop while also editing the Kuangming News. After the Kuangming News was closed down, he was afraid that the print shop was also in danger, and in October he arranged to have his wife and children sent back to his wife's family in Fengyuan, near Taichung. One source says that he escaped to Pingtung and then later returned to Taipei to close down the print shop. \nOne night in February 1950, Lu went to the home of one of the print shop's owners, named Hsiao (蕭), without knowing that Hsiao's friend had already been arrested. Lu was arrested and held for several hours by plain-clothes agents from the State Secrets Protection Bureau (保密局), while one of the agents returned to the bureau to check his name. Lu got away because his ID papers were issued in his original name, Lu Shi-tui (呂石堆). \nThe print shop was then closed down. Panchiao's Lin family, which ran a publishing company, had earlier commissioned Lu to print some books for them. Lu transferred the order and the deposit to another printer, who delayed and never fulfilled the contract. The Lin family then published a warning in a newspaper saying that "Lu Ho-juo (original name Lu Shi-tui), is in charge of the Ta-an Print Shop ..." \nLove for Taiwan leads to misfortune \nOnly then did the secret police realize that the Lu Shi-tui they had checked up on that February night was in fact Lu Ho-juo. One by one, they arrested Lu's wife, uncle, eldest son and his close female friend Su Yu-lan (蘇玉蘭), who were imprisoned. \nHaving lived through both the Kuangming News and the Ta-an Print Shop incidents, Lu must have been planning to leave the island. One piece of evidence that he intended to leave is that he borrowed money from Koo Yen Pi-hsia. The authorities, however, still accused him of having contacts with the communist "Taiwan Provincial Work Committee," and said that he hid in the Luku armed base run by the committee. This was around February or March, 1950. \nIt is said that Lu, while hiding in the Luku area, was bitten by a poisonous snake and died in the mountains in the fall of 1950, but there is no way of verifying either of these two pieces of information. In November the following year, the Security Command issued a so-called "list of hiding communist bandits who have still not turned themselves in" (尚未自首潛匪名單). Lu was still on the list, with the only notes being "xx years, Taichung County, Taipei singer." \nLu Cheng-hui (呂正惠), a professor in the Chinese department at Tsinghua University who studied Lu Ho-juo's works, says that during the Japanese era, Taiwan's tenant farmers were doubly exploited by the Japanese government and their landlords. Intellectuals sympathizing with the tenant farmers laid the foundation for socialism in Taiwan. Disappointment with the KMT government after it took over Taiwan further helped the leftist trend, and we cannot criticize the behavior of Lu and other intellectuals at the time from the standpoint of today's identification with Taiwan, he said. \nIn the tragic fate of Taiwan's people in the years following the 228 Incident in February 1947, people like Koo Yen Pi-hsia, Chung Hao-tung, his wife and Lu Ho-juo could not escape the heartless suppression of the White Terror era. In 1952, the terror was further extended to the Luku Mountains. \nResearch by Ho Jui-ling (何瑞玲), Chen Hsiang-lin (陳祥麟), Huang Pang-ping (黃邦平), Hsu Shao-hsuan (許紹軒), Liu Li-jen (劉力仁), Hung Min-lung (洪敏隆) and Liang Hsiu-hsien (梁秀賢), staff reporters of the Liberty Times.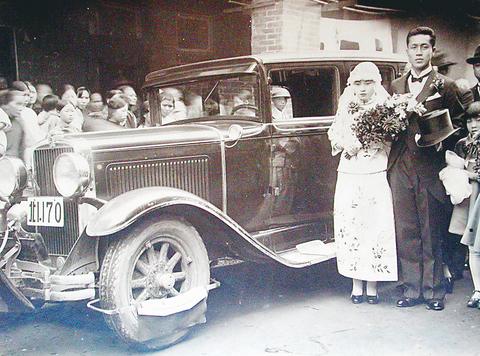 The Koo family caused a sensation in 1932 when Koo Yueh-fu -- a son of Koo Hsien-jung -- went to meet his bride Yen Pi-hsia at her home in Taipei's Sanhsia before escorting her back to his home for the wedding.
PHOTO: CHEN HSIANG-LIN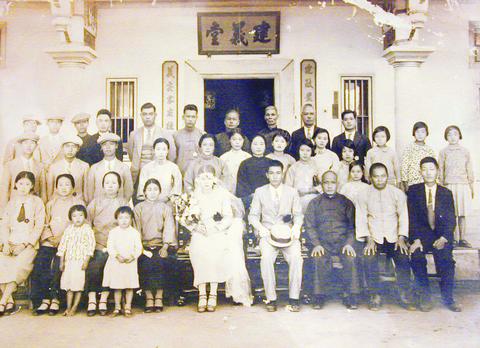 Lu Ho-juo and Lin Hsueh-jung's wedding photograph, provided by Lu's second son, Lu Fang-hsiung. After Jeffrey Koo's mother Koo Yen Pi-hsia gave Lu a small loan, her life was turned upside down.
PHOTO COURTESY: JEFFREY KOO
Comments will be moderated. Keep comments relevant to the article. Remarks containing abusive and obscene language, personal attacks of any kind or promotion will be removed and the user banned. Final decision will be at the discretion of the Taipei Times.