The Koo family: a century in Taiwan
Although Koo Hsien-jung is seen by some as a traitor for opening the Taipei Gate to invading Japanese troops, the family's complicated political history mirrors Taiwan's evolution as a nation
Five years ago, Koo Yen-hon (辜晏宏) left China Synthetic Rubber Corp, an affiliate of the Koo's group, and moved to Lukang with his wife to take charge of the Lukang Folk Arts Museum. \nKnowing nothing about museum management, it was a challenging but honorable mission for Koo, because he was chosen by his family to take care of the house built by his grandfather, Koo Hsien-jung (辜顯榮). \nThe Baroque-style building, which took seven years to construct and was completed in 1919, symbolizes the glory of the Koo business empire over the past century. \nBefore 1895, Koo Hsien-jung was already a successful businessman in Lukang. Being a far-sighted and an ambitious man, the elder Koo had foreseen the declining position of his home town and the emergence of Taipei in terms of its trade and political importance. \nWith this in mind he moved to Taipei to develop his business and established a foothold in Tataocheng, now the Tatung district, then the business center of the Taipei area. \nThe concession of Taiwan \nAfter China signed the Shimonoseki Treaty conceding Taiwan to Japan in April 1895, the Japanese, in May, immediately sent troops to take over the island. \nIn an effort to prevent Taiwan from being occupied by Japan, an independent republic called Democratic Taiwan (台灣民主國) was created in Taipei under the leadership of Tang Ching-sung (唐景崧). \nAfter the Japanese army conquered Keelung in June, the short-lived republic eventually collapsed, and Tang, together with some key officials, fled to China. \nWithout a government to maintain law and order, Taipei City fell into chaos. Soldiers and gangsters became bandits. Business circles, in particular, were longing for an authority to enforce security and order. \nThough the Japanese army had superiority over their Chinese counterparts and the Taiwanese militia in terms of training and weaponry, they had still failed to conquer Taipei City due to the solid construction of the Taipei Gate. \nIn an attempt to restore security, Tataocheng businessmen moved to open the Taipei Gate and welcome the arrival of Japanese troops. \nOn June 6, 1895, Koo Hsien-jung opened the gate and guided the Japanese into the city. Koo's move became the turning point of his business and political career. \nFrom then on, he won the confidence of the Japanese by demonstrating his allegiance to the colonial rulers. \nIn 1896, he was nominated as head of the Taipei Security Bureau. In 1921, he was selected as a council member of the Taiwan Governor's Office. In 1934, he was chosen as the first Taiwanese to be a congressman of the upper house of the Diet. \nApart from his political career, he had also dealt with monopoly businesses, such as salt, sugar and opium. In addition, he had participated in the establishment of the Changhwa Commercial Bank and ran the pro-Japan Taiwan Jih-jih Hsin Pao. \nBut the family's eminence did not perish with the withdrawal of the Japanese in 1945. The family's present economic and political influence is no less than the elder Koo enjoyed. \nKoo Chen-fu (辜振甫), the chairman of the Koo's group and Taiwan's chief negotiator for cross-strait affairs, was Koo Hsien-jung's fifth son. \nJeffrey Koo (辜濂松), president of Chinatrust Commercial Bank and a national policy adviser, is a third-generation heir from Koo Hsien-jung's fourth son, Koo Yueh-fu (辜岳甫). \nBut the Koo family did not always sail with the wind, because of changes in the government and the ironic way history has of repeating itself. \nIn 1895, the Chinese nationalists plotted an aborted independence movement to prevent Taiwan from being handed over to Japan. In 1945, right after Japan surrendered to the Chinese, a few Japanese military men, allegedly with Koo Chan-fu's help, hatched their own plan, to keep the island from Chinese rule. \nIn 1946, Koo Chen-fu was put in jail by the KMT government for 19 months, having been accused of being a "traitor" for his involvement in the plan. \nIt was not the only nightmare for the Koo family during the painful switch of government. In a TV program special on celebrities that aired in June last year, Jeffrey Koo recalled how his mother, Koo Yen Pi-hsia (辜顏碧霞), was taken away from her home by KMT secret police. \nKoo Yen Pi-hsia was once arrested under the accusation of "sponsoring a bandit," for sponsoring Taiwanese dissident writer Lu Ho-jo's (呂赫若) trip to Japan. \nGaining trust \nBut thanks to Koo Chen-fu's interpersonal skills, after Chiang Kai-shek (蔣介石) and his army fled to Taiwan in 1949, he soon gained Chiang's trust, despite the Koo family's close links to Japan. \nKoo's wife, Cecilia Y. Koo (辜嚴倬雲) then became Madame Chiang Kai-shek's (蔣宋美齡) closest aide. \nAmong Koo Hsien-jung's six wives, one was Japanese, and two of Koo Hsien-jung's 12 sons married Japanese women. Some members of the Koo family are living in Japan. \nKoo Chen-fu, for example, is well known for his personal links to Japanese politicians, including former Japanese prime minister Yoshiro Mori. \nA source in the Ministry of Foreign Affairs told the Taipei Times that each time Mori visited Taiwan as a member of the lower house, before becoming the prime minister, Koo Chen-fu had always hosted a banquet to receive him. \nKoo Chen-fu's youngest brother, Koo Kuan-min (辜寬敏), has won respect within the DPP for his long devotion to Taiwan's independence while living in Japan in the 1950s and 1960s. \nHowever, the Koo family's Japanese connections did not trigger the KMT government's suspicion over the family's loyalty. To the contrary, members of the Koo family, like Koo Chen-fu, Koo Kuan-min and Jeffrey Koo, frequently played the role of the KMT government's special envoys on Taiwan-Japan affairs. \nEven after the DPP took control of the government, the Koo family seems willing to serve the nation's interests regardless of who is in power. \nSources in the government said Jeffrey Koo is still active in bridging President Chen Shui-bian's (陳水扁) participation in APEC. His uncle, Koo Chen-fu, is serving the DPP government and trying to resume dialogue with China. \nCompared with the hasty approach other business groups have taken to investing in China, such as the Formosa Plastics and the Evergreen Group, the Koo group seems relatively patient. \nThe Koo's low profile on the issue of "marching toward China" is seen as a political gesture to solidify its support for the government's policy. \nIn the light of Taiwan's complicated history in the past century, the Koo family's relations with the authorities in different times may well explain Koo Hsien-jung's controversial role and how Taiwan's national identity has evolved. \nWhether Koo Hsien-jung was a traitor of Taiwan may be irrelevant at a time when Taiwan's national identity did not exist. It is a widely shared opinion that Tai-wan's national identity began to take shape under Lee Teng-hui's (李登輝) presidency. \n"History just happened like that. My grandfather turned the page for my family. You can not imagine how small my great grandfather's tomb was," Koo Yen-hon told the Taipei Times. \nAccording to Chinese tradition, the bigger the tomb, the more eminent the family was. \n"Nobody, even us [the offspring of Koo Hsien-jung], knows why finally my grandfather went alone to welcome the Japanese, as the plan was proposed by several influential Taiwanese businessmen in Tataocheng," Koo Yen-hon added. \nKnowing that union is power, the Koo family is one of tradition and discipline, under the leadership of Koo Chen-fu. According to Koo Yen-hon, family members aren't troubled by the fact that they don't always share the same political and religious beliefs. \nKoo Kuan-min, for example, had long been a political dissident before the DPP took power, while Koo Chen-fu used to be a member of KMT's most powerful decision-making body, the Central Standing Committee. \n"My aunt [Cecilia Y. Koo], being a Christian, also holds incense sticks to worship my grandfather on the anniversaries of his death," said Koo Yen-hon. \nKoo's family members never call their relatives by name, but always by the title of family hierarchy. \nKoo Yen-hon, for instance, calls his cousin Jeffrey Koo, who is seven years older than him, "third elder brother" (三兄). \nTo take charge of a museum, specializing in collections of relics of Taiwanese civil life and folk arts, Koo Yen-hon has been engaged in bridging Taiwan's recent history with the museum's collections. \nCreation of the museum \nIn 1973, Koo Chen-fu and his younger brother Koo Wei-fu (辜偉甫) donated their family house and established the Lukang Folk Arts Museum Foundation. \nKoo Wei-fu, Koo Yen-hon's father, had been known as an intellectual rather than business-minded entrepreneur. He was the founder of the Jung-hsing Garden, Jung-hsing Kindergarten and the Jung-hsing Children's Chorus. \nAs a layman of museum management five years ago, and frustrated with that fact that Taiwan was still a desert in this field, Koo Yen-hon had to seek professional assistance from the Japanese Museum Management Association. \nKnowing Japan very well thr-ough the fact that he was mothered by a Japanese lady and was educated in Japan in his youth, Koo Yen-hon found a short cut to the profession fast. \nAfter two years of learning the Japanese experience, he began to put his professional knowledge into practice three years ago. \nHe began to enrich the museum's collection by purchasing and collecting donations from Koo family members. \nIn addition, he made the museum come to life by having museum employees serve as guides to explain the social functions of every individual piece of the collection. \nAt the beginning, the employees didn't seem to understand why they had to do an oral guide for the visitors. It was hard for Koo Yen-hon to convince them of the necessity. \nMuseum guide \nWith Japanese as a mother tongue and fluent in English, Koo Yen-hon often serves as a museum guide when there are foreign visitors, because the museum lacks staff fluent in foreign languages. \nVisitors' discipline is also a problem for museum managers. The most irritating behavior of visitors are shouting and running around. Very often, parents and teachers just tolerate and ignore children's bad behavior. \nSo, Koo Yen-hon had to set up rules for visitors. As a museum tour is a journey of knowledge, decent behavior is a must if one is to show respect and appreciation for knowledge. \nManaging a museum requires a lot of energy. Fortunately, Koo Yen-hon's wife, Hsiao Wei-cheng (蕭慰真), is very helpful. \nShe is a patient teacher of badly behaved children. Looking mother-like and always smiling, her job is to give advice about disciplining children in a kind way. \nSince the visitors' applause is the best award for the job of guide, Koo Yen-hon has finally been proved right. For him, without giving knowledge to the visitors, the museum is dead. \nNow, Huang Ching-yi, a senior museum guide who has been working for the museum from the very beginning, can easily impress visitors with her abundant knowledge of old Taiwanese civil life. \nCollection pieces are increasing and have exceeded 6,000 articles. According to Hsiao Wei-cheng, the museum hopes to renew pieces of the exhibition every season, so that visitors can view different objects in the museum's collection. \nIt'll be the 30th anniversary of the creation of the museum, the first private museum in Taiwan, on Nov. 10 next year. \nIt has been a hard and difficult ride, due to the fact that funds from both the Koo family and government are limited. But Koo Yen-hon has so much work to accomplish. \nOne major frustration for Koo Yen-hon is the regulations and conditions of the government's funding, and the owner has no say in it. \nKu Feng Lo (古風樓), for instance, an example of southern-Hokkien architecture, located by the main building and also part of the museum, has been renovated through government subsidies. \nBut the result is not totally satisfactory, with some original elements of the building having been replaced with new materials. \n"Don't you find it strange to see a house aging over one century but looks brand new?" asked Koo Yen-hon. \nHowever, imperfection means a lot can be improved, otherwise Koo Yen-hon's passion and efforts wouldn't be needed. \n"We enjoy our work, otherwise, it would be difficult to appreciate life in this remote township [Lukang]. This is a mission that we [the Koo family] will pass on, regarding the family's history and tradition," Hsiao Wei-cheng said."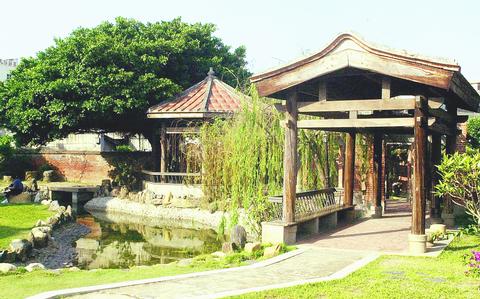 The Chinese garden of the Lukang Folk Arts Museum. In 1973, Koo Cheng-fu and his younger brother Koo Wei-fu donated their family house and established the Lukang Folk Arts Museum Foundation. Koo Yen-hon left China Synthetic Rubber Corp five years ago to take charge of the museum.
PHOTO: HU WEI-MING, TAIPEI TIMES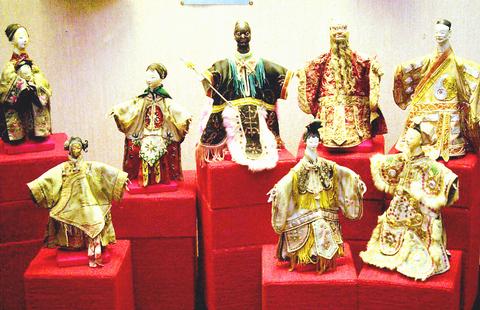 A collection of Taiwanese puppets at the Lukang Folk Arts Museum.
PHOTO: HU WEI-MING, TAIPEI TIMES
Kids play on the grass in front of the Lukang Folk Arts Museum. The behavioral problems of visiting children have been one of the challenges of running a museum, according to Koo Yen-hon.
PHOTO: HU WEI-MING, TAIPEI TIMES
Comments will be moderated. Keep comments relevant to the article. Remarks containing abusive and obscene language, personal attacks of any kind or promotion will be removed and the user banned. Final decision will be at the discretion of the Taipei Times.