Studying North and South of the 49th!
This new feature will include information on studying in Canada and the United States, Hot Tips for preparing to go overseas, and a writer's corner.
Studying North and South of the 49th has several meanings. In a western school setting, the pass/fail point is 50%; so being north of the 49th would indicate a passing grade in school. However, the true meaning of the title of this new series is a little more obscure -- the 49th parallel is, in fact, the demarcation line for the Canadian and America border. In the upcoming weeks this article will explore issues and information for students wanting to study on either side of the 49th parallel -- namely in Canada and the United States.
Education Crisis
To the detriment of Taiwan's talent pool, in the past few years Taiwan has seen a decline in the number of students wanting to study overseas. This problem has been compounded by the rapid expansion of new colleges and universities wanting to attract students to stay home to take their university studies. The number of colleges and universities in Taiwan has almost doubled in the past decade, and the pass rate of the joint university entrance exam was close to 90% in 2004 -- up from under 40% less than 15 years ago. The quality of programming in many of the new schools has had difficulty keeping pace with the rapid expansion of new student positions, and the corresponding lack of qualified instructors and established curriculum.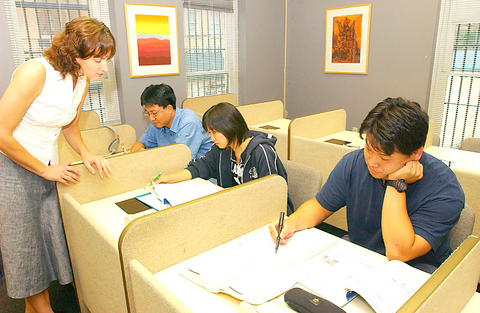 As students stay home to attend local institutions, a much larger percentage of new graduates are entering the job market with lower foreign language skills, a lack of an international experience, and many are lacking in marketable job skills.
This has not gone unnoticed by major corporations and human resources managers. A recent hiring survey of American Chamber in Commerce members has shown that there is a less-than-enthusiastic response towards recent graduates of new programs and schools. While 39% of the companies responding indicated they hire graduates from new schools on a limited basis or rarely, a much larger portion, 84% indicated the number of new schools' grads they hired in the past year were 0-10% of their new hires.
The drive to open up new schools and programs in Taiwan over the past decade has created a black hole in Taiwan's labor market with fewer students studying overseas, and many more graduates coming from unmarketable programs. The result is that many graduates are finding themselves unemployed or underemployed. As the new schools start graduating greater number of students in the next few years, this trend will continue.
The Pendulum Swings the Other Way
The interest in studying overseas is picking up! This past spring saw some of the largest overseas education fairs in many years with the number of foreign schools coming to Taiwan increasing significantly. From early indications, student visa numbers in 2005 are on the rise, and the local study abroad agents' association has reported increased inquiries and registrations. All indications seem to point to a revitalized interest in overseas study.
The new interest is not only market driven, part of the stimulus is institutional. The Ministry of Education (MOE) has launched a series of new initiatives to promote study overseas, including a new low-interest loan program for students wanting to pursue degree studies overseas with interest rates from 2% to 3%. Also a new, expanded and invigorated public scholarship program has also been well promoted by the MOE. The MOE has also been making funds available to local schools to host study abroad seminar series and events on their campuses. Finally, MOE personnel have been conducting extensive outreach on campuses and at education fairs encouraging students to study overseas -- a change from past practices.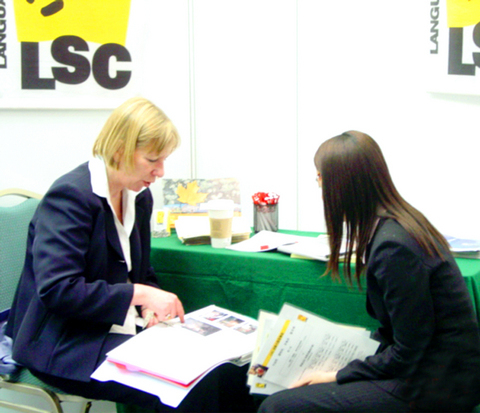 Yes, it is in vogue once again to study overseas!
Where to Go
Combined, Canada and the United States attract over half of all students going abroad to study each year from Taiwan. United States has traditionally attracted the bulk of student for the past several decades, particularly in the field of graduate studies, while Canada being newer on the scene has attracted students to a range of programs because of its perceived high quality of living, safety and relatively lower cost of studying and living.
In 2004 over 14,000 students went to the United States and close to 3,000 students went to Canada. Close to 100% of all student visa applications in Taiwan were approved in 2004 for both countries, and processing time is as little as one week for the U.S. and 3-4 weeks for Canada.
International Students -- a National Interest
On a national level both countries' governments have recently reasserted their interest in attracting international students. In her confirmation hearing for secretary of state, Condoleezza Rice voiced strong support for international education and wanted to ensure foreign students would not have the perception it was difficult to go to the US. The Canadian Minister of Immigration, Joe Volpe, recently announced plans to revise regulations allowing foreign students to work off- or on-campus while they are studying, and they will be able to stay in Canada up to two years after they graduate to gain valuable work experience, up from the current one-year limitation. From the top levels of government administrations to local representative offices, the message is very clear -- Taiwanese students are very much welcomed in the U.S. and Canada.
Why North and South of the 49th?
Top 5 reasons to study in the United States:

1. Top quality and recognition: Greatest number of Nobel and Fields prize-winners. 35 of the 50 top-ranked schools in a recent world ranking are in the U.S.

2. Largest number of Choices: Over 4000 universities and colleges.

3. Ease of application: School, visa and language testing are quick and easy

4. Life in America: On and off campus life in America is unbeatable!

5. Great job prospects when you return.
Top 5 Reasons to study in Canada:

1. Top quality and recognition: 100% of all universities recognized by MOE

2. Lowest tuition and living cost: Graduate from C$2,200/yr.; undergrad: C$4900/yr.

3. Best country in the world to live: Ranked # 1 for the past several years

4. Choice of programs: High schools, language schools, colleges, universities and graduate programs

5. Bi-lingual country: English and French -- the best of North American and Europe!
The author is the director of the OH! America and OH! Canada Education Centers.
Learn more about Canada and the U.S. on the web: http://ohstudy.net/
Publication Notes
Tip of the Week
Do not overly rely on rankings! While they may be able to provide you with a general indication of quality, many other criterion should be examined when choosing a school, such as individual program quality, suitability to your academic level, the community and environment where you will live, the composition of the student body, tuition and living costs, campus culture, and more! Writer conrner Coming next week
Comments will be moderated. Keep comments relevant to the article. Remarks containing abusive and obscene language, personal attacks of any kind or promotion will be removed and the user banned. Final decision will be at the discretion of the Taipei Times.