Thailand's rise to top in petanque
On a shaded practice court in the sticky heat of rainy season in Bangkok, Ratchata Khamdee half-crouches, pauses and launches a petanque boule at the jack.
Aged just 20, he is already a double world champion, the latest winner to come off Thailand's production line of top petanque players.
Half a world away from its home in the squares of southern France, the quintessentially Gallic sport has found an unlikely hotbed of talent in the land of kickboxing, helped by royal approval and support from the armed forces.
Thai national player Saharat Aramros trains at a petanque court in Bangkok on Nov. 8.
Photo: AFP
Thailand finished top of the medals table at the world championships in Benin in September — beating France — with three golds, two of them won by Ratchata.
"It was my goal to become a world champion," Ratchata told reporters.
The shy Ratchata grew up in Sukhothai, a rural province 400km north of Bangkok, picking up petanque by playing with his neighbours. By 18, he was competing at the national level and now studies in Bangkok on a petanque scholarship, with the promise of a career in the air force when he graduates.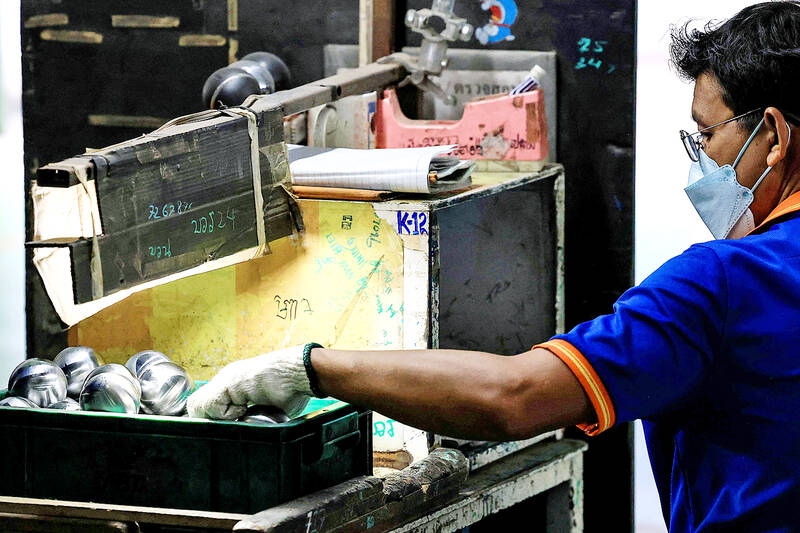 A worker takes an unfinished petanque ball from a box at a Football Thai Factory Sporting Goods plant in Bangkok on Nov. 8.
Photo: AFP
Every day he gets up at 6am, jogs for up to an hour and practices for seven hours.
"Petanque requires a lot of leg muscles and technique," he said.
Ratchata's prize money — about US$8,000 for each of his titles — has been a boon to his mother, Kanta Khamdee, who raised Ratchata alone.
"I can pay for my house loan," she said.
As well as producing fine players, Thailand is also home to one of the only officially approved boule-making factories outside France.
On the edge of Bangkok, 17 workers assemble, polish and engrave the boules, turning out up to 400 a day.
Petanque demands precision, power and strategy.
Players try to land their hollow steel boules, about the size of a tennis ball, as close as possible to a jack and to knock their opponents' boules away.
Groups of older men, often with a cloudy glass of pastis nearby, playing on tracks in village squares have been a common sight across southern France for generations, but the sport is a more recent arrival to Thailand.
It came to the kingdom through a Thai educated in France in 1975, but its popularity took off thanks to the support of Princess Srinagarindra, the grandmother of King Maha Vajiralongkorn. The princess promoted petanque as an inexpensive way for Thais of all ages to get active, and the royal backing gave it standing with the police and military — bastions of Thai royalist conservatism.
Now the kingdom boasts 30,000 to 40,000 registered club players, with the best snapped up by the armed forces, which offer them jobs paying enough that they can devote their time to training.
Suphonnarth Lamlert, vice-president of the International Federation of Petanque, said that for lower-income Thais, petanque can be a way to get a job that brings prestige and security.
"The army and police force would offer the best deals to snatch the best petanque players," she told reporters.
Military support has helped Thailand establish itself as a powerhouse in women's petanque, led for years by Thongsri Thanakord — a multiple world champion, legend of the sport and officer in the Royal Thai Navy.
Nantawan Fuangsanit is taking the baton now, with half a dozen world championship medals at the age of just 29 thanks to a desk job with the air force obtained through her petanque skills.
Her steady job means she can support herself and help her parents, who are farmers.
"I support my family financially. They are way better off than before," Nantawan said.
At the Foundation for Petanque Development in east Bangkok, the next generation of champions is being groomed.
The youngest national player, Saharat Aramros, 13, has his sights on the top, but his feet on the ground.
"I want to be a policeman," he told reporters. "I love petanque, but I want to have a job so I can help my parents."
Comments will be moderated. Keep comments relevant to the article. Remarks containing abusive and obscene language, personal attacks of any kind or promotion will be removed and the user banned. Final decision will be at the discretion of the Taipei Times.