Hangzhou could become home of cricket in China
There is a reverential hush from the respectful crowd as Pakistan's Sadia Iqbal opens the bowling to Bangladesh's Shathi Rani in the Asian Games women's bronze medal match in Hangzhou, China.
The sound of leather on willow echoes around the purpose-built cricket ground, which until recently was full of sunflowers.
The atmosphere is more village green than the fever pitch of, say, Pakistan's Gaddafi Stadium, but the few hundred spectators are fully engaged — even if many admit to never seeing the game before.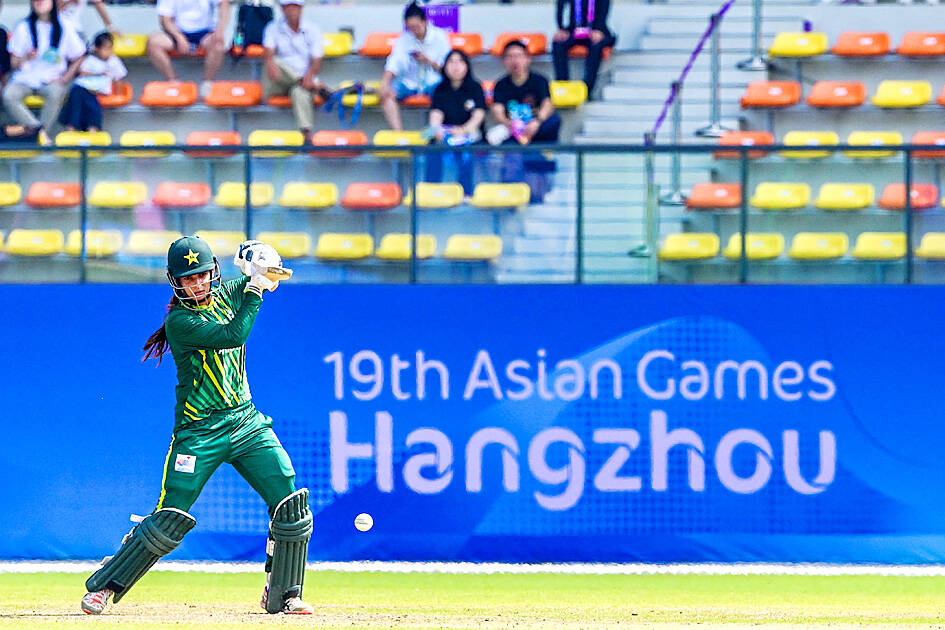 Pakistan's Aliya Riaz plays a shot during their Asian Games women's third-place playoff match against Bangladesh at the Zhejiang University of Technology Cricket Field in Hangzhou, China, yesterday.
Photo: AFP
Almost entirely Chinese, the crowd "oohs and aahs" and clap when a wicket falls, cheer every boundary and then look bewildered when a loud LBW appeal pierces the serenity of the Zhejiang University of Technology (ZJUT) Cricket Field.
"I didn't ever see cricket before, so I was interested to know more about this sport," said spectator Huang Dapeng, who runs his own business in Hangzhou. "I'm starting to understand it a little, but I am really enjoying it anyway."
A few have some knowledge of the game and seem captivated.
"I traveled to Sri Lanka before and a friend invited me to watch cricket, so I became interested," said Liang Xiaoqian, a travel agent.
"When I heard it was in the Asian Games I wanted to learn more about this game," she added, ahead of Monday afternoon's final between India and Sri Lanka.
"I am enjoying watching. I will be supporting Sri Lanka in the gold medal match," Liang said.
Others are there just because it is the Asian Games and they want to watch sport, any sport.
"It's the only Asian Games tickets we could get," said a smiling Jeff Wang, an engineer who was sitting in the stand with his father.
"It's my first time to watch cricket. It's unknown to me before, I don't really know what is going on, but I did hear this game is very famous in South Asia," he said.
Looking out over the oval ground, it is hard to believe that before the Asian Games the pristine mowed grass was a field of sunflowers.
There are no plans to change it afterward. The newest of the ZJUT campus's sporting facilities is to have life after the Games.
"It will remain forever," venue manager Li Danlin said. "There will always be cricket played here from now on."
The university has more than 20 colleges and 80,000 students.
They would be taught about the game and encouraged to play, Li said.
"We hope that cricket clubs will form and use the venue," she said.
Pakistan head coach Mohtashim Rasheed said that it was vital to spread cricket to new territories.
"Very exciting to see the crowds here coming to watch, all Chinese people — that is a very healthy sign for developing cricket in China," Rasheed said. "It is a complicated game, so we have to develop in China and other countries. The most important thing is to get it into schools."
"I would love to do an exchange program here to help boys and girls learn the game. They can start small, a shorter version like six-a-side," Rasheed said. "If you could get under-10s playing, then in five years you would see a difference."
Comments will be moderated. Keep comments relevant to the article. Remarks containing abusive and obscene language, personal attacks of any kind or promotion will be removed and the user banned. Final decision will be at the discretion of the Taipei Times.