How Hong Kong became a fencing powerhouse
Hong Kong is one of the smaller Asian Games teams by population, but when it comes to fencing the territory is a regional heavyweight with ambitious medal hopes.
Edgar Cheung won gold at the Tokyo Games two years ago — Hong Kong's first Olympic fencing title and first Olympic gold in any sport in 25 years.
It turned Cheung into a celebrity overnight and prompted parents across the territory to rush and sign their children up for fencing classes.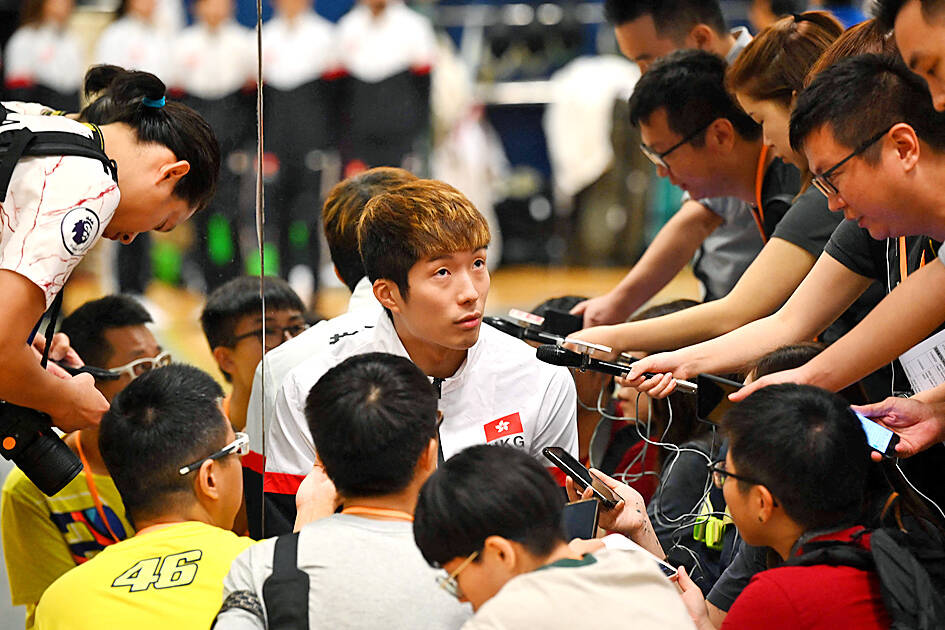 Hong Kong fencer and Tokyo Olympic gold medallist Edgar Cheung speaks to reporters at an event in Hong Kong on Sept. 4.
Photo: AFP
Cheung's historic win in the foil competition was a much-needed dose of good news for a territory mired in social unrest and COVID-19 gloom at the time.
With more funding and public attention as a result, Cheung and his teammates now hope to stamp their mark on the Asian Games in Hangzhou, China, which open on Saturday.
Despite a good record at recent editions, including eight medals in the sport in 2018, Hong Kong has yet to win fencing gold at the Asian Games.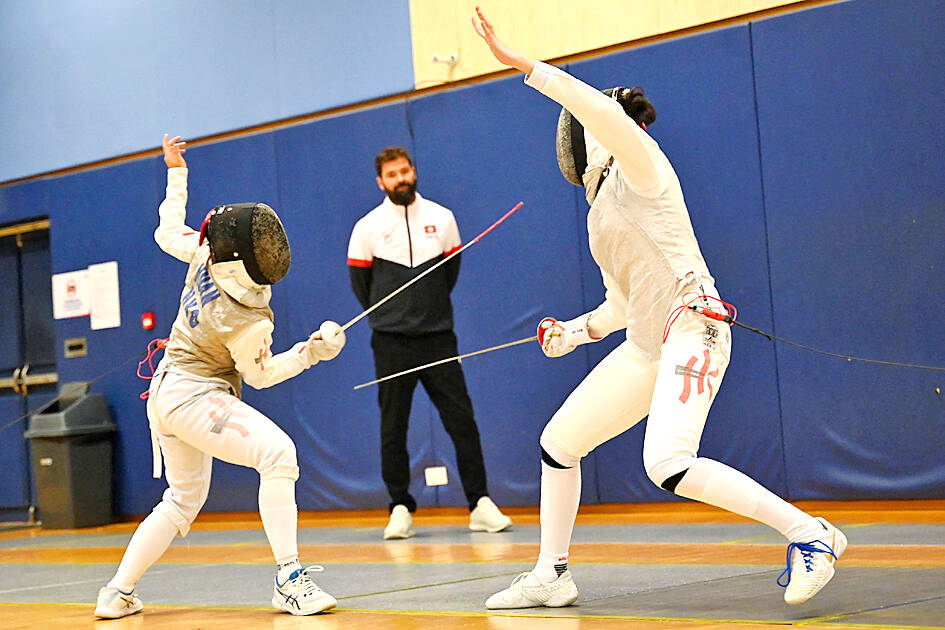 Hong Kong fencing coach Greg Koenig, center, looks on as two of the team's female fencers demonstrate the sport at a media event in Hong Kong on Sept. 4.
Photo: AFP
"No matter for individual or team events, I hope we can [win gold at last]," 26-year-old Cheung said.
Hong Kong is to have 24 fencers, 12 women and 12 men, at the Games.
Another gold-medal contender is 29-year-old Vivian Kong, who is ranked No. 2 in the world in women's epee.
There is also Ryan Choi, who along with Cheung was part of the Hong Kong team that won bronze in the men's team foil at the Fencing World Championships in July.
Cheung said the Hong Kong team have "improved greatly" since the 2018 Asian Games in Jakarta.
The left-hander, who has recovered from a recent wrist injury, said that he wanted to "prove to our competitors they need to beware of us."
Fencing in the territory stretches back decades, to when Hong Kong was a British colony, with its amateur fencing association founded in 1949.
The territory had occasional success in the early 2000s, but it was the 2010 Asian Games, where Hong Kong fencers won seven medals, that first established them as a regional powerhouse.
Local organizers made efforts to popularize the sport, bringing classes to schools and community hubs over the past two decades — that is where Cheung had his first taste of fencing.
Fencers also benefited from a reform to Hong Kong's pipeline for discovering and training talent which allowed Cheung to devote himself to the sport full-time when he was 17 with his parents' blessing.
Cheung's final bout at the Tokyo Olympics drew hundreds of fans who crowded into a Hong Kong mall to watch the live broadcast, popping champagne corks after he emerged victorious.
Days later, then-Hong Kong chief executive Carrie Lam announced more funding for elite Hong Kong athletes, including an expansion to the fencing hall at the institute where Cheung trains.
Gregory Koenig, who previously coached in his native France and also Taiwan, began working with Hong Kong's fencers five years ago, and has developed a close relationship with Cheung.
He had a warning for Hong Kong's star, who has slipped to seventh in the men's foil world rankings.
"When you're Olympic champion it's very hard because everybody has an eye on you and everybody's fighting hard against you," Koenig said.
"Okay, do you think you reached the maximum level and you want to stop here? Or are you still motivated for more?" Koenig said he asked Cheung. "He told me: 'No, I really want to put my name in the history of fencing.'"
Comments will be moderated. Keep comments relevant to the article. Remarks containing abusive and obscene language, personal attacks of any kind or promotion will be removed and the user banned. Final decision will be at the discretion of the Taipei Times.