Fighters seek to restore Brazil's MMA domination
Self-described "nerd" Caio Borralho quit his chemical engineering studies to become a professional mixed martial arts (MMA) fighter, part of a new generation looking to reinvigorate the sport in Brazil, home of legendary champions.
With his good-natured face and glasses, Borralho, 30, does not fit the stereotype of the scowling, pain-inflicting Brazilian behemoths who have made the country famous as a home of Ultimate Fighting Championship (UFC) icons.
However, he is part of a wave of young Brazilian fighters looking to make their mark and renew the South American country's dominance, after the retirement of former champions Anderson Silva in 2020 and Amanda Nunes in June, considered by many the greatest of all time.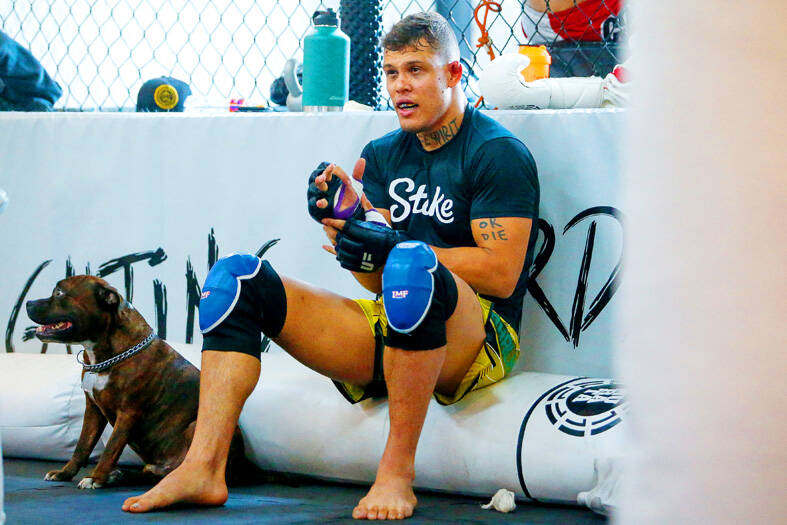 Brazilian UFC middleweight fighter Caio Borralho takes a break during training at an academy in Sao Paulo, Brazil, on Aug. 9.
Photo: AFP
Brazil has played a key role in the development of the multimillion-dollar international MMA cage-fighting frenzy, and in launching the UFC, its top competition, in 1993.
Brazilians hold a slew of records in the sport and make up 20 percent of the UFC's top-ranked fighters across its 13 weight divisions, but the country currently has just one champion: reigning flyweight belt-holder Alexandre Pantoja.
"We're in a renewal period. There needs to be more investment at the base level," Borralho said. "There's been more support in other countries, where the sport has grown really fast. That's what makes the difference in future results. The secret now is to concentrate on the base level, and we'll be dominating again in no time."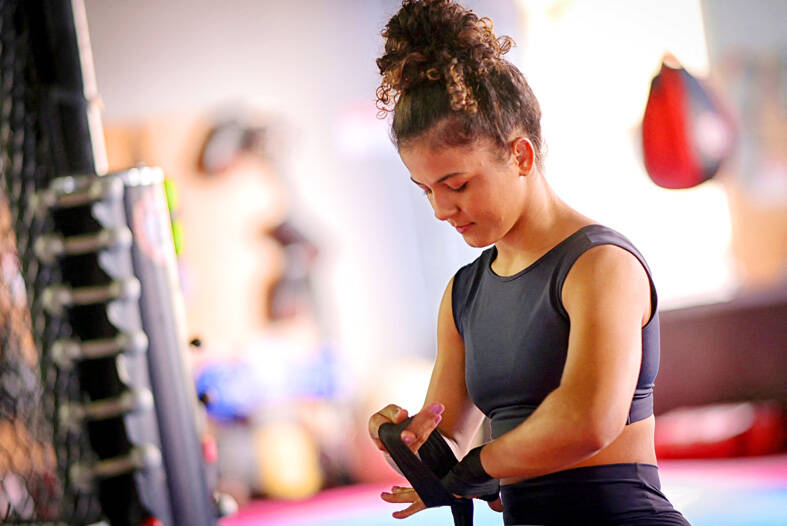 Brazilian UFC fighter Natalia Silva attends training at the Team Borracha gym in Contagem, Brazil, on June 16.
Photo: AFP
Borralho is practicing hand-to-hand combat with about 20 other fighters at a gym in central Sao Paulo, looking to make good on his vow to bring home the UFC middleweight title.
Since making his UFC debut in April last year, he is undefeated in four bouts.
However, he said that he still has work to do.
"I need more fight time, more experience," said Borralho, who grew up practicing judo in the northeastern city of Sao Luis de Maranhao, took up MMA at 19 and left university a year before graduating to chase his UFC dream.
Other Brazilian fighters such as former champions Charles "Do Bronx" Oliveira and Alex Pereira are also on campaigns to restore the country's dominance.
Brazil might be the land of soccer, but the country was instrumental in the rise of the UFC, thanks to international interest in Brazilian jiujitsu — a reinvention of the ancient Japanese martial art — and vale tudo, a no-holds-barred combat sport.
"UFC is in Brazilians' DNA," said Eduardo Galetti, the UFC's vice president in Brazil. "Young fighters used to start out in another discipline and discover MMA. Now they're native-born MMA fighters."
Brazil has the second-most UFC fighters of any country, and is its second-largest market, after the US, Galetti said.
MMA has become a lucrative business for numerous Brazilian fighters, some of whom have become superstars on the level of Brazil soccer star Neymar.
"I don't just want to be a champion. I want to be a champion whose story has an impact on other people's lives. I want to inspire dreams," 26-year-old fighter Natalia Silva said.
Since making her debut in the octagon in June last year, the flyweight phenom has won all four of her bouts and risen to 13th in the UFC rankings.
"God willing, that belt will be ours very soon," Natalia Silva said, training at a gym on the outskirts of the southeastern city of Belo Horizonte.
She started out studying taekwondo before discovering the UFC, whose women's tournaments have grown exponentially since their launch in 2013 — thanks in no small part to Nunes, the trailblazing champion who has held the featherweight and bantamweight belts.
Brazilian women today outrank the men, with 23 of the country's 42 ranked fighters.
"Brazilians are born with a drive to win. It's a country where most people have hard lives," MMA trainer Carlos Junior Lopes said. "The difficulties we face build up our fighting spirit. Combine that with the right technique, and there's no stopping us."
Comments will be moderated. Keep comments relevant to the article. Remarks containing abusive and obscene language, personal attacks of any kind or promotion will be removed and the user banned. Final decision will be at the discretion of the Taipei Times.