Turner played a 'unique' part in rugby league
Tina Turner is best known as a trailblazing rocker, but Australia also remembered her for her "unique" role in the history of rugby league in the country.
As tributes poured in from around the world to one of music's biggest names, who died on Wednesday aged 83 in Switzerland, many Australians fondly recalled her influential love affair with the sport.
"She played a unique role in probably the most iconic sports marketing campaign in our history," National Rugby League chief executive officer Andrew Abdo said yesterday. "It was inspirational and it got people thinking about rugby league differently. The thing that made that campaign so successful was Tina — what a wonderful person she was."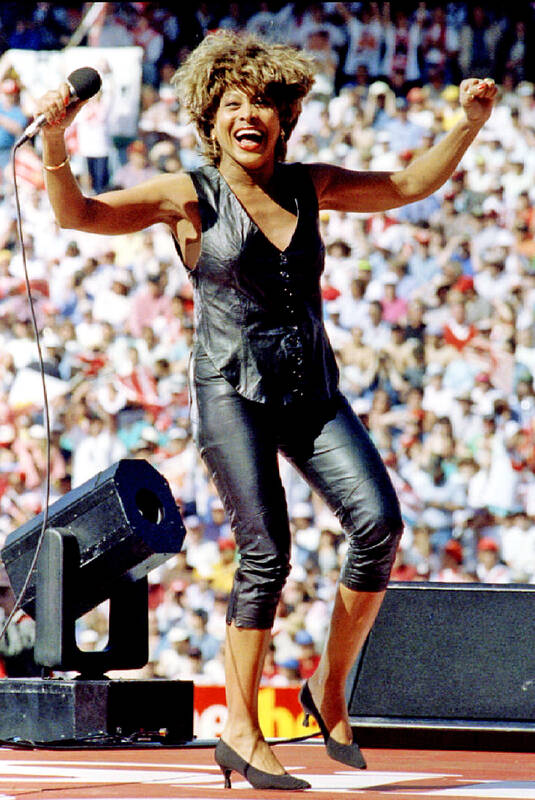 Tina Turner performs at the Australian rugby league grand final halftime show at the Sydney Football Stadium on Sept. 26, 1993.
Photo: Reuters
Australian rugby league is now massively popular and a business behemoth, but it was a different story in the late 1980s, when it was derided by some as working-class and macho.
The sport's top brass decided it needed a revamp to attract a new audience, particularly women and families, and that's where the American "Queen of Rock 'n' Roll" came in.
Then-general manager John Quayle's assistant was friends with Roger Davies, an Australian rugby league fan living in the US and Turner's manager.
It led to her hit What You Get Is What You See being used in a risque 1989 marketing campaign featuring montages of sometimes shirtless players on the beach and the pitch as Turner belted out the song.
"There was a lot of opposition to it because we were using at the time — and it was stated — 'a black American grandmother' to promote the game of rugby league and that was very controversial," Quayle told national broadcaster ABC.
"It was controversial until such time that people heard it. And when they heard it and people saw that commercial, they acknowledged across the nation that it was one of the greatest sporting advertisements ever," he added.
An overwhelming success, it was quickly followed with another promo featuring her power ballad Simply The Best, which is credited with sending rugby league to unprecedented levels of popularity in Australia.
In an even bigger coup, Turner was then taken to Australia to perform live at the 1993 grand final between the Brisbane Broncos and the Saint George Dragons in Sydney.
She sang Simply The Best during the halftime show and joined the celebrations alongside the players at fulltime to entrench herself into rugby league folklore.
Quayle said that although Turner knew "nothing" about the sport initially, she "warmed to it."
"She loved the players. She understood after a little while how fit they were, how good looking they were," he said.
Simply The Best was re-used ahead of the 2020 season, with Turner saying that she was "thrilled."
"Thirty years on, to see the song being celebrated and the campaign relaunched is very humbling," ABC cited her as saying at the time.
"The [1993] grand final was my first rugby league game and I've never forgotten it," she said.
Comments will be moderated. Keep comments relevant to the article. Remarks containing abusive and obscene language, personal attacks of any kind or promotion will be removed and the user banned. Final decision will be at the discretion of the Taipei Times.