Carlsen, Ding to join new chess league in Dubai
Reigning world champion Ding Liren and top-ranked Magnus Carlsen are to participate in next month's inaugural franchise-based Global Chess League (GCL), organizers said yesterday.
The tournament is to run from June 21 to July 2 in Dubai and feature six teams of six players each, including a minimum of two female players and an "icon" player per team.
Carlsen and Ding are to join as two of six "icon" players, along with Indian grandmaster Viswanathan Anand and Poland's Jan-Krzysztof Duda.
Norwegian chess grandmaster Magnus Carlsen poses for photographers at the Breakthrough Prize ceremony at the Academy Museum of Motion Pictures in Los Angeles, California, on April 15.
Photo: Reuters
The final two names are to be confirmed at a later date, organizers said.
"Global Chess League will be a great new event in over-the-board chess that has never been done before," Carlsen, who has been the world's top-ranked player for over a decade, said in a statement. "I'm excited to be a part of this unique mixed-team format."
China's Ding, 30, became world champion last month, taking the crown from Carlsen, after the 32-year-old Norwegian last year said he would not defend his title.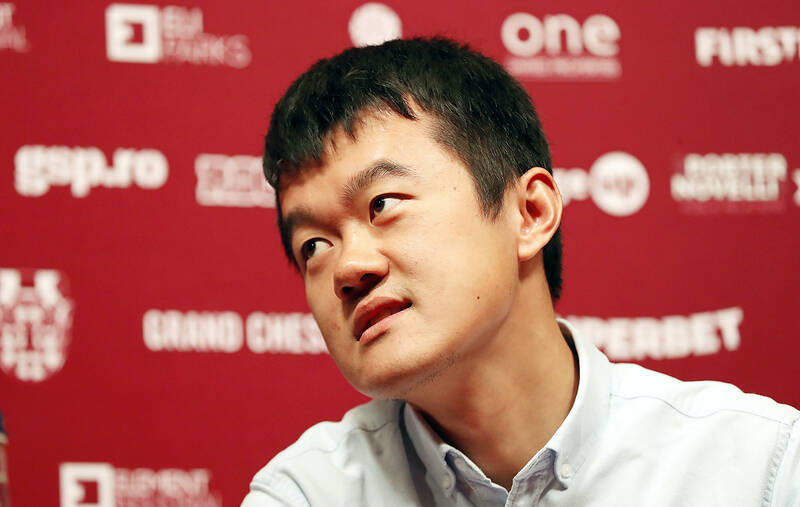 Chinese chess grandmaster Ding Liren speaks to reporters during a news conference at the Superbet Chess Classic Romania at the Grand Hotel Bucharest on May 11.
Photo: EPA-EFE
Dubai also staged the 2021 Chess World Championship, when Carlsen won his fifth title.
Russian grandmaster Alexander Grischuk, France's Maxime Vachier-Lagrave and Hou Yifan of China, a four-time women's world champion, will also participate in the tournament.
Anand, 53, held the world title from 2007-2013, when he lost to Carlsen, and was elected as the deputy president of the International Chess Federation (FIDE) in August last year.
The GCL is a joint venture between FIDE and Indian IT services provider Tech Mahindra.
"My involvement with the GCL predates my becoming deputy president," Anand said. "I was in discussions with Mahindra and I was advising them more than a year before that.
"Once I went on to become the FIDE deputy president, it slotted in nicely. One of the things I suggested early on is that they work together with FIDE," he said.
The six teams will compete in a round-robin format and play 10 matches each, with the top two teams qualifying for the final.
Comments will be moderated. Keep comments relevant to the article. Remarks containing abusive and obscene language, personal attacks of any kind or promotion will be removed and the user banned. Final decision will be at the discretion of the Taipei Times.