Airline steps in for Mexican divers
Mexico's largest airline has offered to fly Olympic divers Alejandra Orozco and Gabriela Agundez to this year's world championships for free after government funding cuts forced them to try to find ways to pay their own passage.
Elite Mexican aquatic athletes have been driven to selling towels and bathing suits among other fundraising initiatives since government funding was cut in a row over the governance of the Mexican Swimming Federation (FMN).
Orozco and Agundez said on national radio on Wednesday that they had considered auctioning off their Olympic medals to continue competing around the world in the run-up to next year's Paris Olympics.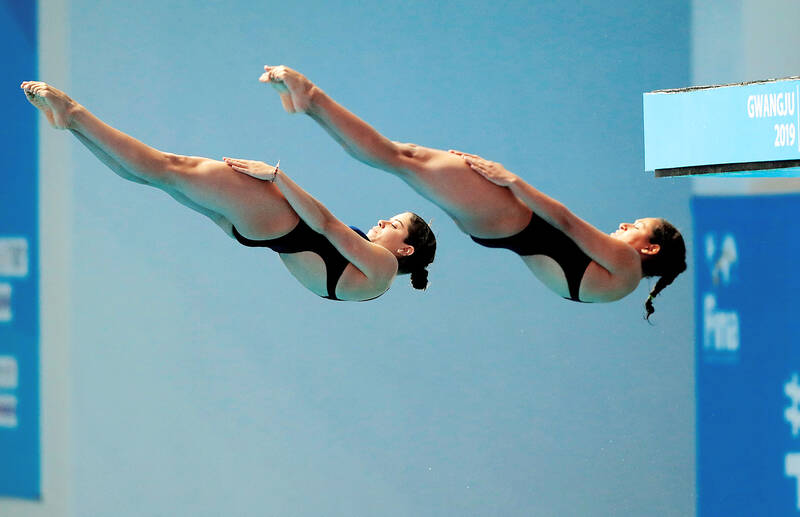 Mexico's Alejandra Orozco and Gabriela Agundez compete in the women's 10m synchronized platform event at the World Championships at the Nambu University Municipal Aquatics Center in Gwangju, South Korea, on July 14, 2019.
Photo: Reuters
However, moments later they received an on-air call from an Aeromexico executive, who said the airline would ferry the entire diving team to the Aquatics World Championships in Japan in July.
"We have followed the success of Alejandra and Gabriela closely and if they have to go to Japan, Aeromexico will take them," Aeromexico director of communications Christian Pastrana said. "We will be delighted to do it."
Orozco, who won a synchronized 10m platform silver medal at the London Games in 2012 and teamed up with Agundez to win a bronze in Tokyo in 2021, said that the pair had only reluctantly considered selling their medals.
"We don't want to go to the extreme of auctioning our medals, we are offering conferences and talks to children so that they don't get discouraged by these situations in sport," Orozco, 26, told Mexican network Radio Formula.
Mexican Ministry of Sports President Ana Guevara took the decision in January to cut funding from FMN after World Aquatics withdrew its recognition of then-FMN president Kiril Todorov and installed a "stabilization committee" to run the body.
Todorov is facing a trial in Mexico on charges of embezzlement.
He has said that he is innocent.
Comments will be moderated. Keep comments relevant to the article. Remarks containing abusive and obscene language, personal attacks of any kind or promotion will be removed and the user banned. Final decision will be at the discretion of the Taipei Times.