Taiwanese star Yu Chang named WBC Pool A MVP
Taiwanese slugger Yu Chang on Sunday night was named the World Baseball Classic (WBC) Most Valuable Player (MVP) of Pool A due to his explosive batting during Taiwan's four-game run, the event organizers said.
The 27-year-old eastern Taitung County native had two homers, two doubles and a 0.438 batting average to come out seven for 16 with a 0.500 on-base percentage.
He also had a 0.938 slugging percentage, eight RBIs, five runs, two walks and two strikeouts in four games.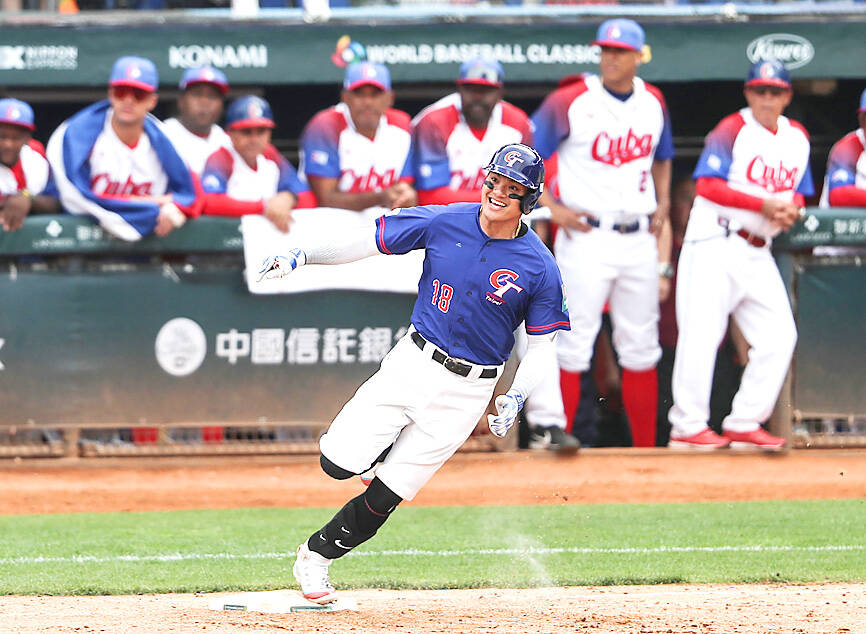 Taiwan's Yu Chang rounds a base after hitting a double during their World Baseball Classic Pool A game against Cuba in Taichung on Sunday.
Photo: CNA
Taiwan failed to advance to the quarter-finals despite a 2-2 record in Pool A, so Chang is to return to MLB spring training with the Boston Red Sox.
The team signed Chang to a one-year, US$850,000 contract on Feb. 16.
Taiwan, Cuba, Italy, the Netherlands and Panama were part of a five-way tie in Pool A, with each team winning two games.
Cuba and Italy advanced to the quarter-finals, as they had the fewest runs allowed per defensive outs recorded.
Chang is the only Taiwanese player competing in the MLB and the only player from Taiwan to record 100 hits in his MLB career.
In his 190 at-bats through 69 games for four teams, Chang had a 0.208 batting percentage, four homers and 15 RBIs, while playing as a utility infielder.
Comments will be moderated. Keep comments relevant to the article. Remarks containing abusive and obscene language, personal attacks of any kind or promotion will be removed and the user banned. Final decision will be at the discretion of the Taipei Times.