Jeremy Lin praises brother as 'underrated'
Former NBA superstar Jeremy Lin on Tuesday night called his younger brother "underrated," after Joseph Lin and the New Taipei Kings dominated the Kaohsiung Steelers 101-88.
The P.League+ had hyped up the showdown in New Taipei City, posting an image on Instagram of the brothers staring each other down, but Jeremy Lin said the game had nothing to do with sibling rivalry and everything to do with brotherly love.
"In the past two days, I texted my older brother [Joshua Lin] on the bus here. I kept thinking about how Wei-wei [Joseph Lin] had been looked down on when we grew up, and to now, I just ... I just lost my words," the emotional 34-year-old former NBA guard told reporters after the game.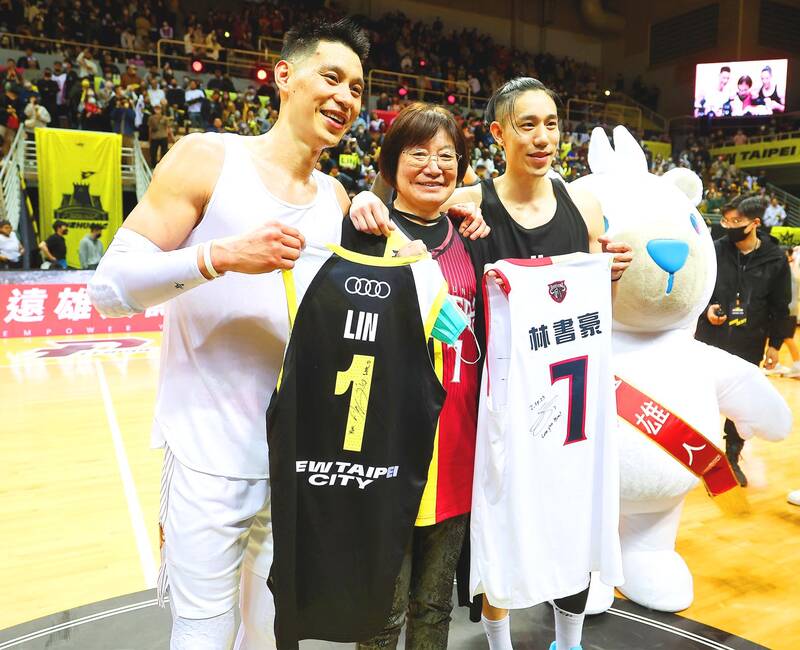 The Kaohsiung Steelers' Jeremy Lin, left, and his younger brother, Joseph Lin of the New Taipei Kings, right, pose with their mother, Shirley Lin, while holding each others' jerseys after their P.League+ game in New Taipei City on Tuesday.
Photo: CNA
Regarding Joseph Lin's performance on the court, Jeremy Lin said his brother is often overlooked.
"I feel he's very underrated as a pro baller these past years. I think many people do not see his greatness," Jeremy Lin said, referring to his brother's status as the league's plus/minus leader over the past three seasons.
"He's been doing the things right in every single aspect. His teammates told him to shoot more, but he's such a selfless player, willing to sacrifice himself for all of his teammates ... and when [I] play against him, you can tell that he's making a huge difference to the game when he's on the court," he said, adding that Joseph Lin does a "good job" controlling the tempo of a game.
Joseph Lin had 10 points and a season-high 10 assists for his first double-double this season. Jeremy Lin recorded seven rebounds, six assists and six turnovers.
Jeremy Lin said he gets angry when he sees the way his brother has been treated by some fans and the media.
"There were people who questioned his height as a pro baller, but [in his] first year, [he is a] star, first team, most assists. Second year, the same, most assists in the league, star, but still got underestimated. He's leading the plus/minus for three straight years while playing for two teams," he said.
He added that he doubts if some who criticize Joseph Lin "realize how difficult it is to lead the plus/minus every year."
Jeremy Lin said he understood why Joseph Lin had been unwilling to talk about his older brother in the past, adding that "he has always been in my shadow."
"If you keep comparing his greatness with mine, he will always be 'Jeremy Lin's lil bro,' he would not have his own identity. Then you won't be able to see his greatness, and this is why you should not keep asking these questions," he said.
Joseph Lin later expressed the same sentiment.
"Totally agree," he said, when asked about his brother's remarks.
"Actually, he has nothing to prove, but we all know, I'm four years younger, and as my brother said, [I] feel I've been underestimated, so I still have a lot to prove, so every game I'm going to prove something and win the game," he said.
The 6,800 available tickets for the game sold out on Feb. 1. The Lins are to next play each other on April 16.
Comments will be moderated. Keep comments relevant to the article. Remarks containing abusive and obscene language, personal attacks of any kind or promotion will be removed and the user banned. Final decision will be at the discretion of the Taipei Times.