Jovicevic hails 'victory for Ukraine'
Shakhtar Donetsk on Thursday qualified for the knockout stages of the UEFA Europa League, with coach Igor Jovicevic hailing the win at French side Stade Rennais as a "victory for Ukraine."
Shakhtar defeated Rennes 5-4 in a penalty shoot-out after their playoff had ended 3-3 on aggregate and then went to extra-time.
The win came a day before the first anniversary of the Russian invasion of Ukraine.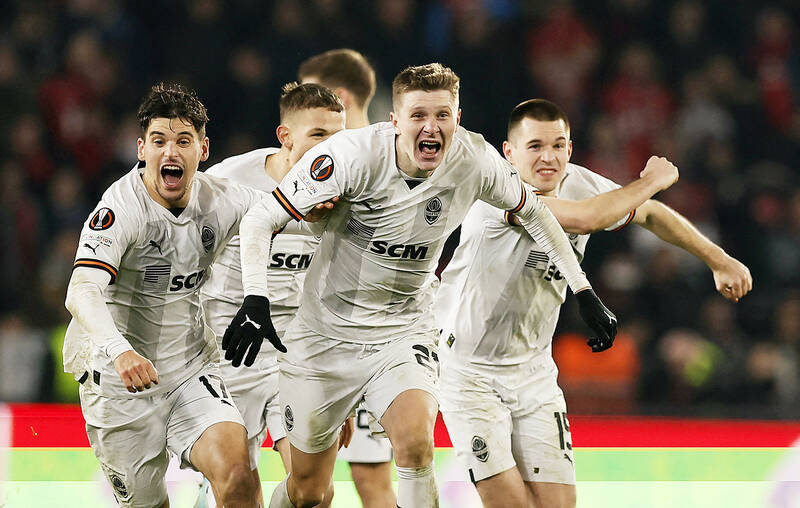 Shakhtar Donetsk players celebrate after winning a penalty shoot-out against Stade Rennais in their UEFA Europa League playoff second leg at Roazhon Park in Rennes, France, on Thursday.
Photo: Reuters
"It was very important. This match was for you, Ukraine, it was for our country, for Ukraine," said Croatian coach Jovicevic, who has worked in Ukraine for more than 20 years. "I can't find the words at the moment, we were in the game until the end. You could almost say that we died on the pitch, that we left our arms and legs there. This victory is a reward for our work."
The Ukrainian club has not played games in their home city since 2014 and have to stage "home" league matches in Lviv. European matches are played on a neutral ground in Warsaw where families of some of the players now live.
"Respect to my players, I'm proud of them," said Jovicevic, who praised the "magnificent atmosphere" of Rennes' Roazhon Park. "It's my dream that my team can one day play in a home stadium full of fans. The next round now gives us the opportunity to see them again, they give us strength. Without European competition, we wouldn't go to Warsaw. Personally speaking, if we had been eliminated tonight, I would not have seen my family until at least June."
Shakhtar plan to continue to prepare in Ukraine, despite the war.
"It's already a very difficult situation to live to the rhythm of the bombardments, the sirens," Jovicevic said. "We have to think about tactics, but above all we want to wake up alive in the morning."
Comments will be moderated. Keep comments relevant to the article. Remarks containing abusive and obscene language, personal attacks of any kind or promotion will be removed and the user banned. Final decision will be at the discretion of the Taipei Times.