Brazil open the door to breaking foreign coach taboo
More than two decades since their last FIFA World Cup triumph, and without a local consensus pick, Brazil are considering breaking an unwritten taboo: hiring a foreign coach.
After six years in the job, Tite left the Brazil post last month following the Selecao's World Cup quarter-final exit against Croatia.
Despite knowing for some time before the Qatar showpiece that Tite was leaving, Brazilian Football Confederation president Ednaldo Rodrigues still has not found a replacement.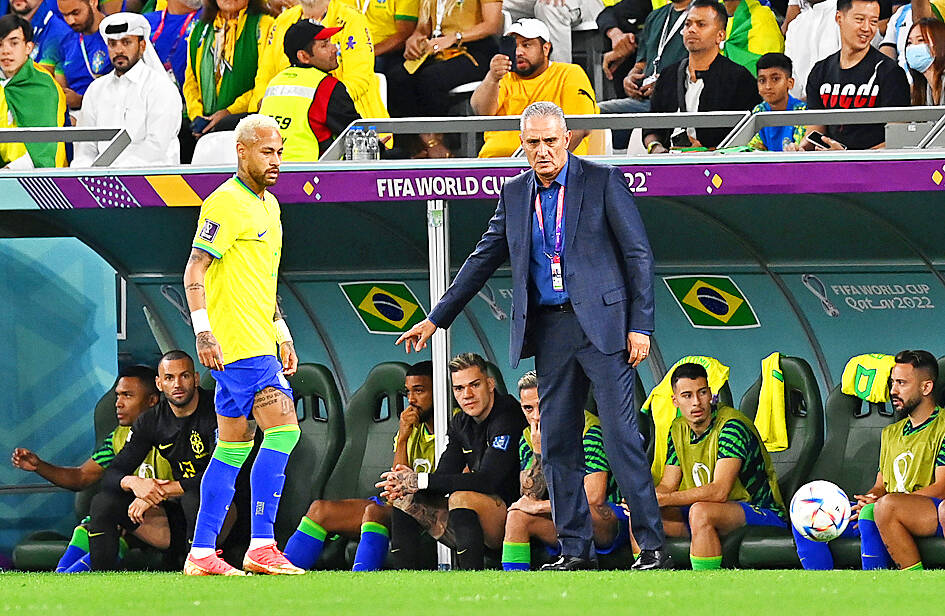 Then-Brazil head coach Tite, front right, and Neymar, front left, react during their FIFA World Cup quarter-final match against Croatia in Doha, Qatar, on Dec. 9 last year.
Photo: EPA-EFE
Now he is widening his search.
"We have no nationality prejudices," he said on Tuesday last week. "We want it to be a respected coach who can bring a level of play worthy of the athletes. We want to do what Brazil have always tried to do: to be very attacking."
Apart from England, who hired Swede Sven Goran Eriksen and Fabio Capello of Italy in the 2000s, almost no other major soccer nation has had a foreign coach in decades.
Brazil's World Cup drought — stretching back to their dazzling triumph in 2002 with a three-pronged attack comprised of Ronaldo, Ronaldinho and Rivaldo — has forced the record five-time world champions to cast the net farther afield.
There are potential Brazilian candidates, but none have garnered widespread support.
"We have good quality, but before we used to produce more coaches than now," Luiz Felipe Scolari, the 2002 title-winning coach, said recently.
"The new generation ... haven't won enough trophies," he added.
The Brazilian media have proposed numerous possible candidates: Spaniards Pep Guardiola and Luis Enrique, Italian Carlo Ancelotti, Frenchman Zinedine Zidane, Portuguese Jose Mourinho, and Argentines Marcelo Gallardo and Mauricio Pochettino.
Manchester City's Guardiola and Ancelotti of Real Madrid have ruled themselves out, although the Spaniard did say a couple of years ago that he fancied leading a national team when he leaves the English champions.
"Since the end of last year I think I've heard 26 names. We will go after some of them," said Rodrigues, who hopes to have the new coach in place by March.
However, it is not easy hiring a world-class coach when top European clubs can pay such inflated wages and offer the chance to compete for the UEFA Champions League or national titles.
It is also not easy to convince Brazilian fans to accept a "gringo" in charge of the Selecao.
A poll last month found that 48 percent were against the idea, with only 41 percent in favor.
The rejection rate was at least lower than in previous such polls.
"In Brazil there is one idea: We have the best football in the world, so we don't need a foreign coach telling us how to play," said Victor Figols, historian and editor of sports Web site Ludopedio.
"Us, who know how to develop great players, who in part created dribbling, the way to play the beautiful game," Figols said.
Brazil did once have foreign coaches, although their reigns were fleeting.
Uruguayan Ramon Platero held the position in 1925, Portugal's Jorge Gomes de Lima coached the Selecao alongside Brazilian Flavio Costa in 1944, and Argentina's Filpo Nunez had a brief stint in 1965.
However, foreigners were discarded once Brazil, using homegrown coaches, consolidated itself as a world soccer power.
Quite the opposite occurred as coaches such as Scolari, Vanderlei Luxemburgo, Carlos Alberto Parreira, Ricardo Gomes and Zico took charge of other national teams.
"An image was built throughout history that since we develop great players, we also develop great coaches, but it's not true," Figols said. "If we look at the FIFA rankings, Brazilian coaches are not even in the top 10."
There are some local candidates who are popular in the media, such as Dorival Junior, who won the 2022 Copa Libertadores with Clube de Regatas do Flamengo, or Fernando Diniz of Fluminense, Gremio Foot-Ball Porto Alegrense's Renato Portaluppi and Mano Menezes of Sport Club Internacional.
However, none of them have a comparable resume to Tite's before he took over the Brazil role.
With Sport Club Corinthians Paulista, Tite won the Copa Libertadores, two Brazilian titles and the Club World Cup in a five-year period.
"We need to improve the level of those that live here regardless of whether we hire a foreigner or a Brazilian," Paulo Vinicius Coelho, author of Brazilian Football School, wrote in the Folha de Sao Paulo newspaper.
"Guardiola won't come, but that doesn't prevent Brazil from ... developing our own Pep Guardiola within a few years, as we once developed Zagallo and Tele Santana," he said.
Comments will be moderated. Keep comments relevant to the article. Remarks containing abusive and obscene language, personal attacks of any kind or promotion will be removed and the user banned. Final decision will be at the discretion of the Taipei Times.