Rublev disputes criticism by Tsitsipas
PARTING SHOTS: The Greek player said the result was a shame, as he 'feels like the better player,' while the Russian countered by listing shots and comparing the two
Andrey Rublev on Friday said he disagreed with Stefanos Tsitsipas' assessment of him as a player with "few tools" following a come-from-behind victory over the Greek in the ATP Finals.
Rublev fought back from a set down to beat world No. 3 Tsitsipas 3-6, 6-3, 6-2 in the round-robin stage of the season-ending championship.
In his post-match news conference, Tsitsipas said that he "didn't really feel threatened" at any point of the match. "I just wanted to try something new, to see if it might work, throw him off a little bit."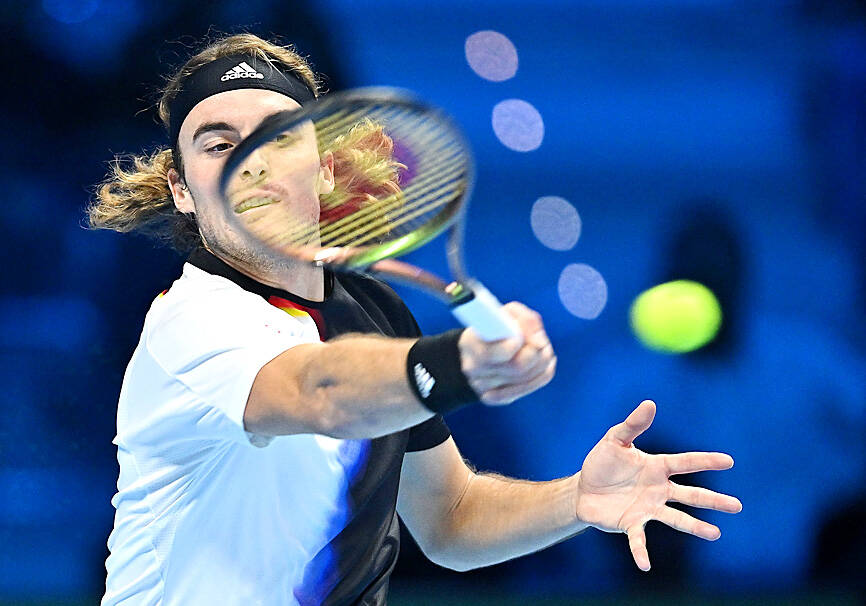 Greece's Stefanos Tsitsipas returns against Andrey Rublev of Russia during their group match at the ATP Finals at the Pala Alpitour Arena in Turin, Italy, on Friday.
Photo: EPA-EFE
"It's a shame. I feel like the better player," he said. "I felt like I could do more with the ball today. I felt like I could just be much more creative."
"I don't even have to say that," he said. "I think it's quite obvious, but, yeah: He prevailed with the few tools that he has."
"He was able to really take advantage of them and win today," he added.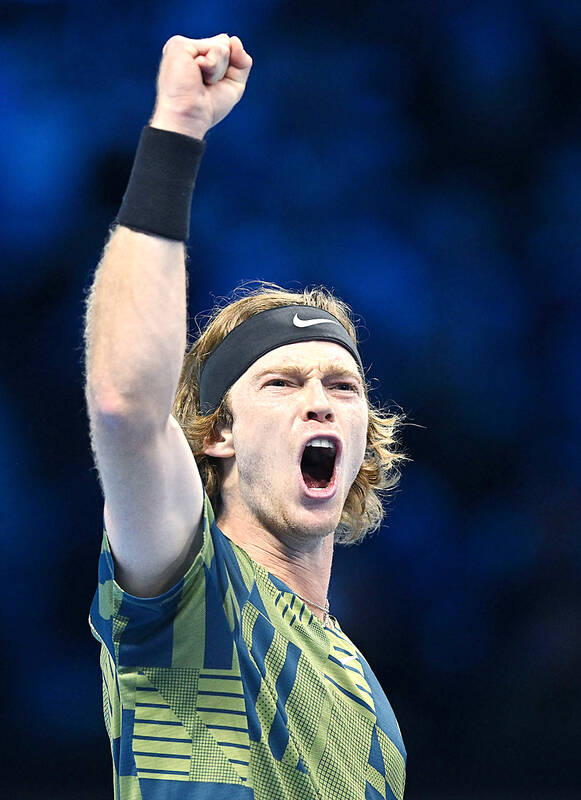 Russia's Andrey Rublev reacts during his group match against Stefanos Tsitsipas of Greece at the ATP Finals at the Pala Alpitour Arena in Turin, Italy, on Friday
Photo: EPA-EFE
The victory marked Rublev's first over Tsitsipas this year, with Tsitsipas having beaten him in Astana last month and Madrid in May.
When asked about Tsitsipas' comments, Rublev told reporters: "I don't know if I have few tools or not."
"If we go shot by shot, I think his backhand is better than mine, he said. "His forehand is not better than mine. The speed serve is not better than mine."
"Obviously he's a better player because he's higher-ranked and he achieved better results, but I don't think that I beat him because of few tools," the seventh-ranked Russian said. "If you take our match, every match, we have tough battles. This year I lost to him twice in three sets and now I beat him in three sets."
In the winner-takes-all encounter, Tsitsipas looked set to win with a powerful first set, but Rublev showed no nerves in the big moments thereafter and overpowered the Greek with the quality of his ground strokes, earning his first ATP finals semi-final encounter.
"I didn't give up. I kept fighting and playing," Rublev said. "I just gave my best and I managed to turn the match around and I am happy to be in the semis."
Next up for Rublev is a semi-final against Norway's Casper Ruud — who won the Green Group — as his win saw him overtake Tsitsipas in the Red Group to take second place behind Novak Djokovic.
With the group stage completed, Djokovic faces American Taylor Fritz, who was the runner-up in the Green Group.
Djokovic marked himself out as the favorite when he remained unbeaten earlier on Friday, producing a battling 6-3, 6-7 (5/7), 7-6 (7/2) win over Daniil Medvedev.
The 21-time Grand Slam winner Djokovic had gone into the dead rubber already assured of his place in the semis after wins over Rublev and Tsitsipas, while Medvedev in contrast was already eliminated after losses in both his outings on the hardcourts in Turin.
After having to dig deep into his mental and physical reserves Djokovic said: "Daniil and I have had some battles in the past, and I knew coming into the match that it was going to be his last match of the season and he wouldn't want to finish with a loss."
With both players trading punches like heavyweights in the ring, Djokovic took the first set only for Medvedev to force a decider sealing the second set on his fourth set point.
Djokovic rallied back from a break down to earn his 40th tour-level win of the season after 3 hours, 5 minutes.
"He was playing really quick," Djokovic said. "I didn't feel physically well in the third set, struggled a lot. It is a battle and it is a fight, but I think the biggest battle, as I've said before, is always the inner battle. If you manage to find yourself in that optimal state of mind and body as often as you possibly can, I feel you can extract the best and reap the best results for yourself in every moment, every point, every match."
Comments will be moderated. Keep comments relevant to the article. Remarks containing abusive and obscene language, personal attacks of any kind or promotion will be removed and the user banned. Final decision will be at the discretion of the Taipei Times.