Bumgarner tosses no-hitter
Four-time All-Star Madison Bumgarner on Sunday pitched a seven-inning shutout as the Arizona Diamondbacks blanked the Atlanta Braves 7-0 in the second game of a doubleheader in Atlanta, Georgia.
Bumgarner's performance does not count as an official no-hitter in the record books because it was not a nine-inning contest.
"It's pretty special for all of us and like I said, I'm just blessed and fortunate to be able to do that and be a part of this," Bumgarner said.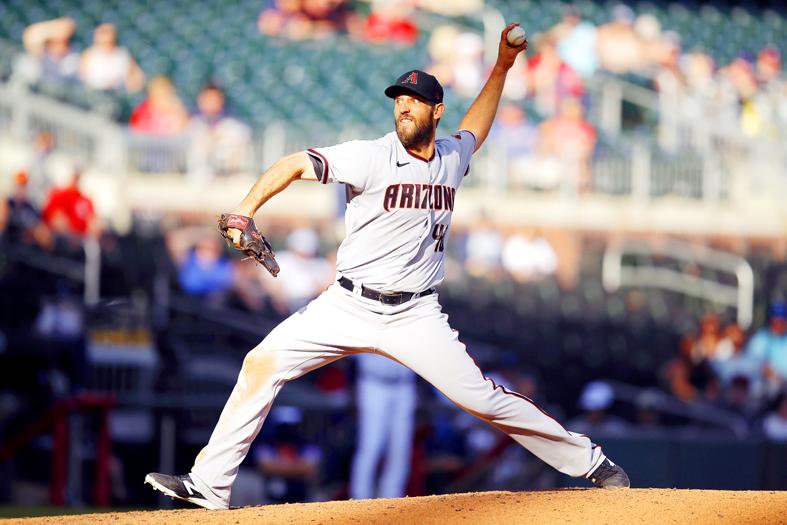 The Arizona Diamondbacks' Madison Bumgarner pitches against the Atlanta Braves in their MLB game at Truist Park in Atlanta, Georgia, on Sunday.
Photo: AP
Arizona won the first game of the doubleheader 5-0, as the Braves squeezed out just one hit in 14 innings of baseball.
Bumgarner retired 17 straight batters and closed the shutout on a Marcell Ozuna fly ball to right field.
Bumgarner allowed just one batter to get aboard, a second-inning error by Diamondbacks shortstop Nick Ahmed, which put the runner on base.
Making his 300th career start, Bumgarner has won his past two starts with a 0.75 ERA.
He has posted an 11.19 ERA in his first three starts this season.
Bumgarner said that he has an official no-hitter in him.
"If it worked for seven, it's hard to imagine it not working for two more," he said.
Arizona's Zac Gallen pitched a complete-game shutout in the opener.
Also Sunday, it was:
‧ Padres 8, Dodgers 7
‧ Red Sox 5, Mariners 3
‧ Rockies 12, Phillies 2
‧ Indians 7, Yankees 3
‧ Orioles 8, A's 1
‧ Royals 4, Tigers 0
‧ Pirates 6, Twins 2
‧ Mets 4, Nationals 0
‧ Blue Jays 1, Rays 0
‧ White Sox 8, Rangers 4
‧ Angels 4, Astros 2
‧ Cardinals 5, Reds 2
‧ Brewers 6, Cubs 0
‧ Giants 4, Marlins 3
Comments will be moderated. Keep comments relevant to the article. Remarks containing abusive and obscene language, personal attacks of any kind or promotion will be removed and the user banned. Final decision will be at the discretion of the Taipei Times.