NBA camps in Dakar, New Delhi fueling hoop dreams
About 20 girls from eight African nations hope to press their claims to a lucrative career in the US at a training camp in Dakar this weekend as part of the NBA Academy initiative, Basketball Without Borders (BWB).
The players, all aged at least 17, are to be put through their paces by WNBA veterans Ruth Riley, a two-time WNBA champion and 2004 Olympic Games gold medalist in Athens; Jennifer Azzi, a 1996 Olympic champion; and African stars Hamchetou Maiga-Ba (Mali), Astou Ndiaye (Senegal) and Clarisse Machanguana (Mozambique).
"It's really just a lot of hard work. You have to work every day. Basketball is a game of repetition so you can't, like, slack. There is no slacking," Senegalese teenager Bineta Diatta said.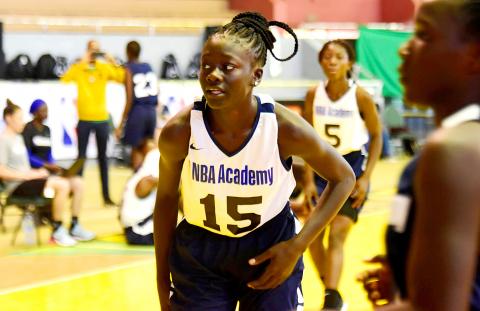 Bineta Diatta takes part in an NBA Academy camp in Dakar on Friday.
Photo: AFP
"I've seen the progress of basketball here, especially for the young ladies," Riley said. "I mean they are just now given this opportunity to play a sport, and when you watch them, they are hungry to learn. They love the fact that we're here, that we believe in them. We want them to leave the court not only with basketball knowledge, but to understand that it's a pathway for their education, for a better life."
Meanwhile, India is to host a BWB camp from May 30 to June 2, drawing players from throughout Asia at the academy in New Delhi.
The NBA is partnering with the International Basketball Federation (FIBA) and the Basketball Federation of India to bring the camp to India for a second time.
"BWB Asia 2018 will bring together the top male and female players ages 17 and under from throughout the Asia-Pacific region to learn directly from NBA and FIBA players, legends and coaches and to compete against the best young players from the region," an NBA statement said on Friday.
In addition, the NBA and the Indian federation announced that from May 27 to May 29, the same facility is to host a development camp for top women prospects from throughout India as part of the NBA Academies Women's Program.
FIBA and the NBA have staged 53 Basketball Without Borders camps in 33 cities across 27 nations on six continents since 2001, and more than 50 former attendees have been drafted into the NBA or signed as free agents.
A record 24 former BWB campers were on opening night rosters for this NBA season.
Comments will be moderated. Keep comments relevant to the article. Remarks containing abusive and obscene language, personal attacks of any kind or promotion will be removed and the user banned. Final decision will be at the discretion of the Taipei Times.