Bhullar, Huang fire Tigers to the brink of SBL title
The Dacin Tigers took an commanding 3-0 lead in the SBL championship series at the Sinjhuang Gymnasium in New Taipei City yesterday by winning Game 3 80-72 against the Yulon Luxgen Dinos on key contributions in the fourth quarter from forward Huang Chen and center Sim Bhullar.
Huang drained three three-pointers in the final 10 minutes, while "Great Wall of India" Bhullar made his dominating presence felt under the basket with key rebounds and blocks.
The Tigers continued their running attack and went ahead by 34-28 at halftime, before piling on the three-pointers to lead 56-48 by end of the third quarter.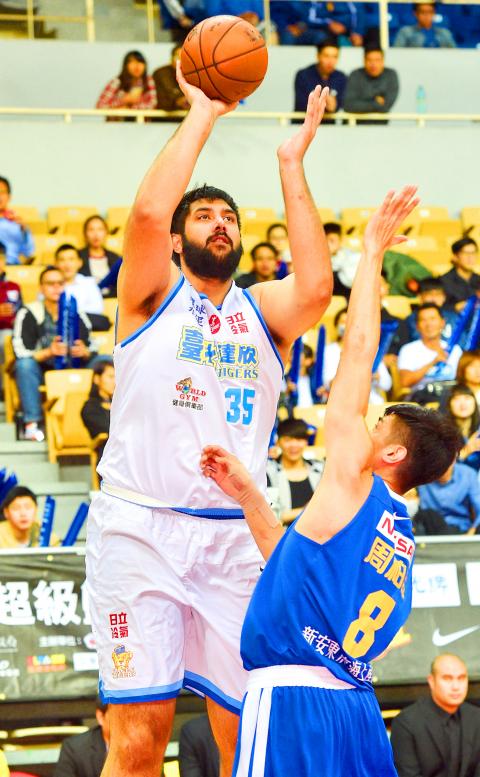 Sim Bhullar of the Dacin Tigers, left, goes up for a shot against the Yulon Luxgen Dinos in Game 3 of the SBL Championship series at the Sinjhuang Gymnasium in New Taipei City yesterday.
Photo: Peter Lo, Taipei Times
The Dinos fell as many as 13 points behind, but the game livened up in the final minutes when they found their scoring touch to go on a 11-1 run against the Tigers.
With the fans cheering on their team, the Dinos narrowed the gap to three points twice, before the teams traded three-pointers to make it 75-72 with three minutes to go.
However, in the battle between the big imported centers, Bhullar had the edge over Herve Lamizana of the Ivory Coast as he tipped in a rebound, then at the other end blocked Lamizana in the paint to stop a scoring run in the dying minutes.
Lamizana was later fouled, but missed both free throws.
In the end, the inside shooting by Bhullar and outside shooting by Tigers point guard Chou Yu-hsiang proved too much for the Dinos as they combined for 43 points, with Bhullar scoring 21 points to go with 18 rebounds.
Huang said his team would not let up for Game 4, which takes place tomorrow at the Sinjhuang Gymnasium at 7pm as the Tigers look to sweep the Dinos.
"In the fourth quarter, I found space to operate between Dinos defenders and sank those three-pointers. It was a good feeling, and the treys really lifted the team and the fans. Bhullar had another huge game for us, he blocked shots and grabbed rebounds," Huang said.
The Tigers won the opener 71-61, before taking Game 2 92-84.
The WSBL season could wrap up today when defending champions Cathay Life look to claim their 12th title.
Cathay Life can win the best-of-three series by beating Chunghua Telecom in Game 2 at the Sinjhuang Gymnasium, while the battle for third place is between Taipower and Taiyuan.
Comments will be moderated. Keep comments relevant to the article. Remarks containing abusive and obscene language, personal attacks of any kind or promotion will be removed and the user banned. Final decision will be at the discretion of the Taipei Times.