Taiwan's soccer team in turmoil after Chen quits
Taiwan's international soccer aspirations once again face turbulent times, with officials under pressure to name a replacement at the top following last week's abrupt resignation of national squad head coach Chen Kuei-jen.
The Chinese Taipei Football Association (CTFA) has since been busy convening meetings and making consultations to find a new coach, as Taiwan need to be ready for an AFC Asian Cup two-legged qualifier against Cambodia in June.
In a surprise move on Tuesday last week, Chen announced that he was resigning to take responsibility for the team's "shortcomings" in their qualifying campaign for the 2018 FIFA World Cup.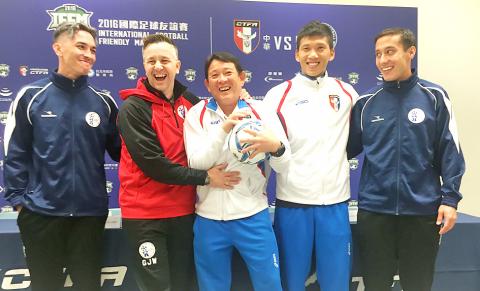 Then-Taiwan head coach Chen Kuei-jen, center, attends a press conference in Taipei ahead of an international soccer friendly against Guam on March 18. Officials are under pressure to find a replacement for Chen, who resigned last week.
Photo: Lin Tsung-wei, Taipei Times
Taiwan were eliminated ahead of their final Group F match, in which they were soundly beaten by Vietnam 4-1 in Hanoi on March 24. Taiwan lost every game home and away against their Group F opponents — Vietnam, Thailand and Iraq.
Chen's squad finished with zero points, scoring five goals and letting in 19.
"I have put in my best efforts through the past three years, but the team still has some shortcomings. This is a group of outstanding players who have the desire to get better, but I am unable to lead them to a higher level. They need a head coach to push them up another level, to stimulate them with new challenges," Chen wrote in his resignation letter.
He recommended that a foreign coach take over, one who can provide fresh ideas and professional training, such as in the areas of physical conditioning, specialized coaching for goalkeepers and game data analysis.
A former Taiwan international, 47-year-old Chen took over the national team in 2013.
However, some critics questioned his commitment to the cause as Chen continued as head coach of Taipower in the Intercity League, the nation's top tier, a job he has held since 2004. For the past two years he has also served as head coach of the Kaohsiung side at the National Games.
The CTFA also intends to appoint him coach of Taiwan's team at next year's Universiade, which is being hosted by Taipei.
CTFA chairman Lin Cheng-yi said a selection committee would assess potential candidates to take over the national side and that a decision would be made soon, as the squad needs to start training for some international friendlies, the Asian Cup qualifiers and for the East Asian Cup.
CTFA officials said they would take Chen's advice and look at coaches from overseas and that they might consider the return of Japan's Toshiaki Imai, who coached Taiwan from 2005 to 2007.
However, officials admitted that due to the urgency, Imai might be just an interim solution while they look for a longer-term appointment.
Critics say they are unhappy with that plan, since Imai also had a 0-6 record and bringing the Japanese coach back would indicate that the CTFA and Taiwanese soccer are headed in the wrong direction, going back to the levels of 10 years ago.
Comments will be moderated. Keep comments relevant to the article. Remarks containing abusive and obscene language, personal attacks of any kind or promotion will be removed and the user banned. Final decision will be at the discretion of the Taipei Times.