Warriors extend record run with win over Suns
BENCHMARK BREAKERS: Golden State hit an NBA high by scoring 15 three-pointers in the first half of their game, which was their highest-scoring of the season to date
Stephen Curry on Friday night scored 41 points in three quarters and Draymond Green had a triple-double as the Golden State Warriors beat Phoenix 135-116, extending their NBA-record start to 17-0.
The Warriors set a franchise mark for three-pointers with 22, one shy of the league record.
Curry made a season-high nine of his 16 attempts from long range in his 14th career 40-point game, the fifth this season. Green had 14 points, 10 rebounds and 10 assists in his third career triple-double, his second this season.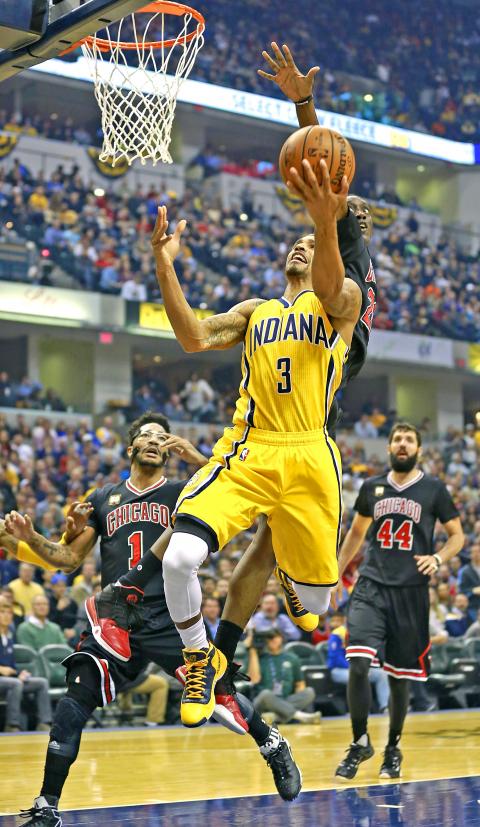 The Indiana Pacers' George Hill, second left, goes for the basket as the Chicago Bulls' Tony Snell, second right, tries to block him, while Snell's teammates Derrick Rose, left, and Nikola Mirotic watch in the first half of their game in Indianapolis, Indiana, on Friday.
Photo: AP
The Warriors set another NBA mark in their highest-scoring game of the season by making 15 three-pointers (in 20 attempts) in the first half. Leandro Barbosa added 21 points on eight-of-nine shooting, including five for five on three-pointers.
T.J. Warren scored a career-high 28 points for the Suns in their third straight loss and fourth in five games.
ROCKETS 116, 76ERS 114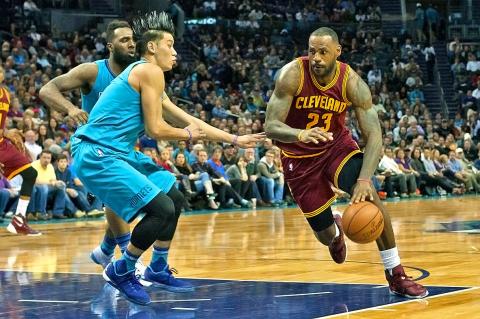 The Cleveland Cavaliers' LeBron James, right, dribbles past the Charlotte Hornets' Jeremy Lin, second left, in the first half of their game at Time Warner Cable Arena in Charlotte, North Carolina, on Friday.
Photo: Jeremy Brevard-USA Today
In Houston, Texas, James Harden had 50 points, nine rebounds and eight assists as Houston beat winless Philadelphia.
Harden was 14 for 28 from the field and 16 for 20 at the line in his third career game with 50 or more points. He is averaging 36.2 points in his past five games.
Philadelphia moved one loss away from matching the New Jersey Nets' NBA-worst mark of 18 losses to open a season. The Sixers have dropped 27 in a row dating to last season for the longest losing streak in major US professional sports history, passing the NFL's Tampa Bay Buccaneers in 1976-1977. The previous record was also matched by the 76ers in 2013-2014.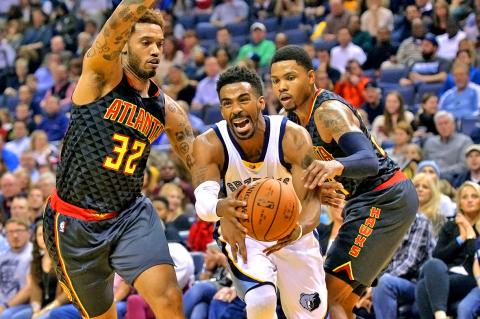 The Memphis Grizzlies' Mike Conley, center, drives between the Atlanta Hawks' Mike Scott, left, and Kent Bazemore in their game in Memphis, Tennessee, on Friday.
Photo: AP
Robert Covington had 28 points for Philadelphia, who made a franchise-record 16 three-pointers in 35 attempts. One day removed from a Boston nightclub altercation, rookie Jahlil Okafor had 11 points and six rebounds.
PACERS 104, BULLS 92
In Indianapolis, Indiana, Paul George scored 33 points and C.J. Miles had 16 as Indiana earned their fourth consecutive win.
The Pacers have won 10 of 12 overall. Monta Ellis had 14 points, and George Hill finished with 10 assists.
Nikola Mirotic scored a season-high 25 points for Chicago (9-5), and Jimmy Butler added 16. The Bulls lost for only the second time in six games.
Indiana broke out of a sluggish start with a 17-2 run that made it 19-9 midway through the first quarter, and they never trailed again.
CAVALIERS 95, HORNETS 90
In Charlotte, North Carolina, LeBron James had 25 points and 13 rebounds for Cleveland, extending his personal run of dominance against Charlotte.
James' teams have won 23 straight games against franchises based in Charlotte — both the Hornets and Bobcats. He played in all but two of those.
Kevin Love had a double-double at halftime and finished with 18 points and 16 rebounds as the Cavaliers snapped Charlotte's seven-game home winning streak and improved to 4-4 on the road.
Kemba Walker had 18 points, and Nicolas Batum added 17 points and eight rebounds for Charlotte.
HAWKS 116, GRIZZLIES 101
In Memphis, Tennessee, Paul Millsap had 23 points and 14 rebounds to lead balanced Atlanta past Memphis.
Atlanta, who had lost five of seven, had six players score in double figures. Jeff Teague had 20 points and seven assists, Al Horford scored 16 points and Kent Bazemore managed 14.
Millsap was 11 of 13 from the free-throw line.
Mike Conley led Memphis with 16 points, but was four of 13 from the field. Matt Barnes scored 15, while Courtney Lee and Vince Carter added 14 apiece.
HEAT 97, KNICKS 78
In New York, Gerald Green scored a season-high 25 points while starting in place of Luol Deng as the Heat earned their second victory over the Knicks this week.
Chris Bosh added 20 points and Dwyane Wade had 17 for the Heat, who held the Knicks to 78 points in both victories over the last six nights.
Green showed off his entire repertoire during a superb fourth-quarter stretch that turned the game into a blowout and sent the Heat to their eighth straight victory over the Knicks, their longest winning streak in the series.
Carmelo Anthony and Kristaps Porzingis each scored 11 points for New York in their third straight loss.
MAGIC 114, BUCKS 90
In Orlando, Florida, Elfrid Payton had 22 points and 10 assists to lead Orlando to the win.
The Magic shot 52.4 percent from the field and limited the Bucks to 41.9 percent shooting. Tobias Harris scored 19 points for Orlando, and Evan Fournier and Victor Oladipo had 17 apiece.
Giannis Antetokounmpo and Jerryd Bayless led Milwaukee with 17 points apiece. Khris Middleton had 15.
The Magic made each of their six three-point attempts and 13 of 16 shots (81.3 percent) overall while blowing the game open in the third period. Orlando outscored Milwaukee 37-22 in the quarter to push a six-point halftime lead to 86-65.
SPURS 91, NUGGETS 80
In Denver, Colorado, Kawhi Leonard scored 25 points as San Antonio beat Denver for their fourth win in a row.
Tony Parker added 13 points and Jonathon Simmons had 12 for the Spurs, who were without Tim Duncan and Manu Ginobili. The veteran stars got the night off to rest with San Antonio playing the second of three games in four nights.
Danilo Gallinari had 16 points for the Nuggets, who have lost five in a row. Denver have also lost nine straight to San Antonio.
THUNDER 103, PISTONS 87
In Oklahoma City, Oklahoma, Kevin Durant had 34 points and 13 rebounds to help Oklahoma City beat Detroit for their fourth straight win.
Russell Westbrook, Serge Ibaka and Enes Kanter added 14 points apiece for the Thunder. In a matchup of the NBA's top two rebounding teams, the No. 2 Thunder outrebounded the No. 1 Pistons 58-38. Detroit center Andre Drummond, who was leading the league with 17.8 rebounds per game, finished with seven.
Pistons point guard Reggie Jackson was traded by Oklahoma City last season after saying he wanted to be a starter, despite playing behind Westbrook. Jackson was booed loudly during pre-game warm-ups and was jeered most of the time when he touched the ball. He finished with 15 points on four-for-16 shooting.
In other results, it was:
‧ Clippers 111, Pelicans 90
‧ Timberwolves 101, Kings 91
‧ Celtics 111, Wizards 78
Comments will be moderated. Keep comments relevant to the article. Remarks containing abusive and obscene language, personal attacks of any kind or promotion will be removed and the user banned. Final decision will be at the discretion of the Taipei Times.