Flag gaffe leaves Filipino runners on 'war footing'
A wardrobe malfunction related to their national flags has punctured the joy of two Filipino-American athletes after they won a Southeast Asian Games 100m sprint double.
US-based Eric Cray and Kayla Richardson both won gold on Tuesday, but the Filipino flags on their vests were upside-down, with red rather than blue at the top, which officially means the country is at war.
A Philippine team spokeswoman was not immediately available to comment and it was unknown who was at fault for the error.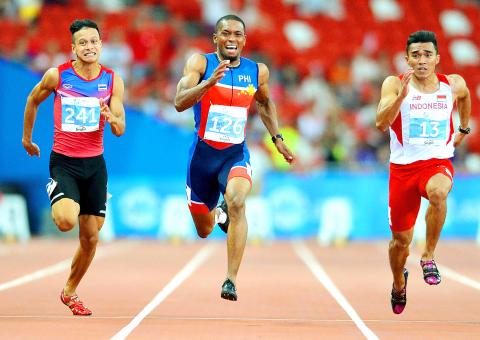 The Philippines' Eric Cray, center, leads Thailand's Jirapong Meenapra, left, and Indonesia's Yaspi Boby in the men's 100m final at the Southeast Asian Games in Singapore on Tuesday.
Photo: AFP
However, the gaffe is particularly unwelcome for Cray and Richardson, who are at pains to point out their Filipino heritage despite their US upbringing and accents.
In Manila, the Philippine presidential spokeswoman said she hoped the flags would be turned the right way around after the mistake came to light.
"It must have been an oversight, which I am certain they will correct once brought to their attention," Philippine presidential spokeswoman Abigail Valte told reporters.
The athletes are in good company. In 2013, Seattle Seahawks wide receiver Doug Baldwin carried a Filipino flag upside-down as he campaigned for the victims of Typhoon Haiyan.
And in 2010, the US had to apologize after US President Barack Obama led a meeting of world leaders that also featured an inverted Philippines flag.
Cray, who has qualified for next year's Olympics in the 400m hurdles, switched to Philippines representation in 2011, while Richardson has only visited the country once on vacation.
Some critics frown on the Philippines' policy of scouring for overseas talent with Filipino ties, but Cray said it was a "great honor" to run for the Southeast Asian country.
"I just feel that if you have Filipino blood and you cherish the traditions of the Philippines, you know it's a great honor for me to be able to represent and I am just happy that they allow me to," he said in Singapore.
Comments will be moderated. Keep comments relevant to the article. Remarks containing abusive and obscene language, personal attacks of any kind or promotion will be removed and the user banned. Final decision will be at the discretion of the Taipei Times.