Japanese touch star lends hand to local teams
The first Touch tournament of the year was completed over the weekend, and one of Japan's best players made an appearance amid his globe-trotting tour to coach, promote and play the game.
Japan player Hideaki Nara accepted an invitation from Chinese Taipei Touch Association president Ting Fan to join the Taipei-based Team Hukit at the Chinese Taipei Touch Tournament on Saturday and helped them claim the winner's trophy.
Nara's next destination is the Australian National League in Coffs Harbor, north of Sydney, from Wednesday to Friday next week.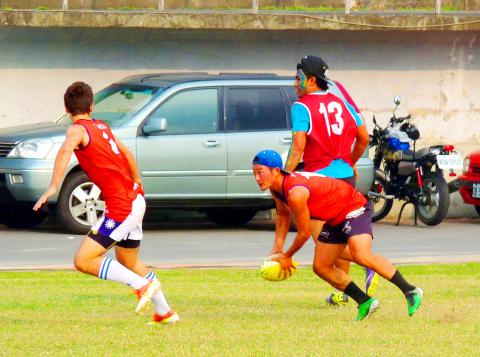 Japanese Team Hukit player Hideaki Nara, center, runs with the ball during their game against the Pacific Dragons at the Chinese Taipei Touch Tournament at the Bailing Rugby Fields in Shilin, Taipei, on Saturday.
Photo courtesy of Sean Carless
The step up in intensity is likely to be far greater than the change in the weather — going from an overcast Taipei to summer on Australia's east coast should be nothing compared with the shift from playing against the fledgling squads who represented Taipei and Greater Taichung to mixing with many of the world's top players in Australia's premier domestic competition.
Not that the social nature of the Taipei Touch scene seemed to bother Nara, who goes by the nickname "Hitch" — inspired by the Will Smith movie of the same name — due to Australians and New Zealanders struggling to pronounce his name during his years spent in the two countries learning and playing Touch.
On Saturday, when he was not playing, he could be found chatting about the game, sharing advice with the mixture of players or snapping photos to go on his Web site, www.narahide.com. From Australia, he has plans to go to Singapore, Malaysia and Philippines.
"I hope India, even Pakistan, UAE and then Europe," the 30 year old said, outlining a hectic schedule.
Nara graduated from Nippon Sports Science University and spent a year in Auckland, New Zealand, where he played for the Counties Manukau representative side, which speaks volumes for the man's ability — a glimpse of which can be seen on his YouTube channel, Hitch Touch.
He was working for the Japan Touch Association, which boasts about 7,000 players and stages close to 50 tournaments in a year. Nara said the game has great potential.
"I think countries like Japan and Taiwan can one day compete with New Zealand and Australia," he said after describing his experiences at the World Cup in Edinburgh in 2011, where Japan finished fourth.
"However, it will take some time," he added.
Nara said he once tried out for the Japan rugby sevens team.
"I could beat a lot of guys and score tries, but, look at me," he said, indicating his slight frame. "Tackling was a problem. That was my first experience with tackling."
However, Nara added that rugby players were a vital source of talent for the Japan Touch scene.
"I will see the rugby players in the off season and say to them: 'What are you doing? Eating? Drinking? Come and play Touch,'" the Japanese player said.
Saturday's results were:
Cup champions: Team Hukit; runner-up: SBCs; third: Juggernauts (Taichung); fourth: Pacific Dragons.
Plate champions: Flashmob RFC (Hong Kong); runner-up: Taipei Baboons RFC; third: Strive (Hong Kong); fourth: Dilwl SU Rugby (Hong Kong).
Wok champions: DMB; runner-up: Taipei Hulks; third: Westlake OBs; fourth, Fivewoods RFC.
Comments will be moderated. Keep comments relevant to the article. Remarks containing abusive and obscene language, personal attacks of any kind or promotion will be removed and the user banned. Final decision will be at the discretion of the Taipei Times.