Corinthians finally get to lift Copa Libertadores
Brazilian club Corinthians finally won their first Copa Libertadores title on Wednesday, beating six-time champions Boca Juniors 2-0 to win the final 3-1 on aggregate.
Emerson opened the scoring in the 54th minute with a shot from close range after a free-kick was crossed into the Boca Juniors area, then sealed the victory in a breakaway in the 72nd minute, sending a low shot into the far corner.
Corinthians won the title unbeaten over 14 matches of Latin America's main club competition. They had drawn Boca Juniors 1-1 in the first leg last week.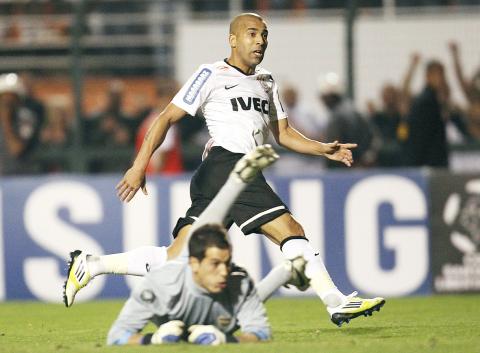 Emerson of Corinthians, rear, scores past Boca Juniors goalkeeper Carlos Sebastian Sosa in the second leg of the Copa Libertadores final in Sao Paulo, Brazil, on Wednesday.
Photo: Reuters
Boca Juniors were playing in their 10th final, but fell short in their bid to match fellow Argentine team Independiente as the most successful club in Libertadores history with seven titles.
Corinthians are Brazil's second most popular club behind Flamengo and they have won five national titles, but had never had much success internationally until Wednesday. They won the inaugural FIFA Club World Cup in 2000, but only after they were invited as the host team in a competition which few of the international teams took seriously.
They reached the final of the Copa Libertadores for the first time this year and it did it by defeating defending champions Santos, with star striker Neymar, in the semi-finals.
All of Corinthians' main rivals in Brazil — Palmeiras, Sao Paulo and Santos — had won the competition at least once and the team's failure to win the title had been giving opposing fans bragging rights for years.
"A team like Corinthians should've won the Copa Libertadores before," Corinthians playmaker Danilo said. "We came into this final very focused and we played a great match to finally get it done."
Corinthians' defense was key again on Wednesday, not allowing Boca Juniors to threaten during most of the match. The Brazilian club finished the competition without a loss and allowed only four goals. When playing at the Pacaembu, Corinthians outscored their opponents 15-1.
"This group deserved this title," Corinthians coach Tite said. "No team did more than we did, no one marked better, no one was more focused. This isn't happening by luck, we deserved it."
Both teams began cautiously and there were few scoring opportunities for either side in the first half.
Corinthians playmaker Alex tried some long-range shots, while Boca had a few chances from corners, but Corinthians struck from a set-piece early in the second half after a free-kick taken by Alex. Midfielder Jorge Henrique headed the ball backward and Danilo flicked it behind the defenders to Emerson, who calmly struck the ball past Boca Juniors goalkeeper Carlos Sebastian Sosa.
Emerson then increased the lead after a bad pass by Boca Juniors defender Rolando Schiavi. Emerson intercepted the ball and ran free toward the area, placing his shot into the corner as Sosa watched.
"This is worth all of our hard work," midfielder Paulinho said. "Everyone deserves to be celebrating. We all knew how hard it was going to be to win the Copa Libertadores, but we did it, and unbeaten, which is even more special."
Boca Juniors goalkeeper Agustin Orion had to be replaced in the 33rd minute after injuring his left knee in a collision with teammate Leandro Somoza.
Boca played without regular starting rightback Facundo Roncaglia, whose contract expired after the first leg and they were not able to come up with the insurance that would allow him to play an extra match.
Boca Juniors had won three of their past four title games against Brazilian teams — Gremio in 2007, Santos in 2003 and Palmeiras in 2000. They were trying to win their fifth title in 12 years. They also won the 2001 tournament, beating Mexico's Cruz Azul in the final.
Boca Juniors, who did not play in the previous two Copa Libertadores, reached the final by eliminating Universidad de Chile 2-0 on aggregate, winning at home and earning a scoreless draw in Chile.
It was the eighth straight final to be decided in Brazil and the 13th overall between Argentine and Brazilian clubs, with Argentines winning nine times and Brazilians four.
Wednesday marked the first Brazilian victory over Argentines since 1992.
Comments will be moderated. Keep comments relevant to the article. Remarks containing abusive and obscene language, personal attacks of any kind or promotion will be removed and the user banned. Final decision will be at the discretion of the Taipei Times.