Taiwanese teenage lifter finishes 10th at the worlds
Taiwanese teenage weightlifter Kuo Hsing-chun finished 10th in the 58kg women's division at the International Weightlifting Federation World Championships, an Olympic qualification event, in Paris on Monday.
Kuo lifted 94kg in the snatch and 118kg in the clean-and-jerk for a total of 212kg. She failed twice to lift 122kg in the clean-and-jerk.
At 17 years old, Kuo was the youngest of the 31 competitors in her weight class by more than a year.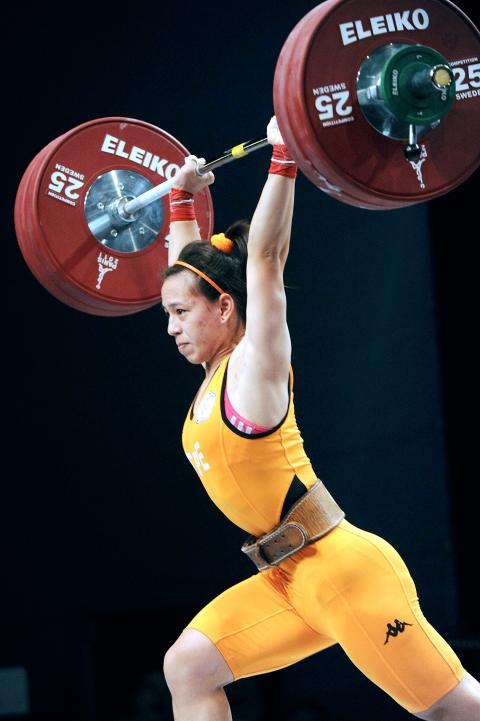 Taiwan's Kuo Hsing-chun competes in the 58kg weight class at the World Weightlifting Championships at Disney Village in Marne-la-Vallee in Paris, France, on Monday.
Photo: AFP
Bulgarian Nastassia Novikava won the gold medal with a total of 237kg, while Li Xueying of China took the silver medal with a total of 236kg.
"Kuo's performance was not easy for her," coach Lin Ching-nung said, considering that Kuo only recently competed in the National Games in Changhua late last month and was nervous performing in her first world-class competition.
"She needs to work hard and get more experience in international competitions," Lin said, adding that her next major event would be the Asian Championships next spring.
Ten Taiwanese weightlifters are taking part in the nine-day competition, which runs through Sunday, in the hope of qualifying for the London Olympics next year.
So far, Hsu Shu-ching has finished fourth in the women's 53kg weight class — taking third place in the snatch — while Yang Chin-yi and Tan Chi-chung finished ninth and 26th respectively in the men's 56kg weight class.
The competition, along with last year's World Championships in Turkey, will determine how many slots each country gets in the Olympic weightlifting competition, though countries and individuals will also have the chance to qualify in their continental championships next year.
Comments will be moderated. Keep comments relevant to the article. Remarks containing abusive and obscene language, personal attacks of any kind or promotion will be removed and the user banned. Final decision will be at the discretion of the Taipei Times.