`Hitman' drops Castillo to retain title
THE CREAM OF MANCHESTER Ricky Hatton put a couple of lackluster performances behind him by brawling his way to victory over his Mexican opponent
Ricky `the Hitman' Hatton landed a left hook to the body in the fourth round, dropping Jose Luis Castillo to one knee and suddenly ending the contest between the world's top light welterweights on Saturday.
Castillo took the count from referee Joe Cortez without getting back up, ending the fight at 2:16 of the round.
Hatton leaped in the air as the mostly British crowd cheered and sang songs for their countryman.
Ricky Hatton, left, lands a punch on Jose Luis Castillo during their IBO junior welterweight world title fight in Las Vegas, Nevada, on Saturday. Hatton defeated Castillo by knockout in the fourth round.
PHOTO: AP
The Mancunian remained undefeated in 43 fights by ending what shaped up as a rough-and-tough 12-rounder with one punch to the liver.
It was the 31st knockout for Hatton, whose last two fights had been unimpressive.
"I think tonight was a bit more of my best," Hatton said. "I don't think there was the excitement in my last two fights as there was tonight."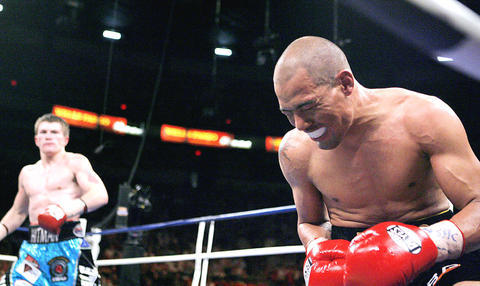 Jose Luis Castillo grimaces as he is knocked down by Ricky Hatton, left, in the fourth round of their fight on Saturday.
PHOTO: AP
Hatton was outworking Castillo and landing more punches, but there was no indication he had ever hurt his Mexican opponent until he suddenly threw a left hook that seemed to take the wind out of Castillo.
Castillo went to a knee and looked at Cortez as he was counted out.
"He got me with a perfect shot," Castillo said. "I couldn't get up."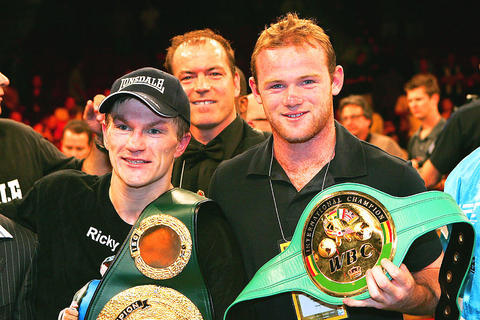 Ricky Hatton and soccer player Wayne Rooney celebrate after Hatton knocked out Jose Luis Castillo in their junior welterweight title fight in Las Vegas.
PHOTO: AFP
Hatton tried to smother Castillo from the opening bell and get inside his punches. That led to a lot of holding, so much that Cortez briefly stopped the fight midway through the first round to warn both fighters against holding.
The fight quickly turned into a brawl, though, with neither fighter giving ground. Hatton was quicker and more effective with his punches, though, and Castillo appeared to be getting frustrated as the fight went on.
Hatton won the first three rounds on two of the three ringside scorecards, and two out of three on the third.
He was even further ahead, though, because Cortez had penalized Castillo a point in the fourth round for hitting below the belt.
Hatton wasn't pretty and he wasn't artistic, because that's not the way he fights. But he was effective, throwing more punches and landing more while keeping Castillo from throwing his trademark left hook that won him the lightweight title two times.
"I felt very strong inside," Hatton said. "In my heart after the first round I didn't think he was going to last long."
It was the biggest fight for Hatton since he beat Kostya Tszyu two years ago, and he had vowed to make up for his last two lackluster fights and win over crowds in the US the way he did in his native England.
The crowd on this night wasn't a problem, with most of the 13,044 people at the University of Nevada, Las Vegas campus arena coming over from England to cheer on their fighter.
Hatton took the microphone after the fight to thank both them and Castillo's fans.
"I'm sorry I beat one of your heroes tonight, but hopefully his fans can become my fans," Hatton said.
Hatton won the IBO version of the 140-pound title with the win, but more importantly showed that his win over Tszyu wasn't the fluke that some thought it was.
He solidified his spot as the top 140-pounder in the world, and managed to take a shot at welterweight champion Floyd Mayweather Jr in doing it.
"There was more action in the four rounds of this fight than Floyd showed in his entire last fight," Hatton said.
For Castillo, the loss may signal that his 17-year pro career is nearing an end. Castillo dropped to 55-8-1, and his troubles making weight and the effect of the beating he took against Diego Corrales two years ago may have caught up to him.
Hatton, meanwhile, plans to continue to fight in the US to try and catch on as a fan favorite like he is in England
Comments will be moderated. Keep comments relevant to the article. Remarks containing abusive and obscene language, personal attacks of any kind or promotion will be removed and the user banned. Final decision will be at the discretion of the Taipei Times.