Roddick loses cool, recovers to beat Spadea
Andy Roddick regained his composure after a shaky second set and beat Vince Spadea 6-3, 6-7 (5), 6-1 on Friday to advance to the semi-finals of the SAP Open.
"Maybe in a weird way getting into it might have helped me," Roddick said.
"That's the best I focused for a set this week. That's probably the best I played in a set this week. I knew I had to bear down," he said.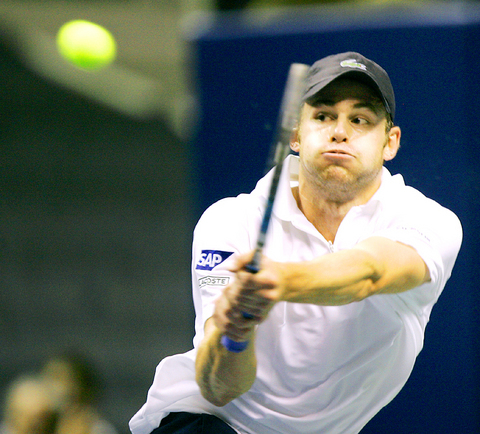 Andy Roddick returns to Vince Spadea during the quarter-finals of the SAP Tennis Open in San Jose, California, on Friday.
PHOTO: AP
Roddick yelled at himself after his numerous errors, kept up an argument with the chair umpire for many games, hit a ball into the upper deck to earn a code violation warning, and had a few run-ins with Spadea.
At one point, Roddick hit a short ball almost as hard as he could right toward Spadea's head. The two also jawed at each other during the break after the second set.
"We were probably annoying each other," Roddick said. "It's just part of it. It's not the first time something happened like that. It probably won't be the last."
Roddick admitted there's some resentment of Spadea because of a tell-all book he wrote last year titled, Break Point: The Secret Diary Of A Pro Tennis Player. But Spadea doesn't think the book has led to bad blood with his competitors on tour.
"I don't think so," he said. "I don't think most players read the book. There's no way someone read that book cover to cover."
The momentum of the match changed after Spadea won the tiebreaker with three sharp volleys before Roddick missed wide on a backhand.
Roddick held serve to start the third set and then broke Spadea at love -- taking advantage of three errors on groundstrokes and a double fault on break point. Roddick broke again to go up 5-1 and closed it out on his serve.
"I just lost the momentum. My energy kind of went down," Spadea said. "I made too many unforced errors in that one game. ... I just didn't use the momentum in my favor."
Roddick, a two-time champion here, will play defending champion Andy Murray in the semi-finals. Murray beat Lee Hyung-taik 4-6, 6-3, 7-6 (4), winning the third-set tiebreaker after failing to close out the match on his own serve.
After Murray hit a ball long on match point at 6-5, Lee hit back-to-back winners to force the tiebreaker. But Murray won it when Lee hit a forehand long to set up a rematch of last year's semi won by Murray.
The other semi-final pits big-serving Ivo Karlovic against sixth-seeded Benjamin Becker.
The unseeded Karlovic knocked off his second seeded US player in as many days, recording 17 aces to beat fifth-seeded Mardy Fish 7-6 (2), 6-4.
Karlovic, who is ranked 103rd in the world, had 29 aces in his three-set win on Thursday over second-seeded James Blake.
Karlovic got the only break of the match in the third game of the second set, taking advantage of a double fault and net-cord winner to earn two break points.
Fish saved one with a service winner, but then missed wide with a forehand to lose the game. He slammed his racket to the court in frustration, figuring his chances of breaking Karlovic were slim.
Karlovic proved that to be true, holding his serve at love the next game when Fish couldn't get a single return in the court during the game.
Juan Monaco advances
Argentina's Juan Monaco swept to a 6-2, 6-3 win over Brazil's Thiago Alves in a rain-delayed match and advanced to the quarter-finals of the Brasil Open on Friday.
After bad weather postponed their match on Thursday, the 69th-ranked Monaco dispatched Alves and prepared to face compatriot Juan Ignacio Chela or Spain's Ruben Ramirez Hidalgo in the next round.
Argentina's Guillermo Canas also advanced to the final eight, completing a 6-4, 6-0 victory over Spain's Albert Portas. Canas was leading 6-4, 1-0 on Thursday when rain forced officials to suspend the match.
The rain that postponed several matches on Thursday returned on Friday. After another weather interruption, Argentina's Juan Ignacio Chela was able to complete a 6-2, 6-3 victory over Spain's Ruben Ramirez Hidalgo to advance to the quarter-finals.
But the rain wouldn't allow any more play and the quarter-finals were postponed to yesterday.
Alves committed several unforced errors and disappointed the hometown crowd in the northeastern resort on Brazil's Atlantic coast.
"I played badly today. My ball was too short," said the Brazilian, who defeated fourth-seeded Carlos Moya of Spain in the first round.
Mauresmo tops Safina
Top seed Amelie Mauresmo of France beat Russia's Dinara Safina 6-1, 6-3 here on Friday to move into the semi-finals of the US$600,000 WTA event.
Reigning champion Mauresmo will now come up against Russia's seventh seed Anna Chakvetadze who had earlier beaten her third-seeded compatriot Nadia Petrova 6-3, 6-4.
Petrova had won in Paris the previous weekend and had been one of the favourites to claim a second, successive title.
The 19-year-old Chakvetadze however played a solid game with few errors to beat an uninspired opponent in one hour, 26 minutes.
No. 2 seed Kim Clijsters kept her home fans happy with a facile 6-2, 6-1 win over eighth seed Ana Ivanovic of Serbia.
The Belgian was to play the winner of the late game between France's Tatiana Golovin and Elena Likhovtseva of Russia in yesterday's second semi-final.
Baghdatis into semis
Cypriot star Marcos Baghdatis fought through a tough three-setter at the ATP Marseille Open on Friday to be left as the only seed in the tournament.
The 21-year-old, who created a sensation when he reached the Australian Open final last year, reached the last four by seeing off dour Russian Mikhail Youzhny while the only other seed left French player Richard Gasquet succumbed in straight sets to Swede Robin Soderling.
Baghdatis was to meet Finn Jarkko Nieminen in yesterday's semi-finals, while Soderling was to face off against the sole French player left in the tournament, unheralded Gilles Simon, who had benefited from the retirement of Australia's former world No. 1 Lleyton Hewitt on Thursday.
Baghdatis, though, remains the darling of the crowd, but admitted he had to pull off two groundstrokes only Martians could produce to take command in the third set against Youzhny which eventually saw him prevail 7-5.
Comments will be moderated. Keep comments relevant to the article. Remarks containing abusive and obscene language, personal attacks of any kind or promotion will be removed and the user banned. Final decision will be at the discretion of the Taipei Times.