Zidane scores in Real Madrid loss
Zinedine Zidane scored in his final game for Real Madrid on Tuesday, consolation in a season-ending 4-3 loss to Sevilla.
Madrid conceded all four goals to the newly crowned UEFA Cup champion in a 17-minute spell before halftime after David Beckham had given Real a 2-0 lead.
Zidane, who is to retire after the World Cup, reduced the deficit in the 72nd.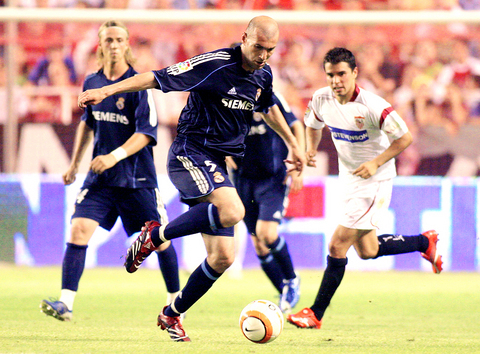 Real Madrid's Zinedine Zidane, center, during his last game for Real Madrid at the Sanchez Pizjuan in Sevilla, Spain, on Tuesday. Sevilla defeated Real Madrid 4-3.
PHOTO: AFP
Despite the loss, Real Madrid still finished in second place after Valencia failed to capitalize, ended a point behind in third after a 2-1 defeat at Osasuna in Tuesday's other game. Valencia's loss means the 2002 and 2004 league champion must enter the European Champions League's preliminary stage next season.
Osasuna's victory secured fourth place and a debut in Europe's top club competition, ending Sevilla fifth and returning it to the UEFA Cup next season.
Barcelona, which won the league title on May 3, has 82 points from 37 games, while Madrid finished with 70 and Valencia 69. Osasuna and Sevilla ended with 68 but Osasuna finished higher due to head-to-head results.
The league season concludes tomorrow when Barcelona, which has to play without its international players, visits Athletic Bilbao, two days after it faces Arsenal in the Champions League final.
Madrid appeared to be cruising toward a victory at Sevilla's Ramon Sanchez Pizjuan stadium and set to celebrate the final game of Zidane, who joined the club in 2001.
A former Italian senator has been assigned to clean up Italian soccer amid a widening scandal involving allegations of match-fixing, illegal betting and manipulation of referee assignments.
Guido Rossi, former chief of the Italian stock market regulator Consob and an expert in sporting law, was approved Tuesday as extraordinary commissioner of the soccer federation.
"Rossi will have to rewrite the rules, ethics and morals," Italian Olympic Committee president Gianni Petrucci said.
Prosecutors said last week four Serie A clubs -- Juventus, Lazio, AC Milan and Fiorentina -- are involved in the match-fixing probe. The illegal betting probe has involved Juventus and Italy goalkeeper Gianluigi Buffon.
Forty-one people have been ordered to appear for questioning for suspected criminal association.
Naples prosecutors said Friday that investigators were looking into the rigging of 20 games from the 2004-2005 season -- all but one in the top league, Serie A.
Goleo maker bankrupt
The German company producing Goleo, the official mascot for the World Cup, said on Tuesday it has filed for bankruptcy amid reports of low demand for the stuffed lions.
Uwe Klimach, head of marketing for stuffed animal maker Nici, a family run company based in the southern city of Altenkunstadt, confirmed that the company had filed for insolvency, but declined to comment further.
According reports in the German media, the company has run into financial problems predominantly due to low sales of its plush mascots. Nici won the sole rights for production of the lion, which was designed by the Jim Henson Company, maker of the Muppets.
restaurant cleared
Tests have cleared a London hotel restaurant which Tottenham blamed for a suspected outbreak of food poisoning that affected 10 of its players before a crucial defeat.
Health officials said on Tuesday that a virus was the likely cause of the illness which occurred on the eve of Tottenham's 2-1 loss to West Ham on May 7.
That loss and a 4-2 win by Arsenal over Wigan allowed the Gunners to overtake Spurs and finish in fourth place, gaining the last berth in the Champions League.
Comments will be moderated. Keep comments relevant to the article. Remarks containing abusive and obscene language, personal attacks of any kind or promotion will be removed and the user banned. Final decision will be at the discretion of the Taipei Times.