Bartolo Colon wins Cy Young Award
MAJOR LEAGUE BASEBALL The LA Angels starter led the American League with 21 wins. The Baseball Writers' Association of America overwhelmingly voted in his favor
Bartolo Colon won the American League Cy Young Award on Tuesday in a surprisingly one-sided vote, becoming the first Los Angeles Angels pitcher in 41 years to take home the honor.
Colon, who led the league with 21 wins, was listed first on 17 ballots and second on the other 11 for 118 points in voting by the Baseball Writers' Association of America. He was the only pitcher named on every ballot, easily beating out New York Yankees reliever Mariano Rivera, who received 68 points.
Rivera got eight first-place votes, while 2004 winner Johan Santana of the Minnesota Twins received three and finished third.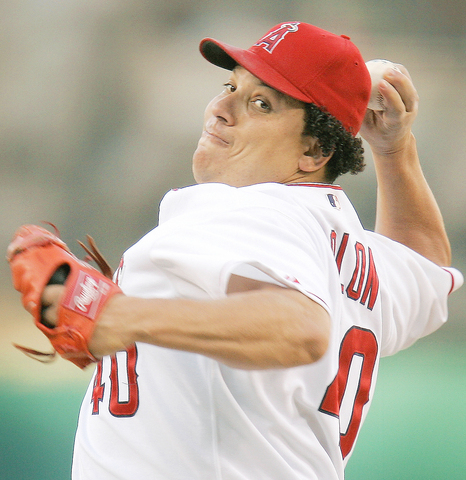 Starter Bartolo Colon of the Angels pitches against the Yankees in Game 1 of their AL Division Series in Anaheim, California, on Oct. 4. Colon won the AL Cy Young Award on Tuesday, becoming the first Angels pitcher in 41 years to take home the honor.
PHOTO: AP
"After the season, yeah, I've been thinking about it a lot," Colon said through a translator during a conference call from the Dominican Republic. "And one of the prevailing thoughts was the fact that maybe I won't get it. Maybe it was going to go to somebody else. A lot of crazy things came into my head."
Dean Chance was the only other Cy Young Award winner in the Angels' 45-season history, winning in 1964.
Though Colon (21-8) was the league's only 20-game winner, this year's Cy Young race was thought to be close. His 3.48 ERA and 157 strikeouts ranked eighth, while Rivera racked up 43 saves and a career-best 1.38 ERA. Santana went 16-7 with a 2.87 ERA and led the majors with 238 strikeouts.
A shoulder injury sidelined Colon in the playoffs, but voting for all BBWAA awards takes place at the end of the regular season and excludes postseason performance.
"Mariano had a great year," Colon said, thanking Rivera for teaching him how to throw his cut fastball one day during batting practice years ago. "I did think about the fact that maybe he was going to come away and be the winner."
Both pitched for division champions, but the voters ultimately gave more weight to the starter: Colon threw 222 2-3 innings to Rivera's 78 1-3.
And the award was big news in Altamira, Colon's hometown of about 3,000 people.
"You don't even imagine what the scenery is around here. People stopping by and honking their horns," Colon said. "It's been really, really crazy, crazy, crazy. It's the first time ever that we are celebrating something like this. ... There's going to be a lot of partying."
Unfortunately for Los Angeles, Colon wasn't much help in the playoffs. After pitching through back pain all season, he lost Game 1 to the Yankees in the first round, then left Game 5 after only 23 pitches because of inflammation in his right shoulder.
"We would not have been in the position that we were without the year that Bartolo had," Angels manager Mike Scioscia said. "He's got an incredible work ethic.
"His ability to turn his fastball into three different looks is really the key to what he does on the mound. To combine the velocity with the command that he has is a unique package. It puts him in an elite group," he said.
The injured ace was left off the roster for the AL championship series against Chicago, and the Angels were eliminated in five games by the White Sox, who went on to a World Series sweep of Houston.
"I really, desperately wanted to pitch against the White Sox," Colon said. "Mike Scioscia knows the pain that I felt, how hard it was for me to come out of that game and leave the team behind like that.''
Colon gets a US$500,000 bonus for winning the award.
Huston Street became the second consecutive AL Rookie of the Year from the Oakland Athletics, and Philadelphia Phillies first baseman Ryan Howard won the NL award on Monday.
Street, who took over as Oakland's closer in May, got 15 of 28 first-place votes in balloting by the Baseball Writers' Association of America and finished with 97 points. New York Yankees second baseman Robinson Cano came in second with 57 points, followed by Tampa Bay designated hitter Jonny Gomes with 39.
A's shortstop Bobby Crosby was the 2004 winner.
Howard replaced injured star Jim Thome and led all rookies with 22 home runs. He received 19 of 32 first-place votes and 109 points to beat out Houston Astros outfielder Willy Taveras, who got 78 points. Atlanta Braves right fielder Jeff Francouer was third with 60.
Street, the son of former Texas quarterback James Street, who led the Longhorns to a national title in 1969, became Oakland's closer when Octavio Dotel went down with an injury. The 22-year-old righty went 5-1 with 23 saves and a 1.72 ERA -- second among AL closers to New York's Mariano Rivera.
Street had 72 strikeouts in 78 1-3 innings, and opposing hitters batted only .194 against him.
Howard had been a highly touted slugger in the minors for years, but his path to the majors appeared blocked until back and elbow injuries sidelined Thome.
Howard took advantage of his opportunity to play regularly, batting .288 with 63 RBIs in 88 games. He had 11 homers and 27 RBIs in September and October, helping Philadelphia come within one game of a wild-card berth.
He is the fourth Phillies player to win the award, joining Scott Rolen, Dick Allen and Jack Sanford.
Street is the fifth Oakland player honored, joining Crosby, Ben Grieve, Walt Weiss, Mark McGwire and Jose Canseco.
The Padres exercised their US$1.75 million (¥205.2 million) option for next season on Japanese reliever Akinori Otsuka on Tuesday and declined their US$850,000 (¥7.25 million) option on utilityman Eric Young. Otsuka was 2-8 with one save and a 3.59 ERA in 66 appearances spanning 62 2-3 innings last season, when his salary was US$800,000 (¥93.8 million). San Diego could have given the right-hander a US$200,000 (¥23.4 million) buyout. The 38-year-old Young hit .275 this year with two homers, nine doubles, seven steals and 22 runs in 56 games.
Comments will be moderated. Keep comments relevant to the article. Remarks containing abusive and obscene language, personal attacks of any kind or promotion will be removed and the user banned. Final decision will be at the discretion of the Taipei Times.