Chelsea closed in on Arsenal with win
Eidur Gudjohnsen scored a hat-trick as Chelsea beat Blackburn 4-0 in the Premier League on Saturday to close the gap to league-leading Arsenal to two points. \nThe Iceland striker scored two goals in two minutes in the first half, then scored a 51st minute penalty to notch up his first professional hat-trick. Damien Duff scored the fourth in the 74th. \nIn driving rain at Stamford Bridge, Gudjohnsen scored his first in the 37th minute volleying a Joe Cole cross past Blackburn goalkeeper Brad Friedel. A minute later, Gudjohnsen sent another right-footed shot past Friedel. \nGudjohnsen scored his third when he was adjudged to have been brought down in the penalty area by Craig Short and sent Friedel the wrong way on the resulting penalty kick. \nChelsea brought on summer signing Arjen Robben as a second-half substitute. It was the first competitive appearance for Chelsea by the Dutch striker after three months out with a knee injury. \nFor Everton, life without Wayne Rooney continues to go smoothly. \nEverton had taken a 2-0 lead through Kevin Kilbane and Marcus Bent but Norwich rallied in the second half to level with goals from Leon McKenzie and Damien Francis. \nDuncan Ferguson headed the 73rd-minute winner to leave Premier League newcomer Norwich as the only club without a win this season. \nEverton sold England striker Rooney to Manchester United in the offseason, but manager David Moyes said that had brought the rest of the players closer together. \n"I think we have a good team, they are well organized and have a desire to play for each other," Moyes said. \nCrystal Palace jumped from last place to 15th with its win over fellow promoted club West Brom, with Andy Johnson scoring two and Fitz Hall adding another. \nTottenham held a minute's silence and wore black armbands during its match against Bolton in honor of former manager Bill Nicholson, who died Saturday aged 85. Nicholson managed Tottenham in its glory days of the 1960s and 1970s. \nBolton took the lead after 11 minutes, with Radhi Jaidi heading in a Gary Speed free-kick. Tottenham leveled five minutes before the break when Robbie Keane latched on to a Frederic Kanoute flick. Henrik Pedersen restored Bolton's lead in the 75th minute. \nAt Villa Park, Lee Hendrie and Noberto Solano scored against Fulham to give Aston Villa its first win in six matches. \nScott Severin scored in the 89th minute to give Aberdeen a 2-1 win over Motherwell and help secure third place in the Scottish Premier League. \nAberdeen has 19 points, only one point behind second-placed Rangers, after the win. League leader and defending champion Celtic has 20 points. \nKevin McBride gave Motherwell the lead with a 29th-minute penalty, while Derek Adams leveled for the Dons in the 67th. \n"We go to play the champions on Wednesday and then Rangers at the weekend but we'll go into these matches with confidence," Aberdeen manager Jimmy Calderwood said. \n"To take 19 points from 10 games is a great return, especially when you consider where we came from. The next third is going to be very hard, but we've shown we are a good side and can keep it going." \nDunfermline won its first away match with a 2-1 victory over Dundee off a Iain Anderson header. \nLiam Fox scored a late equalizer to give 10-man Inverness Caledonian Thistle a 2-2 draw with Kilmarnock. Stuart McCaffrey was sent off with 40 minutes still to play and Killie 2-1 ahead. \nMichael Owen scored his first Spanish league goal to lead Real Madrid over defending champion Valencia 1-0. \nOwen, who scored the match-winner in the seventh minute, got his first Madrid goal on Tuesday in the Champions League. \nThe win at the Santiago Bernabeu Stadium was Madrid's first in four league matches and lifted it into seventh place ahead of Sunday's games. On the other side, it was Valencia's third defeat in the last seven days, including a 5-1 home thrashing by Inter Milan in the Champions League. \nFC Barcelona leads the standings with 19 points, five more than Valencia and Sevilla. Atletico Madrid, Levante, Osasuna, Real Madrid and Zaragoza all have 13 points, while Deportivo is ninth with 12. Malaga is 10th with a point less. \nOwen's early goal decided a hard-fought match between the teams which have each won the championship twice in the last four seasons. \nThe former Liverpool striker held off right back Curro Torres to race onto a through ball by Raul Gonzalez and then lifted the ball with the outside of his right foot into the roof of the net. \nOwen's strike appeared to give Madrid confidence as it surged forward in search of a second goal before the interval but couldn't press home its advantage. \nValencia improved slightly with Claudio Ranieri's halftime introduction of Italy's Stefano Fiore and Argentina's Pablo Aimar but only twice came close to scoring, Iker Casillas thwarting midfielder David Albelda in the 57th minute and Aimar just before time. \nOwen left the field to an ovation from the crowd when he was replaced in the 59th minute by Santiago Solari. \nAndres D'Alessandro directed VfL Wolfsburg over Bochum 3-0 on Saturday to put the unheralded side back into first place. \nBayern Munich, depleted by injuries, was saved by late goals in a 2-0 win over Rostock with the latest comeback of oft-injured Mehmet Scholl -- who had a hand in both goals. \nStuttgart (6-2-0) has 20 points and could pass Wolfsburg again with a win or draw Sunday against Freiburg. \nWolfsburg, a club owned by carmaker Volkswagen, doesn't rate itself as a Bundesliga title contender despite a 7-0-2 mark and 21 points. But on Saturday the squad performed like a top side. \nBehind the pinpoint passing of playmaker D'Alessandro, regarded as a big talent in the Bundesliga, Wolfsburg overran Bochum with a spirited performance in front of 21,000 delighted fans in its new stadium. \n"When everybody does what they should, we're a good team," coach Erik Gerets said. "Not a great one, but a darned good one." \nPablo Thiam's header opened the scoring in the 27th minute, D'Alessandro's pass was finished by countryman Diego Klimowicz in the 40th and the playmaker then scored two minutes later. \nBochum, which started the year in the UEFA Cup, is now winless in six matches. \nBayern headed into the match against Rostock with two straight losses for the first time this season, an alarming six points behind front-runner Stuttgart and with just 17 healthy players. \n"If we lose this match we are in a crisis," club president Franz Beckenbauer said. \nAfter wasting several chances in an all-out attack, Bayern appeared headed to a draw against the relegation threatened squad, although Rostock was shorthanded after a 37th-minute ejection. \nBut in the 82nd minute, Scholl's corner was headed in by France defender Willy Sagnol. Three minutes later, the former Germany player made a solo run down the right side, appeared ready to cross and instead unleashed a powerful shot that flew inside the near post. \nWerder Bremen, another team riddled by injuries, snapped a two-match league losing streak and moved up to fourth, a slot behind Bayern. \nWith 38,500 attending at Weserstadion, the defending champions riddled Nuremberg's defense with its combinations. \nThe best was produced in the 18th minute when Johan Micoud and Germany player Miroslav Klose beat the visitors with a passback that the Frenchman sidefooted in for the second goal. \nIvan Klasnic, Christian Schulz and Fabian Ernst rang up the other scores for Bremen. \nUS international Steve Cherundolo's first Bundesliga goal helped Hannover move to sixth in the table behind the club's third straight win. \nCherundolo's header in the 35th minute produced the second goal in the 2-0 victory. In the second half, the American was forced out of the match with a injury. \nAlessandro Del Piero scored two goals within an eight-minute span and set up another by Mauro German Camoranesi to help powerhouse Juventus beat lowly Siena 3-0 and increase its lead in the Serie A. \nThe 29-year-old Italy forward, much criticized for a disappointing start mostly due to an inflamed tendon, scored the opening goal in the 52nd minute, added another in the 60th and kicked a curling free kick in the 63rd to Camoranesi, who headed home La Juve's third goal. \nJuventus' sixth win in seven matches lifted the unbeaten Turin team to 19 points, six clear of defending champion AC Milan, which plays crosstown rival Inter Milan in a crucial Milanese "Derby" on Sunday. \nInter has 10 points going into today's seventh round of Italy's top league. \nTen-man Cagliari, inspired by former Chelsea star Gianfranco Zola, held Atalanta to a 2-2 draw, preventing the Bergamo team from clinching its first victory of the season. \nAt the same time, Cagliari missed a chance to win its first away from home. \nZola, who joined the Sardinian team last year after seven seasons in the Premier League, fed Mauro Esposito for a 13th-minute goal that evened a quick goal by Atalanta forward Giampaolo Pazzini. \nA free kick by Zola in the 29th led to Cagliari's second goal by defender Simone Loria in a melee. \nRiccardo Montolivo netted his first Serie A goal with a low shot in the 40th to lift the home team to 2-2. \nZola was replaced early in the second half to make room for a midfielder after Massimo Brambilla received his second yellow card in the 50th and was ejected, leaving Cagliari one player down. \nAtalanta attacked throughout the second half and nearly scored in the closing minutes with Carmine Gautieri and Croat striker Igor Budan. \nGautieri failed to control the ball in the 81st, after beating Greece goalkeeper Fanis Katergiannakis. \nA joint blunder by Katergiannakis and defender Alessandro Agostini helped Pazzini's opening goal after two minutes. \nThe draw gave Cagliari 10 points in the standings, in a sixth-place tie with Inter Milan. Atalanta (0-4-3) was left struggling in the bottom places with four points.
Chelsea captain John Terry, right, jumps for a header with Blackburn's Garry Flitcroft during their English Premier League match at Stamford Bridge in London on Saturday. Chelsea won 4-0 and is now two points behind league-leader Chelsea.
PHOTO: AFP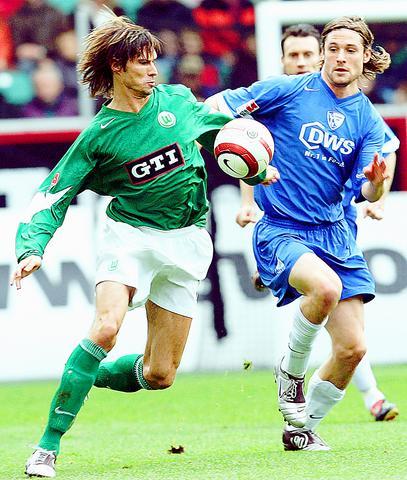 Wolfsurg's forward Thomas Brdaric, left, and Bochum's Peter Madsen fight for the ball during their Bundesliga match in Wolfsburg, Germany on Saturday.
PHOTO: AP
Comments will be moderated. Keep comments relevant to the article. Remarks containing abusive and obscene language, personal attacks of any kind or promotion will be removed and the user banned. Final decision will be at the discretion of the Taipei Times.