Ichiro Suzuki achieves record
MAJOR LEAGUE BASEBALL Suzuki set the major league record for hits in a season, breaking George Sisler's 84-year-old mark with a pair of singles against the Rangers
No. 258 for Ichiro Suzuki was like so many others, a little ground ball up the middle. \nOnly this one made history -- a hit cheered 'round the world. \nSuzuki set the major league record for hits in a season Friday, breaking George Sisler's 84-year-old mark with a pair of early singles as the Seattle Mariners beat the Texas Rangers 8-3. \n"Through my career, I think this is the best moment," Suzuki said through an interpreter. "I can't really put it into words." \nSuzuki later got another hit, giving him 259 this season and a major league-leading .373 average. \nSuzuki chopped a leadoff single in the first inning, then put himself in the record book with a bouncer in the third. \nFireworks exploded after Suzuki's big hit reached the outfield, creating a haze over Safeco Field, and his teammates mobbed him at first base. \nWith fans still cheering, Suzuki ran to the first-base seats and shook hands with Sisler's 81-year-old daughter, Frances Sisler Drochelman, and other members of the Hall of Famer's family. \n"My father would have been delighted," Drochelman said later. "He would be so happy to know such a fine young man was doing so well." \nFans booed when plate umpire Joe West called a rare third strike on Suzuki in the eighth. Reliever Michael Tejera got the strikeout. \nBut fans were back on their feet when Suzuki left for substitute Hiram Bocachica with two outs in the ninth. Mariners manager Bob Melvin made the move to let Suzuki get one more ovation, and the right fielder jogged in to cheers. \nSisler set the hits record in 1920 with the St. Louis Browns over a 154-game schedule. Suzuki broke it in the Mariners' 160th game of the year. \nSuzuki's first two hits came off Ryan Drese (14-10), boosting Suzuki to 10-for-20 lifetime against him. Suzuki's sixth-inning infield single came off John Wasdin. \nDrese ran the count full in the third, and Suzuki hit a bouncer up the middle, out of the reach of shortstop Michael Young. As the cheers got louder, Teixeira shook Suzuki's hand at first base. \nAfter Suzuki's 258th hit, he scored his 100th run of the season when the Mariners batted around in the third, taking a 6-2 lead on six hits. Suzuki batted twice, hitting a long fly ball that Laynce Nix caught on the run for the third out. \nThere was a scary moment for Suzuki in the top of the third. The Gold Glove right fielder chased a foul ball by Ken Huckaby that landed in the stands, and casually hopped up on the low, padded fence -- but then lost his balance. \nSuzuki fell awkwardly and came down straddling the fence, but was OK. \n"I was very excited tonight. Maybe I was going along with that. I'm glad nothing happened," he said. \nThe crowd was on its feet and players in both dugouts were standing at the top rail when Suzuki led off the bottom of the first. He quickly matched Sisler's mark, bouncing a single over the head of third baseman Hank Blalock. \nFans chanted "I-chi-ro! I-chi-ro!" and he acknowledged the ovation, briefly taking off his batting helmet. \nEach member of the Sisler family was in high spirits, fully expecting Suzuki to claim the record over the weekend. \n"I'd be totally shocked if Ichiro didn't get it," grandson Bo Drochelman said. "We're here to celebrate baseball and my grandfather." \nSuzuki's first-inning single was his 919th hit in the majors, breaking the record for most hits over a four-year span. Bill Terry of the New York Giants set the previous record of 918 hits from 1929-1932. Suzuki has 921 hits in four seasons. \nAbout 115 journalists from Japan were credentialed for the three-game series. \nThe 30-year-old Suzuki, a four-time All-Star, was a huge star in Japan during his nine seasons with Orix in Japan's Pacific League. He got 1,278 hits playing in his home country, and he left Japan with a .353 hitting average. \nEarlier this season, Suzuki became the first player to collect at least 200 hits in each of his first major league seasons. His 222 singles this year also are a major league single-season record. \nSuzuki was the American League's MVP and Rookie of the Year in 2001, his first season playing in the US. He's also been a star with his defense in right field, winning three Gold Gloves in his first three seasons. \nSuzuki got a standing ovation before the game, recognized as the team's player of the year by the Seattle chapter of the baseball writers association. \nAngels 10, Athletics 0 \nIn Oakland, California, Bartolo Colon dominated in seven sharp innings while pitching on three days' rest for the third time in his career, and No. 9 hitter Alfredo Amezaga had a grand slam that put Anaheim over Oakland one game away from the American League West title. \nPinch-hitter Andres Galarraga led off the ninth with his first homer and No. 399 of his career. The Angels got hits from nine players to win for the sixth time in seven games and take a one-game lead over Oakland with two to play. \nBlue Jays 7, Yankees 0 \nIn Toronto, David Bush pitched a two-hitter for the first complete game of his major league career, and Toronto beat Orlando Hernandez and New York. \nHernandez (8-2), pushed back three days in the rotation because of a tired shoulder, lost his second straight start, allowing five runs, five hits and three walks in three innings as he repeatedly threw soft pitches. \nRed Sox 8, Orioles 3 \nIn Baltimore, Tim Wakefield allowed two runs in six innings for his first victory since August, and Johnny Damon and David Ortiz homered to power Boston past Baltimore. \nWhite Sox 4, Royals 2 \nIn Kansas City, Jon Garland pitched six solid innings, and Chicago clinched second place in the AL Central with a win over reeling Kansas City. \nGarland (12-11) allowed two runs and five hits with three strikeouts and three walks to lead the White Sox to their eighth win in 11 games. He raised his career record against Kansas City to 10-4. \nPitcher Mike Hampton homered off Kerry Wood as the Atlanta Braves sent the collapsing Chicago Cubs to the verge of wild-card elimination Friday, holding on for a 5-4 win. \nThe Cubs scored three times in the ninth inning, but their rally fell short and they lost for the sixth time in seven games. Chicago dropped two games back of Houston and San Francisco in the wild-card standings with two games to play. \n"We're due to win one of these. Geez, man. I can't explain it," Cubs manager Dusty Baker said. "It's a bad period right now." \nThe Cubs must beat the 13-time division champion Braves on Saturday and Sunday and hope for help. \nAtlanta wrapped up the National League's second seed with its 95th victory, ensuring home-field advantage in the first round of the playoffs. \nHampton (13-9) allowed four hits in six innings. DeWayne Wise, the No. 8 hitter in the Braves' order, had a two-run homer off Wood (8-9). Hampton's 14th career homer, a two-out, two-run shot, made it 4-1 in the fourth. \nGiants 4, Dodgers 2 \nIn Los Angeles, Kirk Rueter pitched seven strong innings as San Francisco prevented Los Angeles from clinching its first NL West title since 1995. \nThe Giants remained tied with the Astros in the wild-card race. Houston defeated Colorado 4-2. \nJ.T. Snow homered and former Dodger Marquis Grissom doubled home two runs for the Giants, who need a sweep of the three-game series to either force a one-game playoff or win the division based on a 10-9 season record against the Dodgers if Houston loses at least once. \nRueter (9-12) gave up homers to Olmedo Saenz in the fifth and Steve Finley in the seventh, but allowed just one other hit, struck out one and walked one in seven innings. Dustin Hermanson got three outs for his 17th save. \nBarry Bonds went 0-for-1 with three walks -- two intentional.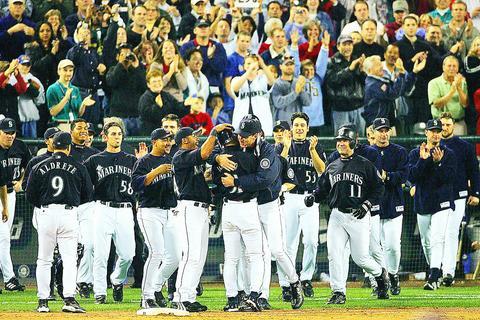 Seattle Mariners' Ichiro Suzuki, center, is congratulated by manager Bob Melvin and teammates after getting his 258th hit of the season during the third inning off Rangers' pitcher Ryan Drese in Seattle on Friday. The hit broke George Sisler's 84-year-old record.
PHOTO: AP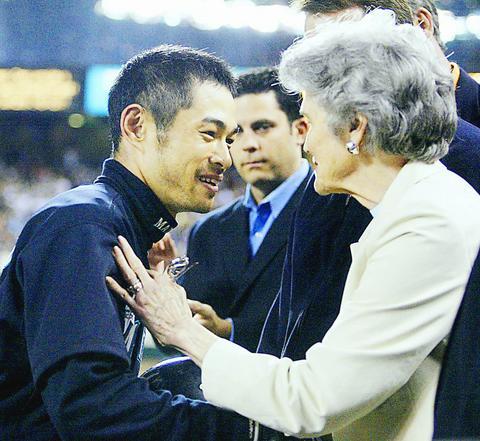 Ichiro Suzuki, left, of the Mariners, is greeted by Francis Sisler Drochelman, George Sisler's daughter, after Suzuki broke George Sisler's 1920 single season hitting record at Safeco Field in Seattle, Friday.
PHOTO: AP
Comments will be moderated. Keep comments relevant to the article. Remarks containing abusive and obscene language, personal attacks of any kind or promotion will be removed and the user banned. Final decision will be at the discretion of the Taipei Times.