Australia gets 13 tries on Romania
RUGBY WORLD CUP Mat Rogers crossed for three tries, Matt Burke and Stephen Larkham scored two each and Elton Flatley scored in only 18 seconds
Elton Flatley recorded the fastest opening try in a Rugby World Cup match and Australia raced to its biggest winning total in internationals with 13 tries in Saturday's 90-8 win over Romania.
Fullback Mat Rogers crossed for three tries, center Matt Burke and flyhalf Stephen Larkham scored two apiece and Flatley landed 11 conversions and a penalty to go with his touchdown -- after 18 seconds -- for a haul of 30 points.
The win eclipsed Australia's previous best international win, a 76-0 win over England at the same stadium in 1998, and its previous best in a World Cup, a 57-9 win over Romania in 1999.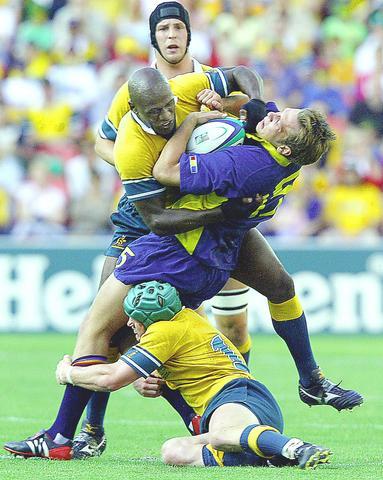 Australian winger Wendell Sailor, left, and centre Elton Flatley, bottom, tackle Romanian fullback Danut Dumbrava during their Pool A Rugby World Cup 2003 in Brisbane, Australia, Saturday.
PHOTO: AFP
"It was a good effort," said Australia captain George Gregan, who missed out the second half.
"Everyone expects you to win by a big score. We had to work hard. We adapted pretty well in the second half."
Looking ahead to another high-scoring victory over Group A minnow Namibia in a week's time, he said: "We can't wait to get to Adelaide."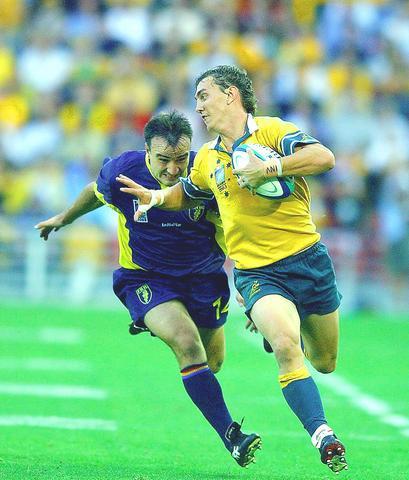 Hat-trick try scorer Mat Rogers out runs Romanian Valentin Maftei during their Rugby World Cup Pool A match. Australia defeated Romania 90-8.
PHOTO: EPA
Larkham admitted he and his teammates were guilty of some sloppy ball-handling in the first half.
"It was a little disappointing with a few dropped balls," he said. "It was a bit slippery but we ran away with it in the end. I think the reserves made a big impact. Our fitness really showed."
Tries had been scored in the opening minute of World Cup matches from 1987-1995, but organizers believed none was as fast as Flatley's five-pointer in Brisbane.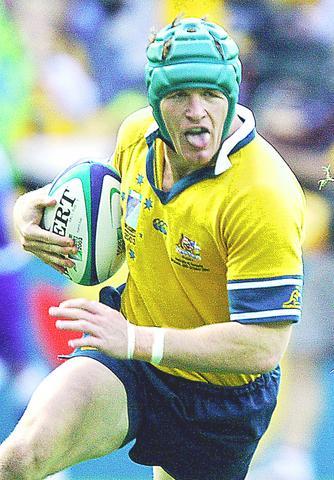 Australian center Elton Flatley scores a try against Romania on Saturday.
PHOTO: AFP
Springboks scrumhalf Joost van der Westhuizen had the fastest previous try of this tournament, crossing after 66 seconds in South Africa's 72-6 win over Uruguay last week.
Flatley took the opening kick-off and lock Nathan Sharpe regained possession with a leap over the Romanian pack.
Hooker Brendan Cannon crashed through three tackles on the subsequent phase and then Flatley took a pass from Larkham on the quarterline, broke two tackles and touched down under the posts after 18 seconds.
He converted to make it 7-0 and added a penalty goal in the 8th minute before setting up Australia's second try, palming off two defenders out wide on the 40m line, drawing the cover and unloading to give Rogers an unopposed run to the line in the 13th.
Romania hit back after No. 8 George Chiriac snatched a lineout ball against the throw and barged to within a meter, then prop Petrisor Toderasc lunged over in the 20th minute for Romania's first ever try against Australia.
Larkham put Burke into a gap and the outside center scored to the right of the posts in the 25th. And the Wallabies earned a bonus point for their fourth try four minutes later after Rogers scored following a 40m charge from Burke.
Flatley made it four from four conversions to make the score 31-5 after a half hour and then converted Burke's second try two minutes before halftime as the Wallabies took a 38-8 lead at the break. Romania's only other points were via a Ionut Tofan penalty in the 32nd minute.
After a slow start to the second half, Larkham scored from a quick tap and burrowed in under the posts.
Stirling Mortlock replaced Burke in the 50th minute for his first test appearance in 12 months and crossed for a strong try eight minutes later, which opened a scoring spree.
Joe Roff scored his fifth try in World Cups against the Romanians -- having figured in the wins in 1995 and 1999 -- on the hour. Larkham sliced through in the 62nd minute for his second of the match and then put Rogers into the clear and the fullback raced 60 meters for his third.
Matt Giteau, who replaced skipper George Gregan at scrumhalf after halftime, scored his first try for the Wallabies after a swerving, 65-meter run in the 67th minute.
Lote Tuqiri, a rugby league convert who usually plays on the wing, went on as a replacement flanker and barged over for his first try for the Wallabies, while George Smith crossed for Australia's 13th try in the last four minutes.
Australian opened its World Cup defense with a 24-8 win over Argentina to kick off the tournament in Sydney last week. The Wallabies face another minnow, Namibia, in Adelaide next Saturday.
Romania, which tested Ireland in a 45-17 loss last week, will have three days rest before playing Argentina in Sydney.
France 51, Japan 29
Frederic Michalak kicked and ran for 24 points as France struggled to a 51-29 win Sunday over a fired-up Japan, which put on a heroic performance against a heavily favored opponent for a second straight week.
The Cherry Blossoms found gaps in a French defense that looked ordinary, and the French were often their own worst enemy on the attack, dropping balls, missing hands and committing penalties at the breakdown.
"We let ourselves get under pressure by dropping balls, and we should have kicked behind them more," said French coach Bernard Laporte. "We were always confident, but we lost a little control in the last 10 minutes of the first half."
But Laporte's first words were praise for his opponents.
"Congratulations to the Japanese," he said. "They were true to their reputation of being fast, making intelligent plays and playing tight defense."
Japanese coach Shogo Mukai had said he hoped his team would be in contention after 40 minutes -- and they put up a fight even longer than that. They were only four points down at the half and moved to 20-19 early in the second period.
Japan got no closer but kept the pressure on the French for the entire match, scoring the second of its two tries with 10 minutes to go.
"I'm very proud of the boys," said New Zealand-born center George Konia, who slashed through France's defense for Japan's first five-pointer.
"They played with total commitment and they put their bodies on the line for 40 minutes."
The win may come at a price for the French. Michalak, their outstanding 21-year-old flyhalf, was scheduled to be x-rayed on concern he may have separated a rib, manager Jo Maso said.
The Cherry Blossoms drew first blood on a 40m penalty kick by fullback Toru Kuriyama, drawing cheers from a vocal pro-Japanese crowd of 21,309 clearly hoping for a repeat of last week's near-upset of Scotland.
But the lead lasted just a minute as the French settled into their game, showing their muscle up front and occasional bursts from their backline.
No. 8 Christian Labit shredded the Japanese line after the restart, and Fabien Galthie fed Michalak for his third try in French colors.
The Japanese were swarming on defense and daring in attack, with Andrew Miller looking dangerous in his first start.
The New Zealand-born flyhalf was one of the heroes of Japan's 32-11 loss to Scotland coming off the bench, and Mukai gave him the job of setting the pace for the Japanese backline Saturday.
A rout appeared to be on in the seventh minute, when Aurelien Rougerie found himself in the clear on an inside pass from Magne, moving the score to 14-3.
But a break by Miller following the restart got the Japanese deep into French territory. An offside call against Galthie near the goal line gave Kurihara another shot at the posts, which he converted to lift Japan to 14-6.
The Japanese were also hurt by penalties. Michalak responded to Kurihara's three-pointer with two of his own to widen the gap to 20-6. The Cherry Blossoms refused to wilt.
New Zealand-born center George Konia cut through the French line following a move set up by Miller, closing the deficit to 20-13 and sending the cloud into delirium.
An energetic Japanese defense won a turnover inside the French 22 and appeared to be on the verge of another score that was stopped only by a deliberate knockdown by Serge Betsen.
Another penalty by Kurihara put the score at 20-16 at halftime.
The 25-year-old Suntory fullback, who was five for five in the kicking department, closed the gap to 20-19 early in the second match with a 41-meter penalty kick when Magne was called for obstruction.
But the crowd's joy was short-lived when Japan was penalized a minute later for going over the top about five meters out.
Following a kick into touch and lineout, Fabien Pelous collected from a maul to run five meters for the score. Michalak converted and the French were eight points ahead again.
France earned a bonus point minutes later when winger Christophe Dominici charged over the line to take the score to 34-19.
Michalak and Kurihara exchanged penalties before Rougerie took a pass from fellow winger Dominici and then raced through four tacklers on a powerful run to the line for his second try. Michalak increased the lead to 44-22.
But the Japanese weren't finished.
Flying winger Daisuke Ohata went over for his 41st international score from a pass by Kurihara and the other winger kicked his seventh successful kick from seven attempts to make it 44-29.
Jean-Jacques Crenca powered over the Japanese line for a sixth French try and Michalak converted.
Publication Notes
Scorers
* Australia 90 (Tries -- Mat Rogers (3) 13th, 29th, 64th, Matt Burke (2) 25th, 38th, Stephen Larkham (2) 48th, 62nd, Elton Flatley 1st, Stirling Mortlock 58th, Joe Roff 60th, Matt Giteau 67th, Lote Tuqiri 74th, George Smith 77th; conversions -- Elton Flatley (11) 2nd, 13th, 26th, 30th, 39th, 49th, 61st, 63rd, 67th, 75th, 78th; Penalties -- Elton Flatley 8th)
* Romania 8 (Tries -- Petrisor Toderasc 20th; Penalties -- Ionut Tofan 32nd)
* Halftime 38-8
Comments will be moderated. Keep comments relevant to the article. Remarks containing abusive and obscene language, personal attacks of any kind or promotion will be removed and the user banned. Final decision will be at the discretion of the Taipei Times.