First daughter is pregnant
The daughter of President Chen Shui-bian (陳水扁) is expecting a baby.
Chen Hsing-yu (陳幸妤), 26, said yesterday that she is five weeks pregnant and was excited about the prospect of a new baby -- regardless of whether it's a boy or girl.
Chen in September married Chao Chien-ming (趙建銘), an orthopedic surgeon at National Taiwan University Hospital.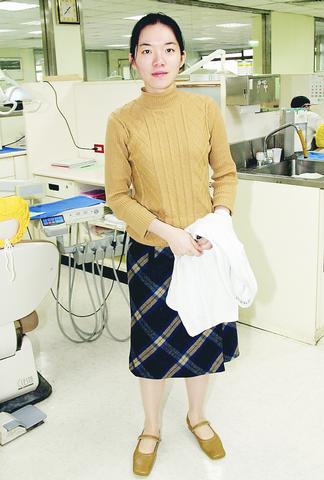 Chen Hsing-yu, only daughter of President Chen Shui-bian, poses for the press yesterday after confirming that she is five-weeks pregnant.
PHOTO: LEE HUNG-MING, TAIPEI TIMES
The hospital yesterday said that Chen's physical condition is healthy and normal. She's due in October.
Chen said she first realized she might be pregnant after the results of a home pregnancy test on Valentine's Day. She visited the hospital with Chao on Wednesday to confirm the results.
President Chen hinted in his Lunar New Year's address that he might be a grandfather soon. But Chen Hsing-yu said it was just wishful thinking on the part of her father and the president didn't know she was pregnant at the time.
"My husband was the first to know that I am pregnant," Chen said. "When my father hinted that he's going to be somebody's grandfather during his address on Feb. 11, I didn't even know that I was pregnant."
Chen said her pregnancy hasn't affected her daily life and work so far. But later she'll definitely have to make a few changes to her routine, she said.
Chen had originally planned to quit her position as a resident dentist at the Chang Gung Memorial Hospital in August to begin graduate studies at the School of Dentistry at National Taiwan University.
"I haven't thought about this question yet," she said. "I have to reconsider my plan to go to graduate school this fall. Probably, I'll have to make a few changes to my schedule. But for now, I'll just focus on my job and maintain my normal life."
Comments will be moderated. Keep comments relevant to the article. Remarks containing abusive and obscene language, personal attacks of any kind or promotion will be removed and the user banned. Final decision will be at the discretion of the Taipei Times.