After prom, TAS students pack their bags for the US
The Taipei American School has evolved into being a training ground for admission into US universities and this year's graduating class is no exception
While around 126,000 Taiwanese high-school students will join the competitive Joint College Entr-ance Examination today to vie for spots at Taiwan's universities, the 200 graduating students from Taipei American School (台北美國學校, TAS) have long had their futures planned -- 99 percent of them will attend universities in the US. \nIn this school whose student body is split 20:80 between Westerners and pupils with ethnic Chinese roots but foreign citizenship, going to the US for college education is a natural choice. \n"TAS provides an American college preparatory curriculum ... It is just like an American factory, located in Taiwan, manufacturing products especially for colleges in the US," said Geoffrey Lee, an 11th-grade student at TAS, and an "ABC," or American-born Chinese. \nTaiwanese universities are singularly unpopular destinations for TAS graduates. \nIn the class of 1999, only 2 went to a Taiwanese college. In that of last year, there were only four. \nThe reason is simple: Taiwanese parents send their children to the school to sharpen their English-language skills to pave the way for entrance to an American college. \nAs the US remains a dominant power in the world, and most Taiwanese are very receptive to its culture, Taiwanese parents have long been keen to send their children to study in the US. And if they want to keep their children close to them while receiving an American education, TAS -- the largest and oldest of Taiwan's nine American schools with 2,100 students and 52 years of history -- will be their top choice. \nFounded in 1949 by missionaries and expatriate business leaders, TAS has reflected the evolution of the US-Taiwan relationship. During the period from 1954 to 1978, while the US retained a military presence in Taiwan, the vast majority of the school's students were children of military personnel. \nprocess of evolution \nSince the withdrawal of US forces in 1979, the school has evolved into a college preparatory school with a strong academic program and international reputation. Beginning in the late 1980s, the school served increasing numbers of returning expatriate Chinese from over 40 countries. \nBut nowadays, an overwhelming majority of students are of Taiwanese ethnicity with foreign citizenship. Parents of the school's students are members of diplomatic and trade missions or are academics, engineers, doctors, politicians, and proprietors of family businesses. \nThe school's alumni have excelled worldwide in many fields. There are countless distinguished alumni in Taiwan, including Nita Ing (殷琪), president of the Taiwan High-speed Railway Co (台灣高鐵), Taiwan actress and director Sylvia Chang (張艾嘉), movie star Takeshi Kaneshiro (金城武) and Linda Arrigo, democracy activist and former DPP chairman Shih Ming-teh's (施明德) ex-wife. \nAccess to the school is the exclusive preserve of a privileged few. It costs around NT$500,000 a year to attend the upper school. Annual tuition in a public Taiwanese senior high school is NT$20,000. \nBeing wealthy is not the only criterion; the school also requires students to hold foreign citizenship. \nStudents include children from prominent families in academia, business, politics and the arts. One of this year's high-profile graduates is Stanley Tzeng (曾允中), the son of Minister of Education Ovid Tzeng (曾志朗). Stanley will continue his studies at Columbia University where he plans to major in computer science. \n"Students form a separate community there, and do not find it easy to mingle with locals because they speak different languages, and behave and think like Americans," said a student who graduated from TAS last year. \n"Given that most students are from affluent and distinguished families, students tend to be somewhat egocentric and overbearing. They can also be materialistic, constantly competing over material belongings," said the student, citing the annual senior prom as an example. \nSenior prom is traditionally one of the highlights of high school for American students. At TAS it is held for juniors and seniors prior to commencement and is part of graduation festivities. \n"Students first have to find a date. Nobody would go without a date. Then they worry about their appearance -- the hairdo, the gowns, the tuxedos. Even the car you drive to the prom is an issue. There is a lot of peer pressure." \nLearning in an environment so detached from the outside leads some students to develop identity crises. Their confusion sometimes leads to delinquent behavior and tension with the local community. \nan alien culture \n"People call us `third culture kids.' The culture here is not totally American, nor is it entirely Taiwanese. It is a unique TAS culture -- students form a different culture from the community in which we live," said John Wu, a student who graduated this summer and is going to the University of Southern California. \n"We have to adjust ? People can be hostile to us because we are not traditionally minded." \nClashes between the locals and the school's students have occurred due to a lack of mutual understanding and the students' occasional boisterousness. \nTwo years ago, 20 TAS students were involved in a fistfight with the borough chief of Tienmu, where the school is located, when the students were warned not to vandalize walls inside a Tienmu park. In a bid to show the power of their connections, the students threatened to seek assistance from the American Institute in Taiwan. \nBut some of the students said that they consider being part of an "in-between culture" to be advantageous, saying that it gives them opportunities to see and experience more of the world than they otherwise would and that they benefit from exposure to the traditions of both East and West. \nAsked what they considered to be the school's particular strengths, students and parents all cited the school's high-quality programs and teaching staff. \nThe school is said to be ranked the third-best international American college preparatory high school in the world. Parents said that it provides courses that foster a love of learning, and cultivates analytical abilities and creativity. Students are encouraged to ask questions and their individual opinions are respected. Projects and oral presentation take the place of the multiple written tests that are prevalent in ordinary Taiwanese high schools. \n"When my son went to the local schools, he hated going to school. But his attitude changed completely after he was transferred to TAS. There must be something about TAS that made that change for my son," said Daisy Hung (洪蘭), the wife of Minister Tzeng.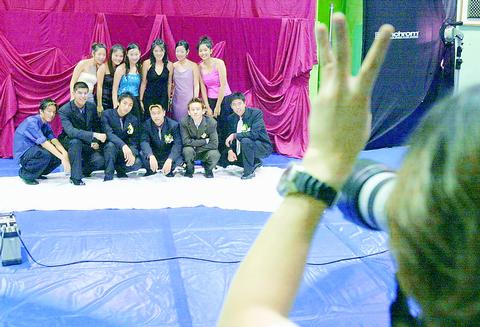 Taipei American School students pose for pictures at their high-school prom, a dance that is traditionally part of graduation festivities in American high schools.
PHOTO: CHIANG YING-YING, TAIPEI TIMES
Comments will be moderated. Keep comments relevant to the article. Remarks containing abusive and obscene language, personal attacks of any kind or promotion will be removed and the user banned. Final decision will be at the discretion of the Taipei Times.