Yen Ching-piao: pious leader or crafty politician?
LEADING THE FLOCK Many say political and economic factors, as well as religion, are what drove Taichung's most controversial politician to push for direct links
By 7:30pm Tuesday, Taichung County Council Speaker Yen Ching-piao (顏清標) was already drunk.
"He's asleep, unable to accept your interview. The visiting Kinmen County Commissioner and councilors brought him bottles of Kinmen `kaoliang' liquor. He's drunk now," Liu Hsu-mei (劉淑媚), Yen's secretary, told the Taipei Times.
Yen's guests from Kinmen had a mission. They wanted Yen, who chairs the board of the Chen Lan Temple (鎮瀾宮) in Taichung County, to lead Matsu followers on a pilgrimage to China to worship the goddess Matsu via Kinmen. By doing so, Yen would take the first step toward opening direct links with China and would also open Kinmen to a fresh wave of investment and resources for the island's stunted economy.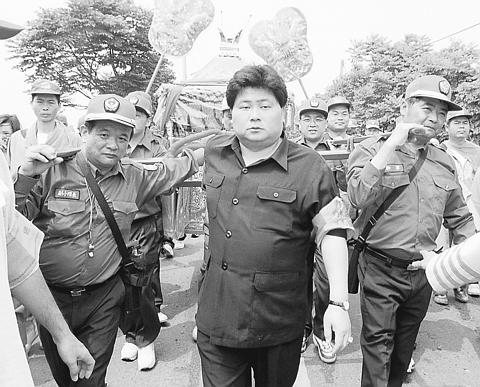 A file photo shows Yen Ching-piao, chairman of Chen Lan temple in Tachia, Taichung County, leading a palanquin carrying the goddess Matsu through Chiayi County.
PHOTO: CHIANG YING-YING, TAIPEI TIMES
But as Mainland Affairs Council (MAC) officials have said, direct travel to China via outlying islands for religious purposes is out of the question for the time being.
For Yen, who had originally planned to lead thousands of Matsu followers to Meizhou Temple (湄洲媽祖廟) in China's Fujian Province on the first direct sailing via outlying islands, this possibility has disappeared like kaoliang at a dinner party.
Yen, however, isn't taking no for an answer. It's impossible to cancel the scheduled pilgrimage on July 16 as it's the date the goddess Matsu has selected, Yen says.
"We have to go anyway, otherwise it would be disrespectful to Matsu," Yen said, but added that the trip would follow legal routes.
Religious Fervor?
Yen claims that Chen Lan Temple's application to sail directly to China to worship Matsu was a bid to save money, time and energy for Matsu followers.
After all, as Taiwan still bans direct cross-strait transportation, local pilgrims have to spend nearly a day reaching Meizhou via either Hong Kong or Japan's Ishigaki Islands.
The ban has prompted some Taiwanese to travel across the Strait illegally on fishing boats to cut down on time and costs.
If direct travel from Taichung Harbor to Meizhou is allowed, locals need only travel a few hours to cross the 133km Strait before reaching the island where the goddess of the sea is believed to have been born and lived as a person before she was raised to the status of a goddess.
Although Yen has presented himself as a speaker for Matsu followers, saying the case is purely a religious one, some have said Yen's push for religious direct links is instead a maneuver to seek political and economic gains.
Political Gains
"I am wondering if he is interested in running for the Taichung County Commissioner post," said Hsu Szu-chien (徐斯儉), a political analyst at National Chengchi University.
If so, then Yen's urging the government to open direct links with China for religious purposes -- if it succeeds -- would enhance his reputation in Taichung County, Hsu said.
KMT legislator Kuo Jung-cheng (郭榮振), elected from Taichung County, confirmed Yen's wish to run for the county commissioner position. "KMT lawmaker Tseng Chen-nung (曾振農) once told me that Yen intended to run for commissioner," Kuo said.
But not everyone agrees with this interpretation.
DDP legislator Chiu Tai-san (邱太三), also elected from Taichung County, said insiders in the People First Party (PFP) had told him it was unlikely the PFP would nominate Yen as a candidate to run for commissioner despite the close connections between Yen and the party.
"Yen is a controversial figure. I would say his recent move is to ensure his current post as the Taichung County council speaker," Chiu said.
DPP legislator Lee Wen-chiung (李文忠) said Yen, who is now involved in several lawsuits, simply used his bid for religious links with China as a political umbrella.
"If any of these lawsuits against Yen were closed during the time the county council is not in session, Yen could be arrested. He can then claim that the government has persecuted him by closing these cases quickly because his stance on religious direct links is different from that of the government," Lee said.
According to current regulations, elected officials, unless they are caught in the act of a crime or are criminals wanted by the law, can be exempted from arrest when the county or city councils are in session.
And the Taichung County Council has not been in session since June 7, the day Yen flew to Hong Kong to arrange the scheduled trip, Lee said.
Money Talks
As for economic gain, Yen's aide, Liu, said the council speaker has only the interests of Taichung County as a whole on his mind.
"Direct links, if realized, can definitely boost the prosperity of Taichung Harbor. And this is one of the major drives behind Yen's bid," said Liu.
But others said Yen also had his own economic interests in mind.
"A local newspaper in Taichung revealed back in 1999 that Chen Lan Temple had a total savings of NT$1.2 billion. This means that Yen is operating a treasury (金庫) of his own without any supervision from above," said Chiu.
"Although I am sure Yen won't usurp the cash donated by Matsu followers, the treasury, however, is the most convenient stash for him when he needs some urgent money," he added.
Yen's secretary was quick to deny such an allegation. "It's impossible. As a follower of Matsu, how can it be possible for Yen to seek profit from Matsu followers' donations?" Liu said.
Liu also said it was unfair to bring up Yen's controversial background while he is trying to push for direct links with China for religious purposes.
"Our motivation is pure and simple. I don't think one should bring other strange accusations into the discussion," she said.
KMT lawmaker Chen Chieh-ju (陳傑儒) said the Chen Lan Temple case had been overly politicized.
"Yen only intends to offer better service to Matsu followers when he proposes to sail directly to China for religious purposes. After all, it's dangerous to travel to Meizhou by illegal fishing boats, and travel via Hong Kong is expensive," Chen said.
Critics, however, insist the real motive behind Yen's bid remains unclear and that Yen's throwing divining blocks as a means for Matsu to indicate a date for the scheduled sail to China was "unreasonable."
"Throwing the divining cups is not a reasonable way to address this matter. No wonder others accuse him of pressuring the government by manipulating the deities," said Andy Chang (張五岳), Director of the Institute of China Studies at Tamkang University.
Taichung County Commissioner Liao Yung-lai (廖永來) said not every Matsu follower agreed with the way Yen has been pushing for the direct trip to China.
"Although religious freedom should be respected, it takes time for the government to prepare opening direct links, taking national security into consideration," Liao told the Taipei Times.
"Even the Taichung Harbor needs time to expand related facilities. And any push in a rush can only harm the quality of direct links," he added.
Comments will be moderated. Keep comments relevant to the article. Remarks containing abusive and obscene language, personal attacks of any kind or promotion will be removed and the user banned. Final decision will be at the discretion of the Taipei Times.