Rescue team on the way
HUMANITARIAN AID After receiving international aid following the 921 quake last year, Taiwan is reciprocating, and is sending two earthquake rescue teams to Sumatra
Taiwan dispatched a rescue team to the Indonesian island of Sumatra yesterday to help with emergency aid and rescue work after a powerful earthquake hit the region on Sunday.
The seven-person team consisting of six emergency aid specialists from the Taipei County Government Fire Department and one doctor is the first ever from Taiwan to conduct search and rescue work overseas.
The team's 640kg of rescue gear includes sonar and infrared equipment used to search for survivors in collapsed buildings.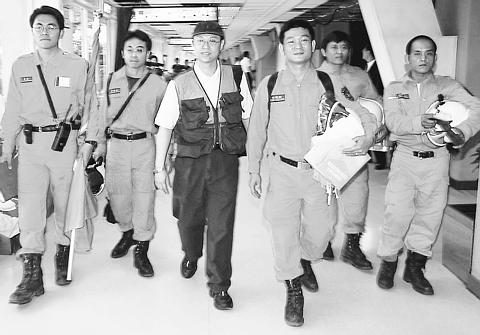 The first of two international rescue teams from Taiwan leave for Sumatra yesterday to join the relief effort.
PHOTO: GEORGE TSORNG, TAIPEI TIMES. N
The team is also bringing along electric generators and satellite telephones.
Another medical team from the Taiwan Root Medical Peace Corp (TRMPC, 台灣路竹會) is to depart for the earthquake-torn island today along with several more rescue specialists from Pingtung County.
Both the Taipei and Pingtung emergency aid teams were established late last year after the catastrophic 7.3 earthquake on Sept. 21, that left 2,297 dead, approximately 8,400 injured and an estimated 100,000 homeless. The teams received four weeks of intensive training in Singapore earlier this year.
Over 20 countries sent rescue teams to Taiwan in the aftermath of the 921 quake.
Liu Ming-chun (劉啟群), president of the TRMPC, said the medical team is scheduled to stay in Sumatra for one week but will stay longer if needed.
"We are bringing the basic medical supplies needed in earthquake relief along with equipment to set up a field clinic, if needed," Liu said.
"There has been limited time to prepare; we just received a request from the foreign minister this morning asking us to leave in a couple of hours," he added.
The TRMPC has undertaken other short stints previously. The group gave aid during the crisis in Macedonia caused by the fighting in Kosovo last spring and also went to Liberia in February.
Bengkulu, the western province of Sumatra, was rocked by a massive earthquake measuring 7.9 on the Richter scale late Sunday night, killing 117 and injuring 700 so far.
The US, Japan, Singapore, Spain, Switzerland, Belgium, Malaysia and Australia have all offered aid or emergency relief.
A team of Singaporean doctors arrived Tuesday with the first planeload of foreign relief while a 19-member medical team from Japan arrived yesterday.
The US embassy in Jakarta said yesterday that Washington has pledged US$25,000 in immediate assistance to the victims and was ready to give more if necessary.
Japan announced a US$140,000 emergency grant on Tuesday, providing tents, plastic sheeting and construction tools.
Australian Prime Minister John Howard said Canberra was sending US$143,000 worth of rapid-response aid and two emergency relief experts were on their way to assess the situation.
Officials at Taiwan's representative office in Jakarta said flights to Bengkulu are scheduled to operate today but the rescue team will travel to Sumatra by boat if necessary.
About 40 percent of Bengkulu City's electricity network was functioning again yesterday and water supplies were back on in some parts of town. Both had been knocked out by the quake.
Bengkulu seemed to be in a better state than Manna, the main city in the South Bengkulu district which appeared to have borne the brunt of the earthquake.
Comments will be moderated. Keep comments relevant to the article. Remarks containing abusive and obscene language, personal attacks of any kind or promotion will be removed and the user banned. Final decision will be at the discretion of the Taipei Times.