Chen counts chances at campaign rally in Taipei
PRESIDENTIAL RACE Chen Shui-bian and Lien Chan used the opening of campaign headquarters to boost party morale and make slurs against other contenders
DPP presidential candidate Chen Shui-bian (陳水扁) and KMT rival Lien Chan opened campaign headquarters yesterday -- Chen inaugurating his national office in Taipei and Lien opening campaign offices in Kaohsiung and Penghu.
At Chen's opening ceremony, party representatives from counties and cities promised to deliver a total of 4.5 million votes, or 40 percent of expected total turnout -- enough to send him and his running mate Annette Lu (呂秀蓮) to the presidential office.
Hosting the event, Chen Chu (陳菊), now a Kaohsiung city official, announced the number of votes they are committed to gain, as 12 county and city heads or their representatives in the localities held by the DPP symbolically placed chips representing their constituencies onto a large Taiwan map that stood two meters high on the stage.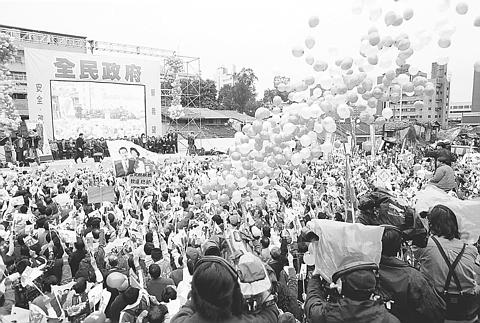 DPP supporters cheer yesterday at the opening of Chen's campaign headquarters on Minsheng E. Road in Taipei.
PHOTO: GEORGE TSORNG, TAIPEI TIMES
Taipei county commissioner Su Chen-chang (蘇貞昌), vowed to win a total of 700,000 votes, or 39 percent of the vote in his county, for Chen.
"This is more than what I won when I was elected. I'll work my hardest to achieve this result," Su said.
The best locality for Chen will be in Tainan County, where he was born, if he garners the promised 51 percent of the vote (300,000 votes).
Chen is expected to only have minimal support in Kinmen and Matsu. He expects only 10 percent, or 2,420 and 332 votes respectively.
"Even this is fairly optimistic as it's tough for the DPP there," Chen Chu said.
Residents of the two islands close to the Chinese coast are traditionally the least friendly to the opposition party.
According to the number of votes pledged, Chen would receive 4.57 million votes, or around 40 percent of votes expected to be cast on March 18, campaign officials said.
According to the Central Election Committee, there are currently around 15 million eligible voters nationwide. The turnout for voters is widely expected to be as high as 75 to 80 percent; the March election will mark only the second time a president here has been chosen by popular vote.
Meanwhile, Vice President and KMT presidential candidate Lien yesterday opened two local campaign headquarters, one in Kaohsiung and one in Penghu.
Lien took the opportunity to condemn both his opponents. He attacked Soong's notions of so-called "relative sovereignty" and "quasi-international relations," terms used by the former provincial governor to describe Taiwan's relations with China.
Lien said that nobody understands what Soong's term "relative sovereignty" means, not even Lien himself who holds a PhD in political science. Lien also said "quasi-international relations" means that Taiwan is less than a country, and that is downgrading its status.
Lien also said that Chen's position on Taiwan independence could threaten the island's safety.
Comments will be moderated. Keep comments relevant to the article. Remarks containing abusive and obscene language, personal attacks of any kind or promotion will be removed and the user banned. Final decision will be at the discretion of the Taipei Times.