Madame Chiang's life touches centuries
GUEST LIST A diverse array of guests attended a conference in Madam Chiang's honor, which is indicative of the impact and range of her life's work
Soong Mayling (宋美齡), perhaps better known as Madame Chiang Kai-shek, doesn't leave her home much these days -- hardly surprising, given she is 102 years old. Her home, however, is in Long Island, New York, and she has spent more of her life in the US than in Taiwan. Still, attendees at a conference held in her honor in Taipei this week agreed on her continuing presence as a factor in Taiwan's political landscape.
One clue to this could be gleaned simply by looking at the guest list.
The Minister of National Defense, the heads of the China Youth Corps and the National Women's League and KMT heavyweights all attended the historical conference on Madame Chiang Kai-shek's life and times. And her grandson, KMT secretary-general John Chang (31孝嚴), is scheduled to give the closing address today.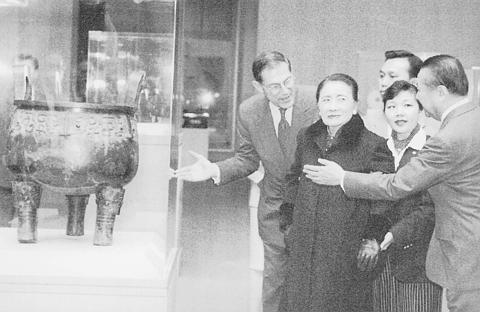 File photo of Madame Chiang Kai-shek and Chinese officials in the National Palace Museum in Taipei. Madame Chiang was honored this week in a conference recognizing her life's work.
The fact that politicians, historians and the general public disagree on what her contribution actually was, only serves to show that Madame Chiang Kai-shek and the circles she moved in continue to fascinate people.
"People love her, people hate her, they think she's a goddess, a dragon lady ... In the States you have the Kennedys, and England has a royal family ... [the Soongs] are very similar," said Laura Tyson, a journalist researching a biography of Madame Chiang.
Born into history
A member of one of China's most powerful and wealthy families, foreign educated, sister to a former premier and finance minister, sister-in-law to Sun Yat-sen (孫???s) and another former premier, Soong -- who may soon see her third century -- has spent much of her life chained to China's, and Taiwan's, history.
What her role actually was, however, is perhaps more difficult to pin down.
"She's a very complicated, multidimensional woman," said Lin Po-wen (林3??/CHINESE>), a long-time Soong watcher and New York correspondent for the China Times.
Born in Guangdong province in 1897 to former Methodist missionary Charles Jones Soong (宋?l?? and his wife, Soong Mei-ling was one of the few women during the era to receive formal education. She spent 10 years in the US, and graduated from Wellesley College in 1917.
Ten years later, her marriage to Generalissimo Chiang Kai-shek (蔣?階?/CHINESE>) broadened her family's political and economic power.
During World War II, she played an active role in drawing foreign attention to the Chinese war of resistance against the Japanese, acting as a spokesperson for the KMT regime and forming an important part of its image abroad.
She befriended Time and Life magazine publisher Henry Luce, who became the core of the US "China lobby," and was a frequent guest of Eleanor and Franklin Roosevelt at the White House.
Many of the presenters at the conference were old friends, such as Yan Cho-yun (嚴荈3), head of the National Women's League which Soong founded. Yan, whose husband Koo Chen-fu (辜振甫) serves as Taiwan's semi-official negotiator with China, drew most of the material for her speech from chats with Soong herself.
"I think she's a great woman," said Alex Wen-yi Cho (卓?撣q), a military historian at Chinese Air Force Academy who delivered a paper at the conference.
"When you look at her in the context of her era she was quite revolutionary. An educated woman," said Diana Lary, a military and social historian at the University of British Columbia in Vancouver who spoke at the conference.
"The attention she drew to the war in China had an amazing impact abroad," she said.
Other historians have perhaps been less kind to Madame Chiang than those speaking at the conference this week.
Sterling Seagrave, whose 1985 book The Soong Dynasty chronicles the history of her family, describes her as a silently complicit partner in her husband's regime who was "politically at home on the far right."
"She was full of ideas and energy, but there was a limit to what she could achieve by herself. Chiang proffered power," Seagraves wrote, citing the Chinese adage about the three Soong sisters that "one loved money, one loved power and one loved China."
Tyson said controversy persists over Soong's political views during the Chiang era.
"She talked about how wonderful democracy was, but tolerated a regime that was anything but democratic," she said.
But the image of Soong Mei-ling as an ambitious political player is perhaps an oversimplified one, Tyson said.
"I don't think she was personally or politically ambitious ... she had charisma, she had charm, she was a marvellous talker ... I think she knew that and she used that," Tyson said.
Soong's recent reclusivity doesn't make it easy to clarify these and other questions about her role in many historical developments.
Since Soong moved to New York in 1975, after her husband's death, she and her family have closely guarded her privacy and limited her contact with the media.
Her rare public appearances are for her pet causes, such as the National Palace Museum's travelling exhibition at the Metropolitan Museum in New York in 1996.
`The Eternal Madame'
Although she has been largely out of sight for the last 25 years, she is not out of mind for the people at this week's conference.
"Mainlanders, even Taiwanese have a nostalgic feeling toward Soong Mei-ling, but it's not worship," Lin said.
It's impossible to tell whether Chiang Kai-shek's former secretary Chin Hsiao-yi (?孝儀), now the director of the National Palace Museum, had worship on his mind when he bowed to Soong's image before and after his keynote speech at the conference.
But nostalgia was certainly thick in the air, where recordings of her speeches in English played beside cases full of her military decorations.
Older mainlanders at the conference wandered past photographs from the KMT's archives bearing the heading "The Eternal Madame," occasionally pointing out old friends and elaborating on connections between political players.
Speeches and comments at the conference were peppered with personal anecdotes and thick with emotion. One conference guest suggested compiling a book or album of her quotations as had been done for her sister Soong Ching-ling (宋慶齡), Sun Yat-sen's wife, on the mainland.
Despite the reverence shown at the conference, Soong's influence is now, observers said, largely historical.
"Her age, her dynasty is gone," said Lin.
Comments will be moderated. Keep comments relevant to the article. Remarks containing abusive and obscene language, personal attacks of any kind or promotion will be removed and the user banned. Final decision will be at the discretion of the Taipei Times.