What is US daylight saving time and why was it created? 美國「日光節約時間」之由來
As countries including the US, Canada and Cuba prepare to set clocks back an hour as daylight saving time ends on Nov. 5, debate is once again emerging in the US over whether and how to end this practice.
WHAT IS DAYLIGHT SAVING TIME?
Daylight saving time is the practice of moving clocks forward by one hour during the summer months so daylight lasts longer into the evening. Most of North America and Europe follows the custom, while the majority of countries elsewhere, especially those close to the equator, do not.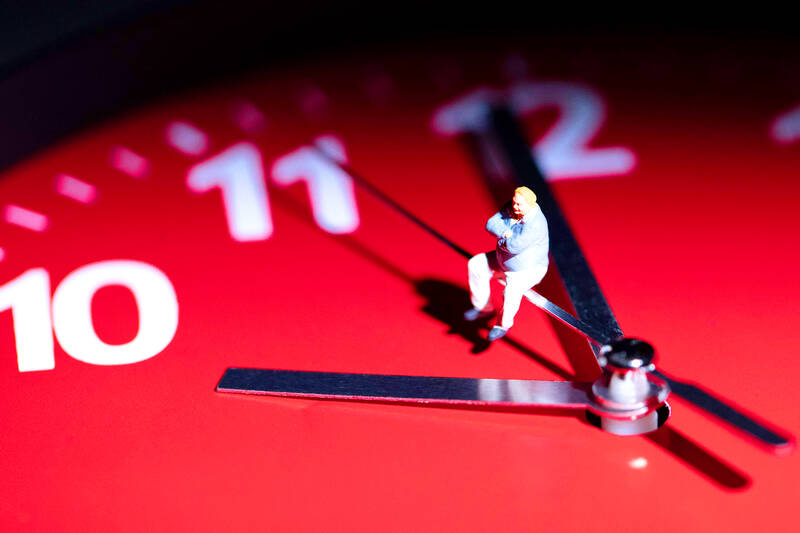 This picture taken on Oct. 20, 2020 in Paris, France shows a figurine sitting on a clock. 坐在時鐘上的小雕像。2020年10月20日攝於法國巴黎。
Photo: AFP 照片:法新社
The practice has been controversial from the outset, with many countries having adopted and rejected it multiple times. Egypt announced in March that it would reintroduce daylight saving time after a seven-year gap to rationalize energy use. Japan considered adopting the practice for the 2020 Olympics but rejected the proposal due to lack of popular support and technical challenges. Daylight saving time was implemented in Taiwan after World War II in the summer of 1946 to1961, 1974, 1975 and 1979.
WHEN DOES DAYLIGHT SAVING TIME END IN 2023?
Daylight saving time in the US and some neighboring countries ended on Nov. 5 at 2am local time, pushing clocks back an hour.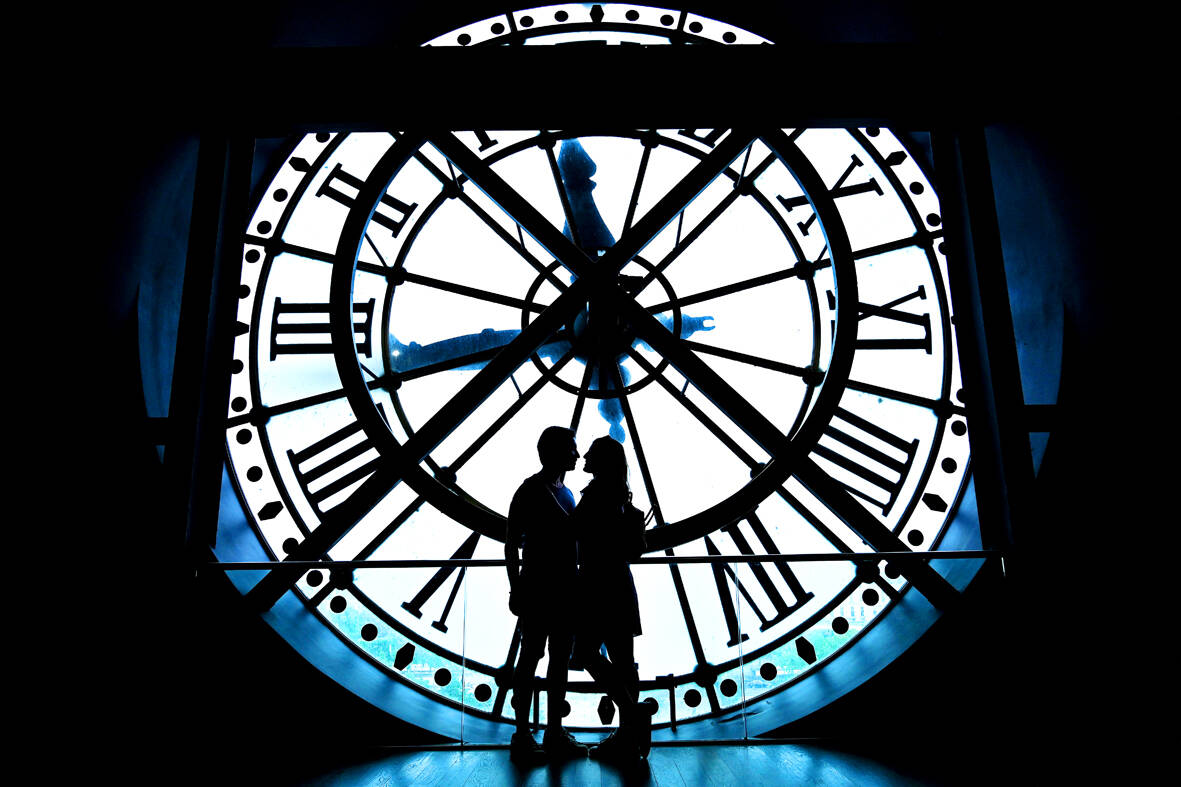 A couple poses for a photo near a giant clock at the Musee d'Orsay in Paris, France on July 9. Europe moved the clocks forward one hour from summer time to winter time on Oct. 29. 法國巴黎奧賽美術館巨型時鐘旁的一對伴侶。攝於7月9日。歐洲已在10月29日由夏令時間轉換至冬令時間,將時鐘撥快一小時。
Photo: AFP 照片:法新社
In the UK and other European countries, daylight saving time, also known as summer time, ended on Oct. 29.
Daylight saving time always starts on the second Sunday in March and ends on the first Sunday in November for the US. This contrasts with the UK and European Union, where summer time begins on the last Sunday in March and ends on the last Sunday in October.
WHY WAS DAYLIGHT SAVING CREATED IN THE US AND HOW DID IT START?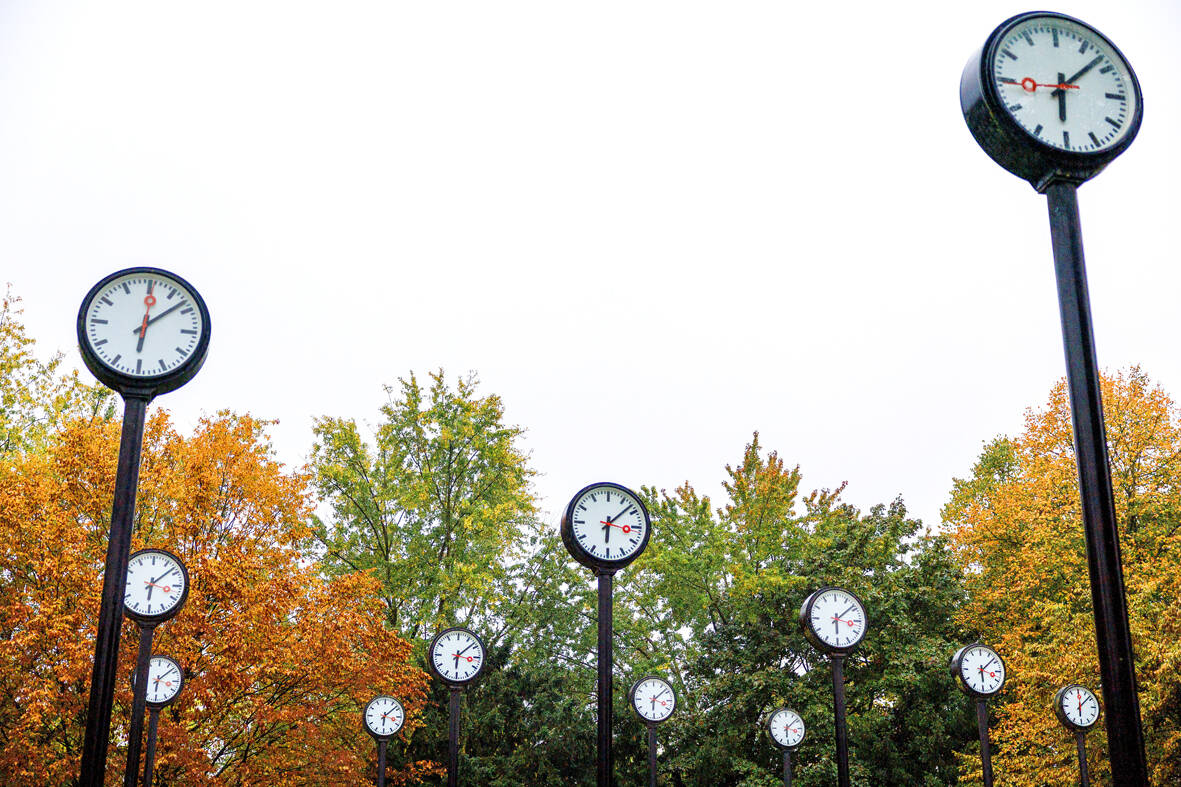 The art installation 'Zeitfeld' (time field) created by the German artist Klaus Rinke is seen in Duesseldorf, Germany on Oct. 25. Clocks in Germany were changed to winter time and set back by one hour on Oct. 29. 圖為德國藝術家克勞斯‧林克創作的裝置藝術「時間場」,10月25日攝於德國杜塞道夫。德國於10月29日轉為冬令時間,將時鐘撥慢一小時。
Photo: EPA-EFE 照片:歐新社
The modern idea of changing the clocks with the seasons can be traced back to at least the late 19th century, when New Zealand entomologist George Hudson proposed it to conserve energy and extend summer daylight hours, something which would have benefited his hobby of collecting insects after work. The idea was slow to gain traction until World War I, when European states sought any strategies to conserve fuel. Germany was the first country to adopt daylight saving time in 1916 and the US followed in 1918.
The practice went through many variations before the US standardized it in 1966 in the Uniform Time Act, which allows states to opt out of it but not to stay on daylight saving time permanently. A common myth is that the US adopted daylight saving time to benefit farmers, but in reality many farmers are opposed to the practice for being disruptive to their schedules. The original motivation of conserving fuel is also under debate, as studies have found little, if any, energy savings from the shift, according to the Congressional Research Service. Opponents point to other studies that have found adverse health effects linked to daylight saving time, such as a spike in fatal traffic accidents, heart attacks, strokes and sleep deprivation in the days after clocks are moved forward an hour every March.
A March 2023 YouGov poll found that 62 percent of Americans want to end the practice of changing clocks, though only 50 percent preferred to keep permanent daylight saving time.
(Reuters)
美國、加拿大及古巴等國的日光節約時間〔夏令時間〕在11月5日結束,時鐘調慢了一小時,在美國相關討論也再度出現,思考這種做法是否該停止,以及該如何喊停。
「日光節約時間」是什麼?
日光節約時間是在夏季將時鐘往前撥一小時的做法,這樣日照時間可以持續更久到晚上。北美及歐洲大部分地區都遵循此習俗,而其他地方的大多數國家,尤其是靠近赤道的國家則沒有。
這種做法從一開始就備受爭議,許多國家曾多次採用與放棄。埃及3月宣布,將在時隔七年後重新實施夏令時間,以合理化能源使用。日本曾考慮在2020年奧運採行夏令時間,但因缺乏民眾支持以及面臨技術挑戰而作罷。台灣曾在第二次世界大戰後,於1946至1961年、1974、1975、1979年的夏季實施過日光節約時間。
2023年日光節約時間何時結束?
美國及其數個鄰國的日光節約時間於當地時間11月5日凌晨2點結束,將時鐘調慢一小時。
英國及其他歐洲國家的日光節約時間(亦稱為夏令時間),則在10月29日結束。
美國的日光節約時間總是由3月的第二個星期日開始,在11月的第一個星期日結束。這和英國及歐盟明顯不同,英國與歐盟的夏令時間始於3月最後一個星期日,而在10月最後一個星期日結束。
美國實施日光節約時間之緣起
依季節調整時鐘的現代概念至少可追溯到19世紀末,由紐西蘭昆蟲學家喬治‧哈德森所提出,為的是節省能源並延長夏季的日照時間,這對他下班後收集昆蟲的嗜好有幫助。這個想法並未引起多少關注,直到第一次世界大戰期間,歐洲國家尋找任何可節省燃料的策略,情況才改觀。德國在1916年成為第一個採用日光節約時間的國家,美國於1918年緊隨其後。
在美國1966年通過《統一時間法》將之標準化前,日光節約時間經歷了許多變化。該法律允許各州選擇不用日光節約時間,但不能永久採用它。一個常見的誤解是,美國實施日光節約時間是為了幫助農民,但實際上,許多農民反對這種擾亂他們時程的做法。據美國國會研究處稱,節省燃料的原始動機也有爭議,因為研究發現此改變幾乎無法節省能源。反對者指出,有其他研究發現實施日光節約時間對健康有不利影響,例如每年3月時鐘撥前一小時後,數天內死亡交通事故、心臟病、中風及睡眠不足的狀況會激增。
根據2023年3月的YouGov民調,62%的美國人希望捨棄改變時鐘的做法,而只有50%的人希望永久實施日光節約時間。
(台北時報林俐凱編譯)
Comments will be moderated. Keep comments relevant to the article. Remarks containing abusive and obscene language, personal attacks of any kind or promotion will be removed and the user banned. Final decision will be at the discretion of the Taipei Times.