ENGLISH DIGEST 實用英語
U4: Bones: The unsung heroes of the human body 不只是支撐身體 發掘骨骼的神奇之處
The human body's most remarkable and resilient parts are its bones, which are an awe-inspiring subject to explore. A fully developed human skeleton is composed of 206 bones and over 200 joints, accounting for around 20 percent of an adult's body weight. Bones have various functions, including essential roles like protecting and supporting the body, producing blood cells and regulating hormones.
One of the most important components of bones is their mineral content. Bones are primarily composed of calcium, which provides their strength and durability. Apart from calcium, bones also contain other minerals such as phosphorus, which helps regulate calcium levels and assist in the formation of bone tissue.
From birth, our bones undergo constant regeneration throughout our entire lives. In fact, almost 100 percent of our skeleton is replaced within the first year of our lives, while as adults, our bones are rejuvenated by about 10 percent each year. This process is known as bone remodeling. It includes breaking down old or damaged bone tissue by cells known as osteoclasts, followed by the formation of new bone tissue by cells called osteoblasts. Bone remodeling maintains the structural integrity of the skeleton, as well as contributing to the body's mineral balance.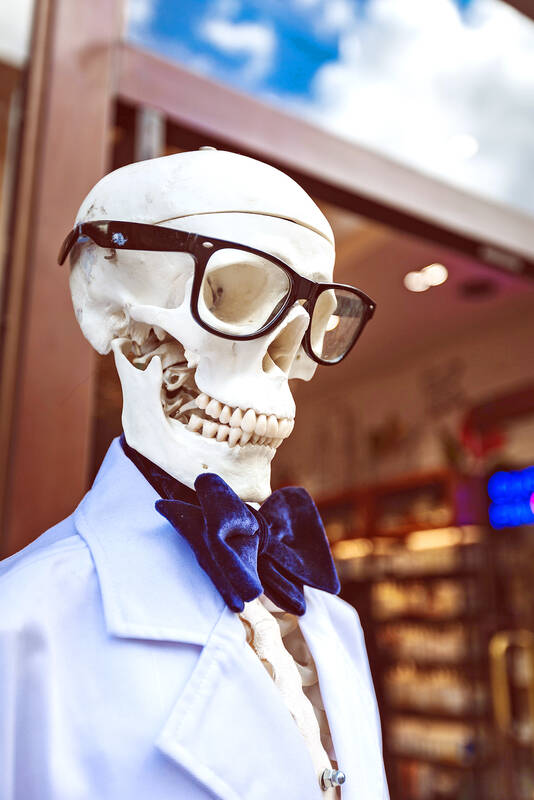 Photo taken from the Internet / 照片翻攝自網路
However, bones can be vulnerable to damage. Factors such as age, poor nutrition and lack of exercise can disrupt the balance of bone remodeling, leading to bone loss and an increased risk of fractures. To ensure that our bones remain strong, we should adopt a balanced diet and consume foods containing vitamin D and calcium, like dairy products and green vegetables. Regular exercise and medical attention when required are also good ways to keep our bones healthy for years to come.
人體最令人驚嘆且具有恢復力的部位無疑是骨頭,它是一個令人敬畏的主題,值得去探究。一個發育完全的人體骨骼由206塊骨頭和超過 200個關節組成,約占成年人體重的20%。骨頭具有多種功能,包括保護和支撐身體、產生血細胞和調節荷爾蒙等重要角色。
 骨頭最重要的組成成分之一是其礦物質的含量。骨頭主要由鈣組成,它賦予骨頭強度和耐用性。除了鈣之外,骨頭還包含其他礦物質,例如磷,它有助於調節鈣水平並促進骨組織的形成。自出生以來,我們的骨頭在整個生命中會經歷不斷的再生。
 事實上,在我們出生後的第一年,幾乎100%的骨骼會被替換,而成年人每年約有10%的骨頭被重塑。這個過程被稱為骨重塑。它包括由稱為蝕骨細胞的細胞來分解舊的或受損的骨組織,然後由稱為成骨細胞的細胞來形成新的骨組織。骨重塑維持骨骼的結構完整性,同時有助於身體的礦物質平衡。
 然而,骨頭可能很容易受到損害。像是年齡、營養不良和缺乏運動等因素都會打亂骨重塑的平衡,導致骨骼流失和骨折風險的增加。為了確保我們的骨頭保持強壯,我們應該採取均衡的飲食並攝取含有維生素D和鈣的食物,如乳製品和綠色蔬菜。定期運動和必要時就醫也是在未來多年保持我們骨頭健康的好方法。
MORE INFORMATION
unsung adj. 被埋沒的;未受讚揚的
resilient adj. 有恢復力的;有彈性的
hormone n. 荷爾蒙;激素
calcium n. 鈣
durability n. 耐用性;韌性
phosphorus n. 磷
remodel vt. 重新塑造
osteoclast n. 蝕骨細胞
osteoblast n. 成骨細胞
fracture n. 骨折;斷裂
KEY VOCABULARY
1. awe n. 驚嘆;敬畏 / awe-inspiring adj. 令人敬畏的;令人驚嘆的
The magnificent view of the Grand Canyon filled me with awe.
大峽谷壯麗的景色讓我充滿敬畏之情。
2. skeleton n. 骨骼;框架
The museum displays a variety of dinosaur skeletons that are millions of years old.
這間博物館展示了各種有數百萬年歷史的恐龍骨骼。
3. component n. 組成部分;零件/ compose v. 組成;創作 / be composed of 由……組成
A healthy diet is a key component in maintaining overall health. 健康的飲食是維護整體健康的關鍵要素。
4. mineral adj. 有礦物質的;(含)礦物的
The soil's mineral content significantly influences the health and growth of plants.
土壤的礦物質含量對植物的健康與生長有顯著影響。
5. formation n. 形成;結構
The formation of clouds in the sky indicates a change in the weather. 天空中雲層的形成預示著天氣的變化。
6. undergo v. 經歷;承受(三態:undergo-underwent-undergone)
Amy had to undergo several months of physical therapy to fully recover after the surgery.
在手術後,艾咪必須接受幾個月的物理治療才能完全康復。
7. integrity n. 完整;正直
The system automatically checks for data integrity errors and alerts users to take corrective action.
該系統會自動檢查數據完整性錯誤,並提示用戶採取修正措施。
8. disrupt vt. 擾亂;顛覆
The heavy rain disrupted traffic in the city and caused many accidents.
這場大雨使該城市交通受到干擾並引發許多事故。
9. ensure vt. 確保;保證
We must ensure that our products meet the high standards of quality expected by our customers. 我們必須確保我們的產品符合客戶期望的高品質標準。
學習音檔: https://magazine.english4u.net/Magdata/menu/vvppq
《空中美語》雜誌APP免費下載: https://www.english4u.net/apps/index.aspx
免費收聽當月《空中美語》雜誌課文朗讀及解析 !
文章由AMC空中美語授權使用: https://www.english4u.net
Comments will be moderated. Keep comments relevant to the article. Remarks containing abusive and obscene language, personal attacks of any kind or promotion will be removed and the user banned. Final decision will be at the discretion of the Taipei Times.