GO! ENGLISH 英語趴趴夠
Easy English for the World 生活英語X國中會考 75【常識篇】
Facts about giant pandas
貓熊小知識
Giant pandas are large, beautiful animals. They are black and white and they are one of the rarest mammals in the world. Pandas live in forests and they eat a lot of bamboo trees. They can't live without the plants because they can also get water from them. So, people may think they are herbivores, but they are actually omnivores for they sometimes catch small animals for food. Most pandas live in the mountains of China, but we can often see some live in zoos.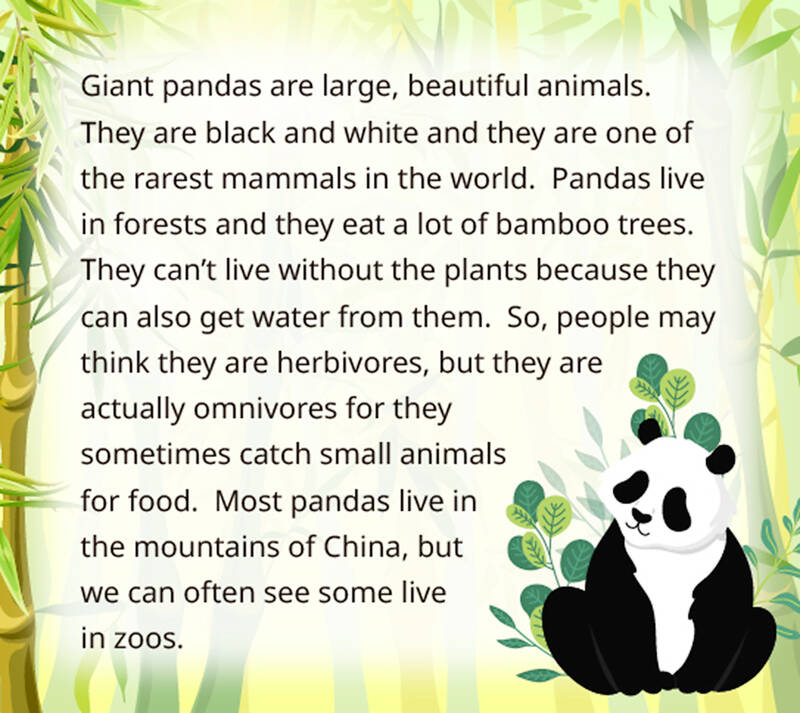 必備單字
1. rare adj.
稀少的(國中基礎1200字)
2. forest n.
森林; 林區(國中基礎1200字)
3. mountain [?ma?n.t?n] n.
山(國中基礎1200字)
實用字詞
1. mammal n. 哺乳類動物
2. herbivore n. 草食性動物
3. omnivore n. 雜食性動物
閱讀技巧:
找出文章中的代名詞所指涉的意義,以利閱讀。
"They" can't live without the plants, because "they" can also get water from "them."
「牠們」生活不能缺少此植物,因為「牠們」也可從這「植物」中獲得水分。
考題練習:
TOEIC Bridge測驗+國中會考題型
1. What does a giant panda usually eat?
(A) Mice.
(B) Flowers.
(C) Bamboo.
2. What kind of animal is a giant panda?
(A) It's black and white.
(B) It is a small animal.
(C) It's a herbivore.
3. What can we infer from the reading?
(A) A giant panda can live without water.
(B) There aren't many giant pandas in the world.
(C) People can't see giant pandas very often because they live in the mountains.
解答︰
1. (C)
2. (A)
3. (B)
文章由TOEIC Program Taiwan · Chun Shin提供:
www.facebook.com/ToeicProgramTaiwan
Comments will be moderated. Keep comments relevant to the article. Remarks containing abusive and obscene language, personal attacks of any kind or promotion will be removed and the user banned. Final decision will be at the discretion of the Taipei Times.