跟著小實學華語 LEARNING MANDARIN WITH SHIH CHIEN
我被這張紙割到手了 I just got a 'paper cut'
對話 Dialogue
馬克:啊!好痛。
Mǎkè: A! Hǎo tòng.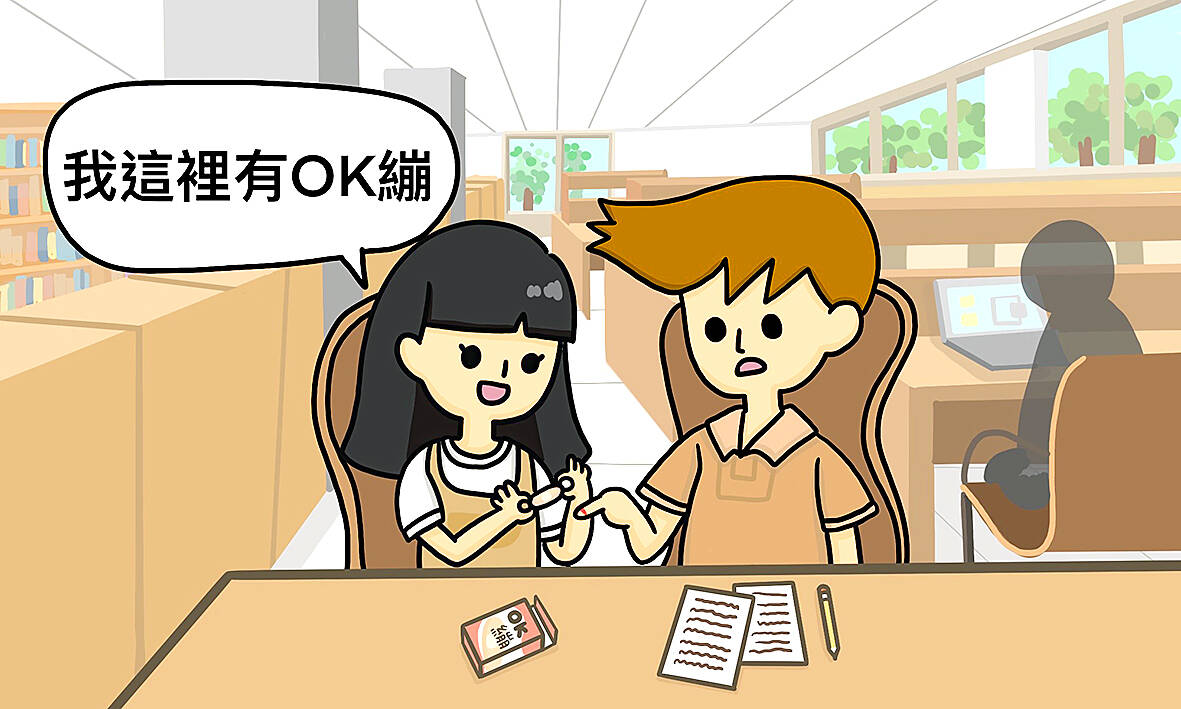 小實:馬克,你怎麼了?
Xiǎoshí: Mǎkè, nǐ zěnme le?
馬克:我被這張紙割到手了,好痛。
Mǎkè: Wǒ bèi zhè zhāng zhǐ gēdào shǒu le, hǎo tòng.
小實:哇!流血了!來!我這裡有「OK繃」,趕快貼起來。
Xiǎoshí: Wa! Liúxiě le! Lái! Wǒ zhèlǐ yǒu "OK bēng", gǎnkuài tiē qǐlái.
馬克:謝謝!你剛剛說這個東西中文叫什麼?
Mǎkè: Xièxie! Nǐ gānggāng shuō zhège dōngxi Zhōngwén jiào shénme?
小實:在臺灣,我們都叫它「OK繃」,你看!這樣貼起來就「OK」了!
Xiǎoshí: Zài Táiwān, wǒmen dōu jiào tā "OK bēng", nǐ kàn! Zhèyàng tiē qǐlái jiù "OK" le!
馬克:好特別的名字,是因為這樣所以叫
「OK繃」嗎?
Mǎkè: Hǎo tèbié de míngzi, shì yīnwèi zhèyàng suǒyǐ jiào "OK bēng" ma?
小實:也有人說是因為以前在臺灣賣OK繃的牌子聽起來很像「OK」,所以流傳到現在的。
Xiǎoshí: Yě yǒurén shuō shì yīnwèi yǐqián zài Táiwān mài "OK bēng" de páizi tīng qǐlái hěnxiàng "OK", suǒyǐ liúchuán dào xiànzài de.
馬克:好,那麼我以後受傷就知道要去藥局買「OK繃」了!
Mǎkè: Hǎo, nàme wǒ yǐhòu shòushāng jiù zhīdào yào qù yàojú mǎi "OK bēng" le!
翻譯 Translation
Mark: Ouch! That hurt.
Xiaoshi: Mark, what happened?
Mark: I got a paper cut, it really hurts.
Xiaoshi: Wow! You're bleeding! Come, I have some "OK beng" band-aids, let me quickly stick one on for you.
Mark: Thank you! What did you just call this in Chinese?
Xiaoshi: In Taiwan, we call them "OK beng." You stick one on, and everything's OK!
Mark: What a special name. Is that the reason it is called "OK beng"?
Xiaoshi: Some people say it's because the brand that sold band-aids in Taiwan sounded like "OK," and the name spread.
Mark: Got it. If I get injured in the future, I will go to the pharmacy and buy some "OK beng"!
單字片語 Vocabulary
1. 割 (gē) to cut
2. 流血 (liúxiě) to bleed
3. OK繃 (OK bēng) band-aids, adhesive, bandage
4. 趕快 (gǎnkuài) in a hurry
5. 牌子 (páizi) brand
6. 流傳 (liúchuán) to spread
7. 受傷 (shòushāng) to get injured
8. 藥局 (yàojú) pharmacy
教材音檔 Audio Files
教材影片 Video Files:
https://www.instagram.com/celc.nou_tw/guide/_/17999106352646292/
實踐大學華語中心提供
By Shih Chien University Chinese Language Center: https://chineseusc.com/
Comments will be moderated. Keep comments relevant to the article. Remarks containing abusive and obscene language, personal attacks of any kind or promotion will be removed and the user banned. Final decision will be at the discretion of the Taipei Times.