#MeToo has got men quaking in the corridors of power #MeToo運動 翻轉性別權力結構
Another one bites the dust. Daniel Korski, favorite to be selected as Tory candidate for London mayor, has withdrawn from the race after an allegation of groping. He denies it, while his accuser, Daisy Goodwin, a screenwriter and producer, says other women have contacted her with some "very interesting stories" about him. #MeToo appears to have struck again.
Men in apparently unassailable positions of power have been toppled in a quite extraordinary sequence of scandals. Masters of the universe everywhere must be trembling at what might emerge about all they have done, taking it for granted that women at work were there to be touched, or subject to "banter," all with an unspoken shadow of threats to careers.
That "boys will be boys" attitude has run its course. Behind every unwanted grope is a men-in-charge worldview that lets every little boy or girl know their rightful place.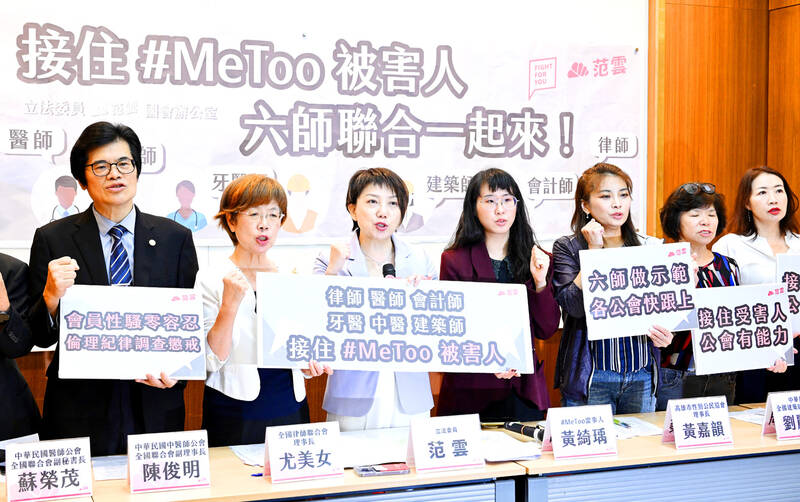 Democratic Progressive Party legislator Fan Yun (third left) and the representatives of lawyers, doctors, accountants, dentists, traditional Chinese physicians and architects pose attend a news conference in Taipei on June 29 to support #MeToo victims. 民進黨立委范雲(左三)6月29日於台北舉行「接住#MeToo被害人,六師聯合一起來!」記者會,與「六師」(律師、醫師、會計師、牙醫、中醫、建築師)代表合影。
Photo: Peter Lo, Liberty Times 照片:自由時報記者羅沛德
Junior women have taken great risks to unmask bosses who can command their future. Those women usually experience a torrent of online and mainstream abuse for their bravery, with vicious accusations from "you brought it on yourself" to "gold-digger."
#MeToo has been a bold surge forward. It kicked off with Harvey Weinstein, emperor of Miramax, receiving a 23-year sentence for rape, sexual assault and sexual abuse he committed, unchecked, over a period of 30 years. He received an additional 16-year sentence February this year. After all those years of silence, 80 women, many of whom had been gagged by non-disclosure agreements (NDAs), came forward with accusations after the remarkable bravery of his PA, Zelda Perkins.
Later came the fall of Jeffrey Epstein.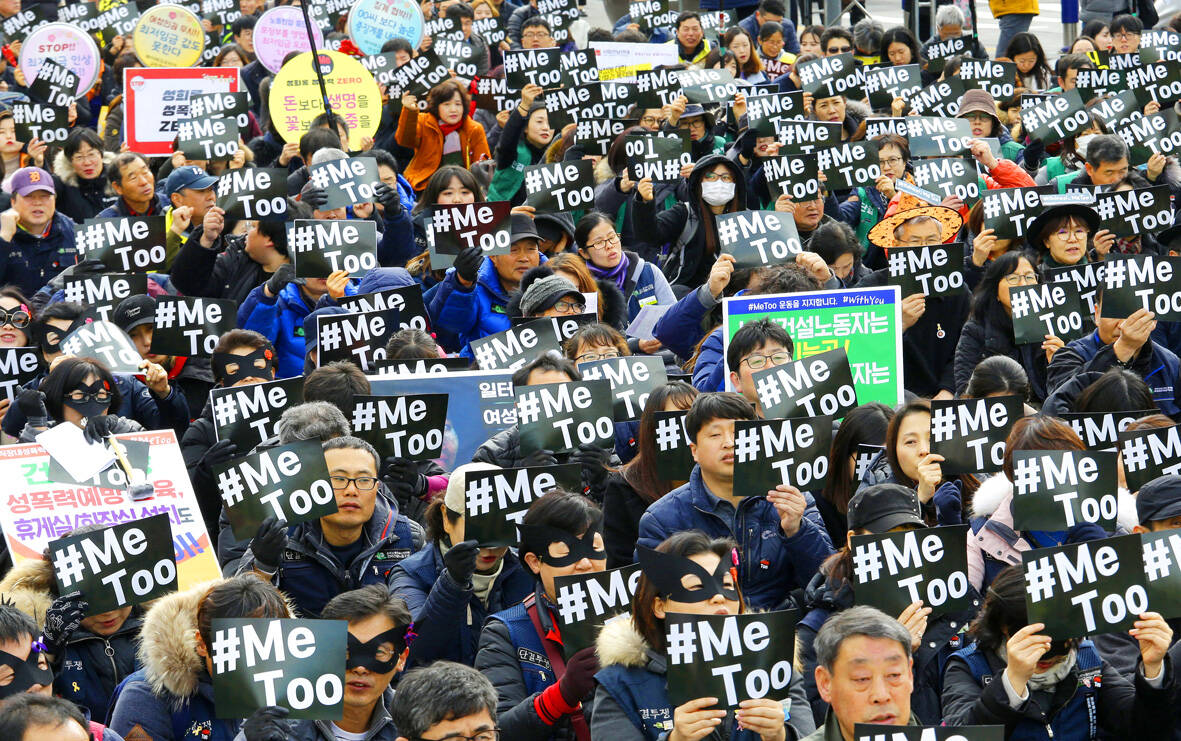 Demonstrators supporting the #MeToo movement stage a rally to mark the International Women's Day in Seoul, South Korea, March 8, 2018. For years, the story of South Korean women has been defined by perseverance as they made gradual but steady progress in the workplace and fought against a deeply entrenched culture of misogyny and harassment. 支持#MeToo運動的示威者2018年3月8日在南韓首爾舉行國際婦女節集會。多年來,南韓女性以堅持不懈著稱,在職場取得了逐步但穩定的進展,並對抗根深蒂固的厭女及騷擾文化。
Photo: AP 照片:美聯社
These are only a few examples of the #MeToo earthquake that has set thousands of senior men shaking in their big boots. This widespread fear is the campaign's deep success, the sign of a culture that is beginning to shift.
About two-thirds of girls in the UK have reported experiencing unwanted sexual attention, including touching, in public places and thousands of cases of sexual assault have recently been reported in schools. Yet teachers are still not given adequate training about how to counter the extreme brand of Andrew Tate-influenced misogyny that spreads online, and sex education is under attack from the right. Meanwhile in workplaces the women who are most defenceless are those on zero-hour and precarious contracts.
(The Guardian)
又有一個人重摔倒地。英國保守黨最有望出線成為倫敦市長候選人的丹尼爾‧科斯基,因被指控猥褻而退選。他對此加以否認,但提出指控的編劇兼製片人黛西‧古德溫表示,已有其他女性跟她聯繫,告訴她一些跟科斯基有關的「非常耐人尋味的故事」。#MeToo 運動似乎再度襲來。
那些看似大權在握、堅不可摧的人,在一連串離譜的醜聞中被推翻。世界各地的呼風喚雨人士肯定會對自己所做所為所可能引發的狀況膽戰心驚,他們理所當然地認為女性在職場是該被摸的,或是可以「開玩笑」的對象,這一切都可能危及其事業,蒙上不可說的陰影。
「男孩就是男孩嘛」這種想法已然壽終正寢。每次的不當觸摸,其背後都是一種「掌控者為男人」的世界觀,讓每個小男孩小女孩知道自己的位置該在哪裡。
年輕女性冒著巨大的風險,揭開老闆的面目,即便自己的前途可能握在他們手裡。這些女性常因其勇敢而在網路及主流媒體上遭受大量謾罵,從「你自找的」到「拜金女」等的惡毒指責。
#MeToo是一波無畏向前的浪潮。故事始於米拉麥克斯影業皇帝哈維‧溫斯坦,他因30年來肆無忌憚犯下的強姦、性侵與性虐待而被判處23年徒刑(今年2月,他又被再被判了16年)。經過這麼多年的沉默,80位女性(其中許多人因簽了保密協議而被封口)在溫斯坦私人助理薩爾達‧柏金斯勇敢挺身而出後站出來提出了指控。
後來傑佛瑞‧艾普斯汀也垮台了。
這些只是#MeToo大地震的幾個例子,這場地震已讓成千上萬的資深男性雙腳在大靴中瑟瑟發抖。這種普遍的恐懼是#MeToo運動的巨大成功,是一個文化開始轉變的徵兆。
英國約三分之二的女孩表示在公共場所經歷過令人厭惡的性關注,包括觸摸,最近也有數千起校園性侵案件通報。但教師仍未接受足夠的訓練,以因應網路上散布的、受網紅安德魯‧泰特影響的極端厭女症,而性教育也受到右翼人士的攻擊。同時,職場上最弱勢的女性,是那些簽訂零工時契約及不穩定契約的女性。
(台北時報林俐凱編譯)
Comments will be moderated. Keep comments relevant to the article. Remarks containing abusive and obscene language, personal attacks of any kind or promotion will be removed and the user banned. Final decision will be at the discretion of the Taipei Times.