SPEAK UP: Should ChatGPT be banned in schools? 學校該全面禁用ChatGPT嗎?
A: Have you tried the new AI chatbot ChatGPT?
B: Yes, I have. It interacts conversationally, and can answer my questions on the spot.
A: My school has announced a ban on ChatGPT, to prevent AI-assisted cheating.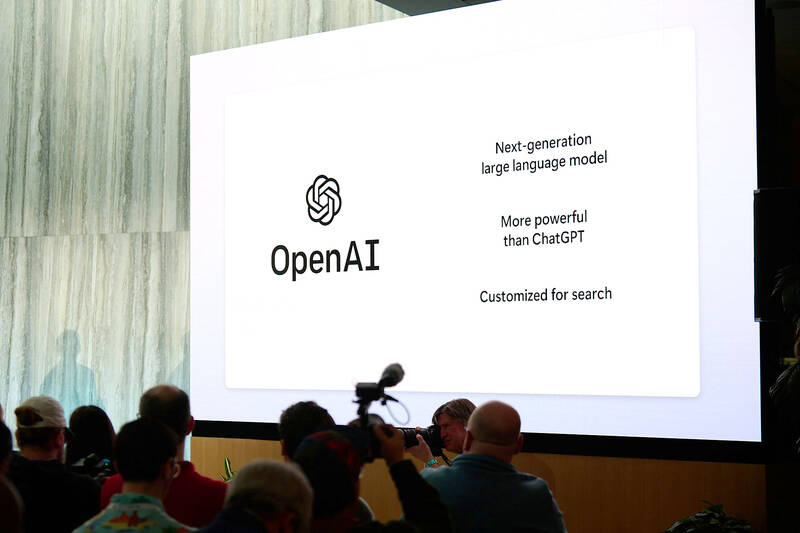 Microsoft unveils new versions of its Bing online search engine and Edge browser powered by ChatGPT last month. 微軟於上個月介紹支援ChatGPT的新版Bing、Edge 。
Photo: Bloomberg 照片:彭博社
B: My school hasn't banned it, but teachers are encouraged to come up with a strict usage policy to avoid disputes.
A: Instead of banning it, perhaps we should learn to live with it.
A: 你試過新型人工智能聊天機器人ChatGPT嗎?
B: 試過啊,它會以對話方式互動,還會立即回答問題呢。
A: 不過我的學校最近宣布禁用ChatGPT,以防止人工智能作弊。
B: 我的學校雖然沒禁用,但是鼓勵老師制定嚴格使用政策以避免爭議。
A: 與其禁用,或許我們應該學習與它共處。
(By Eddy Chang, Taipei Times/台北時報張聖恩〉
Publication Notes
LANGUAGE TIP 語文小提示
ChatGPT The Chat Generative Pre-trained Transformer, known as "ChatGPT," is an artificial intelligence (AI) chatbot developed by OpenAI and launched last year.
Comments will be moderated. Keep comments relevant to the article. Remarks containing abusive and obscene language, personal attacks of any kind or promotion will be removed and the user banned. Final decision will be at the discretion of the Taipei Times.