SPEAK UP: Some highly anticipated events in 2023 (2/3) 2023年你最期待什麼事?(二)
A: How about the entertainment world? Is there anything to look forward to in 2023 there, too?
B: Yeah, events such as Rihanna's Super Bowl halftime show, Eurovision 2023 and movies like "The Little Mermaid" live-action remake are all highly anticipated.
A: I've heard the long-running musical "The Phantom of the Opera" will finally bid farewell to Broadway this year.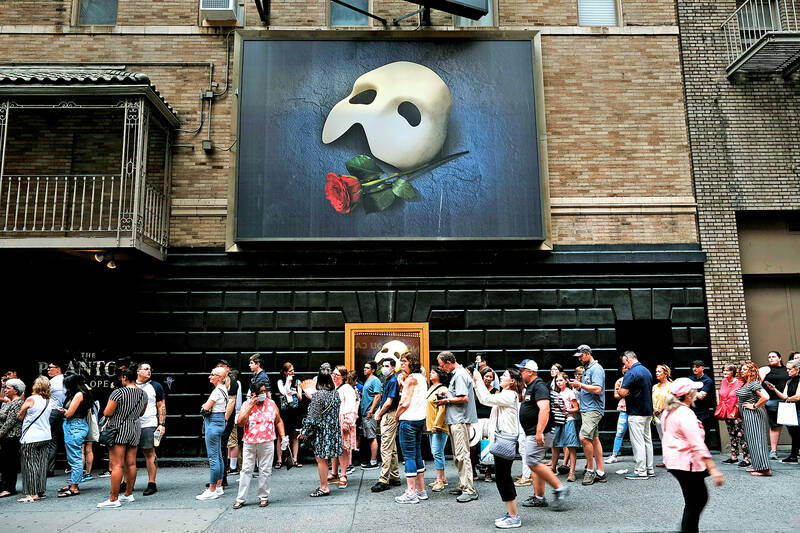 People wait in line to see "The Phantom of the Opera" on Broadway. 人們在百老匯排隊準備觀賞《歌劇魅影》。
Photo: AFP 照片:法新社
B: Well, the show first opened on Broadway in 1988. When it closes later in April, it will have played 13,981 performances.
A: 今年的娛樂圈,也有什麼令人期待的事物嗎?
B: 蕾哈娜的超級盃大秀、2023年歐洲歌唱大賽、《小美人魚》真人電影等強片……這些都將是今年的大事!
A: 聽說長壽歌舞劇《歌劇魅影》,終於要告別百老匯了。
B: 該劇1988年在百老匯開演,四月落幕時演出將達到一萬三千九百八十一場。
(By Eddy Chang, Taipei Times/台北時報張聖恩)
Publication Notes
Language Tip 語文小提示
anticipate 期待 anticipate (v.) . anticipation (n.) . anticipative / anticipatory (adj.)
Comments will be moderated. Keep comments relevant to the article. Remarks containing abusive and obscene language, personal attacks of any kind or promotion will be removed and the user banned. Final decision will be at the discretion of the Taipei Times.