ENGLISH DIGEST 實用英語
Why the Merlion is Singapore's national icon 去新加坡必看魚尾獅的美麗傳說
As you wander along the promenade that follows the Singapore River, you peer into the distance and catch a glimpse of a mysterious creature. As you move closer, you realize this glorious white monument is not quite a lion and not exactly a mermaid. With the head of a lion and the body of a fish, this magnificent statue is none other than the Merlion. Standing erect on the pier of Merlion Park, with massive skyscrapers in the background, the Merlion has become synonymous with Singapore.
The Merlion was devised in 1964 by Alec Fraser-Brunner for the Singapore Tourism Board with the aim of referring to Singapore's origins. The lion head represents the country's original name of Lion City. According to legend, when the Malay prince Sang Nila Utama landed on the island, he encountered what he believed to be a lion. This prompted him to name the island Singapura, which is derived from Sanskrit and means "Lion City."
While the Merlion's head has a specific story associated with it, its scaly body simply pays tribute to Singapore's beginnings as nothing more than a sleepy fishing village.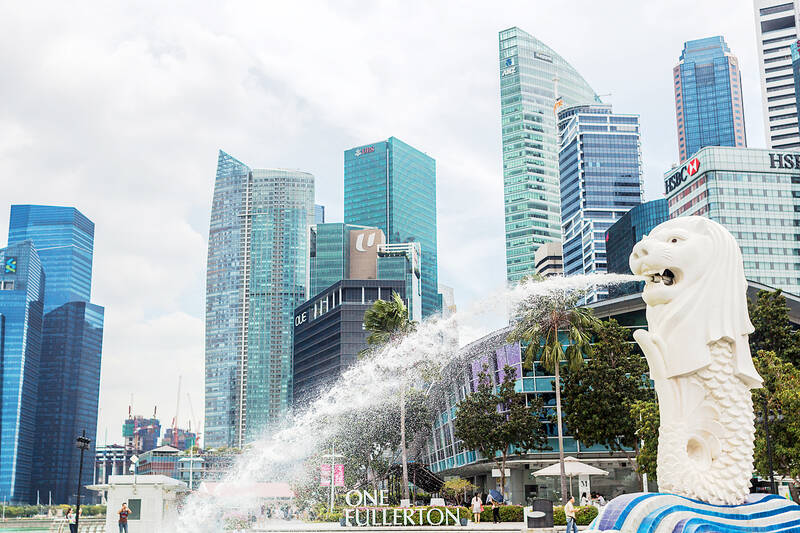 PHOTO COURTESY OF PXHERE / 照片:PXHERE提供
The Merlion is the perfect national icon. It serves as a reminder of Singapore's rapid transformation from its humble past to a thriving financial hub. On your next trip to this sunny island, don't forget to snap a photo of one of the most photographed landmarks in all of Singapore. With a continuous stream of water jetting from its mouth, the Merlion will make for some amusing photos.
當你沿著新加坡河沿岸的步道漫步時,你凝視遠方,瞥見了一種神秘的生物。當你走近時,你會發現這座壯麗的白色紀念碑並不完全是獅子,也不完全是美人魚。這尊有著獅頭魚身的宏偉雕像正是「魚尾獅」。魚尾獅矗立在魚尾獅公園的碼頭上,身後是大規模的摩天大樓,魚尾獅已成為新加坡的同義詞。
 魚尾獅是於西元1964年由亞歷克福瑞澤-布倫納為新加坡旅遊局設計的,旨在提及新加坡的起源。獅頭代表該國的原名「獅城」。根據傳說,當馬來王子聖尼羅鬱多摩登陸這座島時,他遇到了他認為是獅子的東西。這促使他將這座島命名為「Singapura」,這源自梵語,意思為獅城。
雖然魚尾獅的頭部有一個與之相關的確切故事,但它鱗片狀的身體只是要向新加坡僅僅是一個寂靜漁村的起源致敬。
 魚尾獅是個完美的國家象徵,它提醒人們新加坡從地位不高的過去到繁榮的金融中心的迅速轉變。你下次前往這座陽光明媚的島嶼時,別忘了拍一張全新加坡最多人拍照的地標之一的照片。魚尾獅嘴中不斷噴出的水流,能夠拍出一些有趣的照片。
MORE INFORMATION
romenade n.(海濱)步道
mermaid n. 美人魚
pier n.(突堤)碼頭
synonymous adj. 同義的
Malay adj. 馬來人的;馬來語的
Sanskrit n. 梵語
scaly adj. 鱗片狀的
hub n. 中心;樞紐
none other than 正是;竟是
nothing more than 僅僅;只是
serve as 作為;擔任
KEY VOCABULARY
1. icon n. 象徵;代表(人)物
? Michael Jackson is one of the best-known pop icons.
麥可傑克森是最有名的流行音樂代表人之一。
2. mysterious adj. 神秘的
? My neighbors told me that they saw a mysterious object flying in the sky last night.
我的鄰居告訴我,他們昨晚看到一個神秘物體在空中飛行。
3. monument n. 紀念碑;遺跡
? This monument is meant to honor the soldiers who died in battle here during World War II.
這座紀念碑是用來向第二次世界大戰中在這裡陣亡的士兵致敬。
4. legend n. 傳說;傳奇故事
? Jocelyn is an expert in old stories and legends; she travels all over the country to research tales.
喬絲琳是古老故事及傳說方面的專家;她遊遍全國各地以探究故事。
5. derive v. 源自;起源/be derived from 起源於;來自於
? The Italian, French, Spanish, and Portuguese languages are all derived from Latin.
義大利語、法語、西班牙語和葡萄牙語都源自拉丁語。
6. tribute n.(表示敬意的)頌詞;禮品/pay tribute to 致敬;讚揚
? In this park is a statue that pays tribute to people who fought for the country's freedom.
這座公園有座雕像,向為國家自由而戰的人致敬。
7. landmark n. 地標
? Stonehenge, in Wiltshire, England, is one landmark that Ed has always wanted to see.
英格蘭威爾特郡的「巨石陣」是艾德一直想去看的地標。
8. continuous adj. 不斷的;連續的
? The continuous noise of a ticking clock comforts newborn puppies; it reminds them of their mother's heartbeat.
時鐘連續的滴答聲能安撫新生的小狗;它會使牠們想起母親的心跳聲。
9. amusing adj. 有趣的;好笑的
? The well-known actor told several amusing stories at the dinner party.
這位知名演員在晚宴講了幾個有趣的故事。
學習音檔: https://magazine.english4u.net/Magdata/menu/d0ess
《空中美語》雜誌APP免費下載: https://www.english4u.net/apps/index.aspx
免費收聽當月《空中美語》雜誌課文朗讀及解析 !
文章由AMC空中美語授權使用: https://www.english4u.net
Comments will be moderated. Keep comments relevant to the article. Remarks containing abusive and obscene language, personal attacks of any kind or promotion will be removed and the user banned. Final decision will be at the discretion of the Taipei Times.